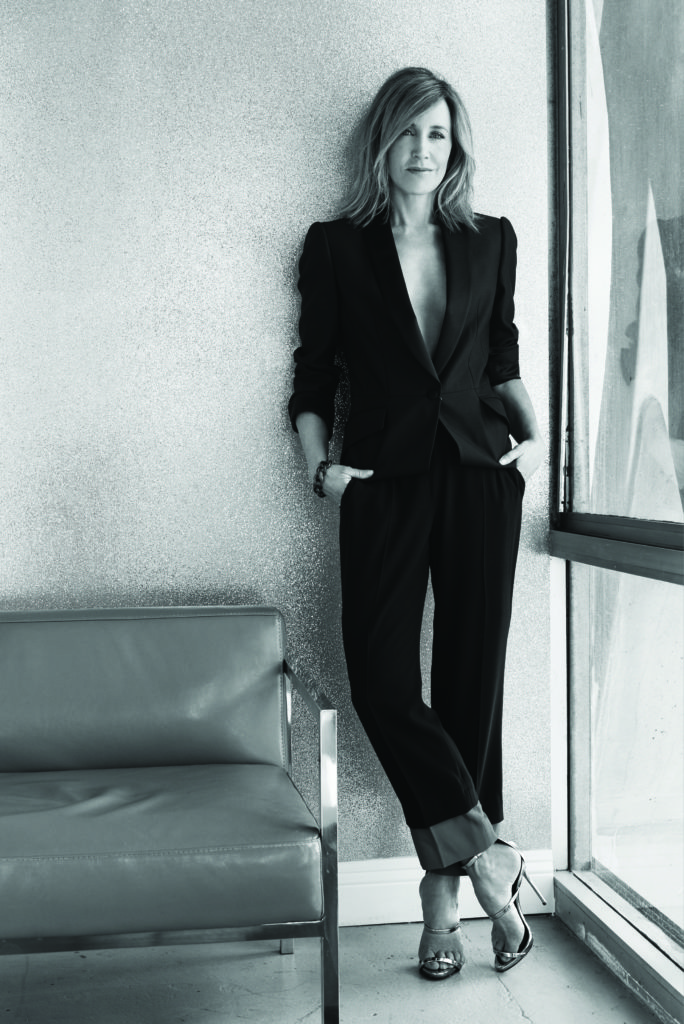 By Laurel Miller
Growing up in Little Woody Creek, Felicity Huffman's first foray onstage was at summer camp at age 9 ("I was a very loud and obnoxious kid"); by college, she spent summers performing with Theatre Aspen. She knew she wanted to be an actress when she and her sister saw Franco Zeffirelli's 1968 film Romeo and Juliet. "I looked at the screen and thought, Yep, that's what I want to do."
Huffman has that rare quality that makes complete strangers feel at ease. She's warm, funny, and utterly unpretentious in conversation (In response to how she manages to look so youthful at 56, she says, "I don't know. I have a sister who deals with it by using what she calls 'pluck and deny,' so I guess that's my answer, too.").
While Huffman has made a name for herself playing unconventional roles, including a transgender woman in 2005's Transamerica and a grieving, racist mother in ABC's American Crime, she's just as well known for her unabashedly adorable red carpet antics with her husband of 21 years, actor William H. Macy (Fargo, Boogie Nights and Showtime's Shameless). The couple are famously supportive of one another; they dated off and on for 15 years, during which Macy proposed several times. Says Huffman, "I eventually had to ask myself, 'Do you want to marry Bill, or lose him again?'"
Although they've acted together onscreen, Huffman and Macy now share a real-life role as the spokescouple for Renew Life probiotic supplements, which is something of a passion project. Probiotics—live microorganisms that help beneficial bacteria to flourish—can improve everything from digestion and immunity to mood, memory and sleep. Cultured foods such as yogurt, kefir, sauerkraut and kombucha are excellent sources of probiotics and can be consumed in place of, or in addition to, supplements.
Huffman learned firsthand about the healing properties of probiotics when her two daughters, Sofia Grace and Georgia Grace, now teens, were toddlers. "It was sort of the perfect storm," she says. "Desperate Housewives had come out of the gate hot, I was doing an Oscar campaign and I had two small children—I kind of lost my mind. Healthwise, I was sick every third day with earaches, fevers and sore throats; at one point, I even had walking pneumonia." She tried everything to get her health back on track. It wasn't until her daughters' pediatrician recommended Huffman give the girls probiotics to help combat their recurrent ear infections—and suggested she also take them—that she found relief from her symptoms.
Today, everyone in the household takes daily probiotic supplements ("I've been known to shove them in the girls' hands as they run out the door") but she also focuses on maintaining her physical and mental health. "I'm not great at coping with anxiety," Huffman says. "Yoga and running changes my brain."
In 2015 Huffman and Macy bought and renovated her two-story, 1950s colonial-style childhood home in Little Woody Creek, and spend vacations there as a family whenever their schedules permit. "We love to hike and ski together, and we usually take a cross-country trip to Pine Creek Cookhouse," says Huffman, who is currently producing an adaption of The Iron Will of Shoeshine Cats, about a real-life Jewish gangster in 1960s New York City. "I have a real connection to the mountains," she says. "It's the feel of the air on my skin, the blue of the sky—it gives me a sense of peace. I think it's magical."