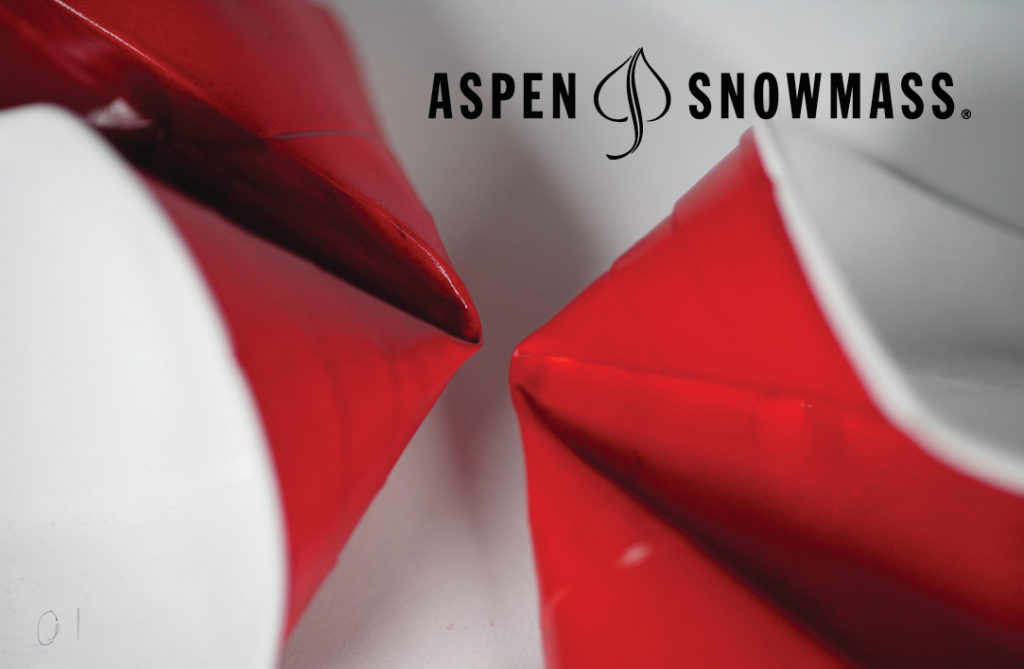 by David Masello
Paula Crown seems to notice everything she touches and interacts with in life, including something as mundane and prosaic as a plastic cup. "A disposable plastic cup is alive with art-historical and creative resonances," says the artist, who is based in Chicago and Aspen. "I had the idea to elevate this humble example of contemporary mass production to the status of sculpture." She fashioned 150 hand-painted, true-to-size plaster sculptures of cups in various states—some flattened as if stepped on, others stacked or turned upside down.
While the sculptures exist on their own and as an assemblage, images of those works now inspire skiers in Aspen. The Aspen Skiing Company is featuring color images of five versions of Crown's sculptures on their lift tickets, as part of their "Art in Unexpected Places" program that's been on going for 12 years. "Like all Art UP projects, I hope the images will provide viewers with moments of pause and reflection, and enlighten conversation, whether on the ski slopes, in the lodge, or in a living room," says Crown. "For the lift tickets, I composed abstracted views of the sculptures to reflect Aspen's mountain terrain."
Not unlike Andy Warhol's fixation on the Campbell's tomato soup can and Marcel Duchamp's fascination with the sculptural qualities of a bicycle wheel, Crown celebrates the symbolic import of the Solo cup. "The cup represents my attempt to be faithful to the material realities of the present day," Crown writes in her artist's statement, which accompanied her show of the works, "Solo Together," at London's 10 Hanover Gallery last June.
"Solo Together" is a project that's timely, given our contemporary shared concerns with the environment," Crown stresses. She admits, too, that with a world awash in plastic she felt it her duty as an artist to "not close my eyes to the situation."
Crown emphasizes that the red of the cup symbolizes not only good luck and celebration in Chinese culture, but also danger and alarm in Western culture. "This insoluble tension is what first drew me to this seemingly straightforward gesture of crumpling one and casting it in plaster."
In keeping with her penchant for personalizing the works, Crown has named each sculpture, as a way to reference the very act that might have led to the cup's state. "We ascribe human characteristics to inanimate objects," she states, "and the title of each cup reads into this natural instinct. The plaster interior is organic in form, like the inside of a person."