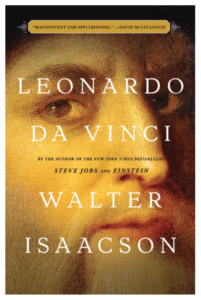 By Scott Lasser
Where does creativity come from? Ask Walter Isaacson, the author of widely praised biographies of some of the world's most creative men—Steve Jobs; Benjamin Franklin: An American Life; Einstein: His Life and Universe—and he'll tell you that you've got to stay curious, and work across different disciplines. Isaacson provides proof in abundance in his new biography, Leonardo da Vinci, which explores the life and times of history's premier Renaissance man. Just as da Vinci worked across disciplines, developing scientific theories, producing political pageants–"The entertainments were even educational at times, like an ideas festival," Isaacson writes, and creating some of history's most iconic paintings, Isaacson's day job as president and CEO of the Aspen Institute has made him the nation's premier impresario of intellectual events, all while he's worked on some of government's most vexing problems (such as serving as vice chairman of the post-Hurricane Katrina Louisiana Recovery Authority) and written his best-selling biographies. Tirelessly curious, Isaacson's always considering his next thing. "I've been gathering string on Leonardo for 20 years," he says.
Five centuries after his death, da Vinci's genius continues to resonate. In a section at the end of the biography called "Learning from Leonardo," Isaacson lists lessons from which we could all learn, such as 'Think visually,' 'Indulge fantasy,' and 'Collaborate.' Isaacson announced his intention to step down from the Institute last March, leaving the Institute with the difficult task of finding a replacement of his caliber. Formerly an editor at Time and the CEO of CNN, Isaacson was relentless in his efforts to raise the Institute's profile, gathering some of the world's foremost thinkers at conferences such as the Aspen Ideas Festival, the Aspen Environment Forum and the Aspen Security Conference, all of which he created during his 14-year tenure at the Institute. If you wanted to know what Toni Morrison, Bill Clinton or Condoleezza Rice thought about the issues of the day, Aspen became the place to go. At the same time, Isaacson's various government posts included, among many others, a 2015 appointment to President Obama's My Brother's Keeper Alliance, whose mission is creating opportunities for boys and young men of color, and a 2016 assignation to the New Orleans City Planning Commission. "I need the stimulation that comes from working with interesting people….I don't know if I'd be as fulfilled just writing," he says.
Da Vinci produced notebook after notebook—it is from these that we know so much about him—but little in the way of completed works. "His genius was in his conception," Isaacson says. Alas, much of what Leonardo worked on has been lost. Fifteen paintings are known to be attributed to da Vinci; these include Mona Lisa and The Last Supper. Had he not painted, says Isaacson, da Vinci would be known as an "imaginative, creative, but only mildly successful engineer." His difficulty in completing projects "makes him more human. We can relate to a person who sometimes falls down and fails at something." Has Isaacson failed at something? "I wish I were a great backcountry skier," he admits. Da Vinci could have been a rich man, but, says Isaacson, "he was never driven by money." Rather, he pursued what he had passion for. He liked to live well—he was, for example, a flamboyant dresser, publicly wearing satins and velvets of purple and pink at a time when no one else did such a thing—but he never worked solely for pay (to wit, another of 'Leonardo's life lessons': "Create for yourself, not just for patrons"). For instance, he repeatedly turned down a portrait commission from Florence's wealthiest matron, but worked for 16 years on the portrait of the wife of a local silk merchant, dying with the canvas still in his possession. Today this painting is known as Mona Lisa.