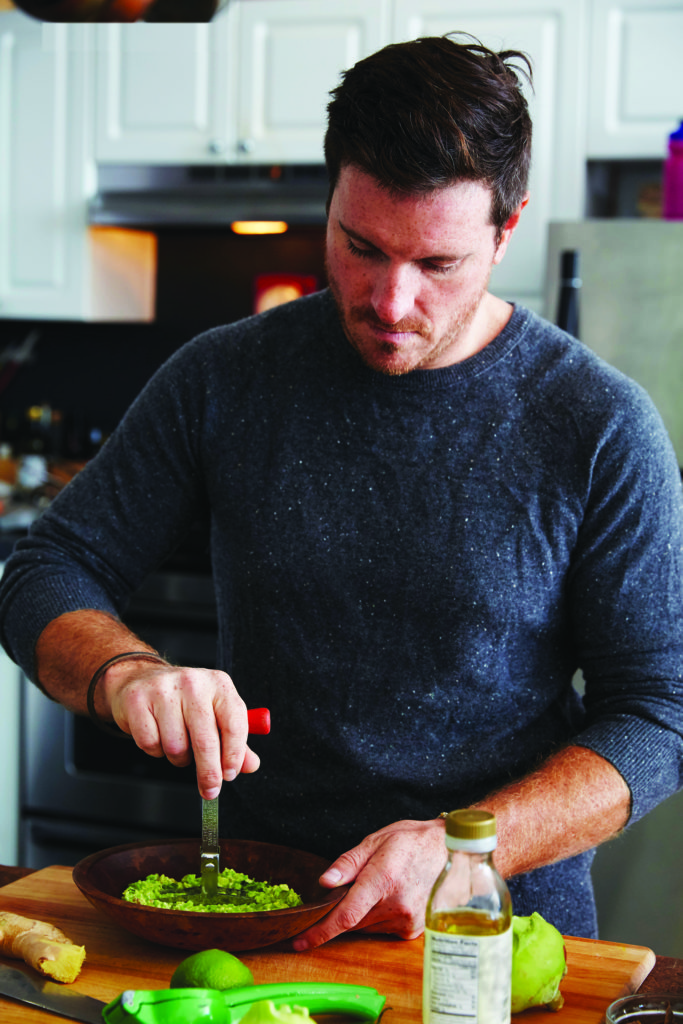 Winter on the East Coast is a notoriously difficult time and place to navigate a healthful diet. Fresh farmers market produce is extremely limited, the season is laden with calorific holidays (Thanksgiving! Hanukkah! Christmas! New Year's! Super Bowl! Valentine's Day!) and, as a popular time to travel, we often find ourselves writing off the months of November through March entirely with the shared understanding that it's "just too hard" to keep up with a healthy eating routine. Instead, we find solace in sequestering ourselves away from the shrinking daylight hours and dropping temperatures, and indulging in our cravings for decadent, soul-satisfying foods—cravings we often identify with "comfort foods."
But the term "comfort food"—a category defined by carb-heavy dishes like macaroni and cheese, pies and casseroles—is a misnomer that needs to be reappropriated. Comfort, by definition, is "a state of physical ease and freedom from pain or constraint," which could very well be the polar opposite of how most people feel after gorging on any comfort foods we know. So why don't we label the wholesome foods that make our bodies feel their best as "comfort foods"? Most likely, it's because people often consider "healthy" food to be tasteless, unsatisfying—and ultimately a chore to eat.
And that's because most so-called healthy food is. So first, we need to take a step back and redefine our understanding of what "healthy eating" means. It's not about deprivation or calorie-counting or remaking unhealthy dishes with gluten-free/vegan/soy substitutes. It's about embracing a positive relationship with real foods—fresh vegetables, good fats and pastured proteins—which are the powerhouse staples that form the foundation of a truly nutritious diet. Second, it's about learning some of the key tricks chefs use to make these foods so delicious and so satisfying, that they become the comfort foods you crave.
One of my favorite tricks to amping up any weeknight meal is to keep a selection of homemade vinaigrettes and sauces on-hand at all times. They add depth of avor to otherwise simply prepared proteins, salads and vegetables, instantly making your dish of choice so much more compelling and delicious. Setting yourself up for success means having a well-stocked pantry, as it's hard to make bad (eating) decisions when you don't have bad options.
Seamus Mullen is the author of the cookbooks, Hero Food and Real Food Heals: Eat to Feel Younger + Stronger Everyday.
CHIMICHURRI
My twist on the classic Argentinian herb sauce has a bunch of toasted pine
nuts thrown in for extra protein, good fats and terrific nutty flavor. I love to make a big batch of it because it can keep in the fridge for up to a week, and is great to use on a plethora of different dishes. A few of my favorite ways to use it are on a grilled hanger steak, roasted vegetables or fish. It's also easy to thin out with a bit of oil and vinegar, and use it to dress a wild greens salad.
Makes about 2 cups
Ingredients:
1 bunch cilantro
1 bunch basil
1 bunch at-leaf parsley
1 garlic clove
1 tsp. red pepper flakes
Zest and juice of 1 lemon
1 tbsp. raw apple cider vinegar
2 cups extra virgin olive oil
1/2 cup pine nuts, toasted
Coarse sea salt and freshly ground black pepper
Directions:
In a blender or food processor, combine the cilantro, basil, parsley, garlic, red pepper flakes, lemon zest, lemon juice, vinegar and olive oil, and pulse until the herbs are coarsely chopped but not pureed. Transfer to a bowl and fold in the pine nuts. Season with salt and pepper.
Reprinted from Real Food Heals by arrangement with Avery Books, a member of Penguin Group (USA) LLC, A Penguin Random House Company. Copyright © 2017, Seamus Mullen