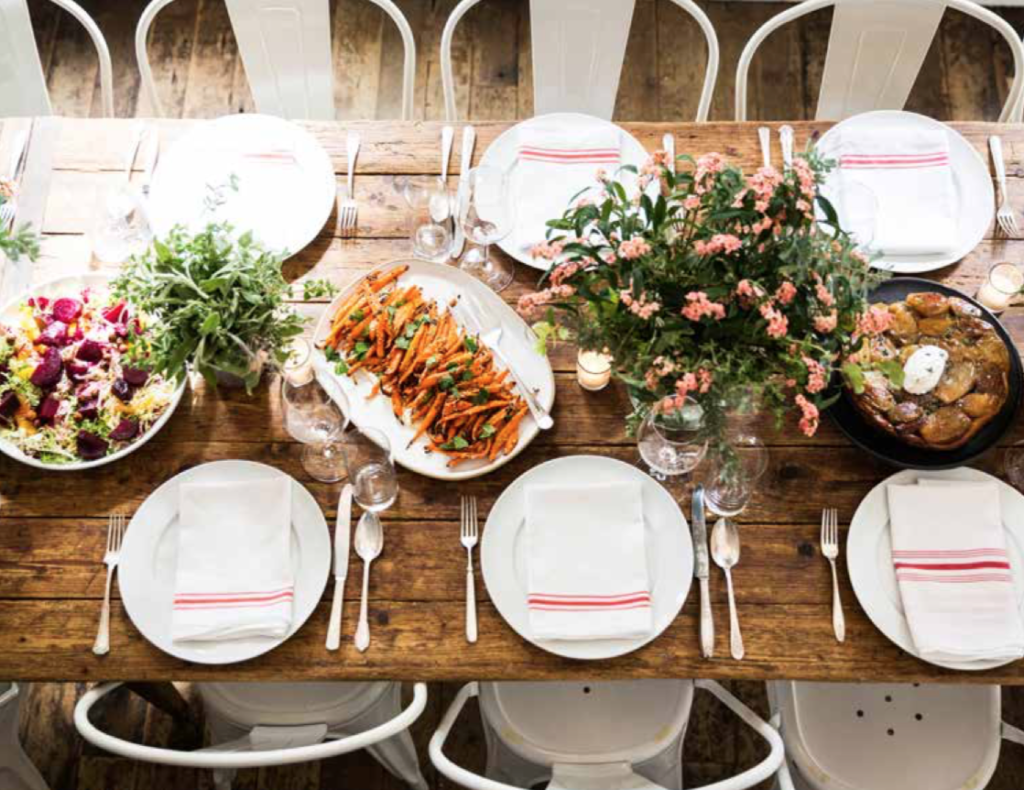 by Ray Rogers
"There's this shame spiral around food," notes Haven's Kitchen founder Alison Cayne. "People think cooking is intuitive, and it is not. It's a skill—you have to learn it." The rise of cooking shows like Top Chef only compounded the problem. "You are seeing this beautiful food and these amazing chefs and you feel like a loser because you can't make rice. I looked around and there was really nowhere in Manhattan that was teaching that."
So, at age 38, after raising five kids and teaching cooking lessons from home for friends and family throughout her life, Cayne decided to pursue her lifelong passion more seriously and went back to school to get her masters degree in Food Studies at New York University. Being interested in food led to a deeper awareness of the world around her. "With cooking, there is one lever that if you pull, you hit about 12 different social and political issues," she says. "The more that people cook from scratch, the more they care about where their food comes from, the environmental impact, and the people producing it; they are healthier, eat less sugar, and tend to eat together more often, which has its own social and community building; their families are closer; and so on."
After an internship at the education station at the Union Square Greenmarket, where she lead school tours and sent recipes out to the chaperones, she happened on a town house a few blocks away, on West 17th Street. Everyone told her she was crazy to think about it—so much real estate for a cooking class!—but she trusted her gut.
Seated beneath a Belle de Jour poster against the white-brick walled second floor of her town house, Cayne holds forth on the joys of cooking and the community building surrounding Haven's Kitchen. The teachers across the street who came in for their morning coffee and scone asked for lunch, so she started serving it, and made room for more seating in the café.
"Some people call that data and metrics," says Cayne. "I just call that asking the people who you love what you can do for them." Her new line of ready-made sauces is a direct response to customer feedback as well. Organic, vegan and gluten-free, with flavors such as a tangy red pepper romesco and vegan kale pesto, these 6-ounce pouches (available at Whole Foods) are intended to aid the home cook by making meal preparation easier—and tastier.
Not surprisingly, brands have come knocking on Haven's door, too. When Origins wanted to celebrate a line that uses mushrooms as adaptogens for the face, Haven's Kitchen conceived of an entire dinner from cocktails to dessert based around mushrooms and adaptogenics. For Goop, they instituted make-your-own smoothie stations using edible ingredients in a new line of beauty products. When Kind Bars launched a savory snack, Haven's Kitchen had five stations where they taught attendees about all the different tastes, such as sweet, salty, umami and sour, and helped them build their own toasts using the those flavors. "It wasn't like, Here's a Kind bar and a goodie bag."
Haven's lifeblood is still the nightly cooking classes—everything from basic knife skills to meatless Monday workshops are taught. Some nights are designed around menus from restaurants of the moment, like LA's Sqirl and London's famed Israeli-British chef, Yotam Ottolenghi. Cayne herself is self-taught. Growing up an only child on the Upper West Side in the '70s with a mom who was "a modern working woman," Cayne longed for home-cooked meals and family dinners. So, while her parents were at work, she taught herself. "Lots of Galloping Gourmet, lots of Julia Child, lots of trial and error—lots of error!" she recalls.
Her dream of big family dinners is something she still cherishes on a daily basis. To this day, she has a standing 7PM mealtime at home, with all of the kids around the table. And if you attend Haven's Kitchen classes, she proudly notes, "each one ends with a sit-down meal and a glass of wine—a familial sort of thing—at a beautifully set table." havenskitchen.com