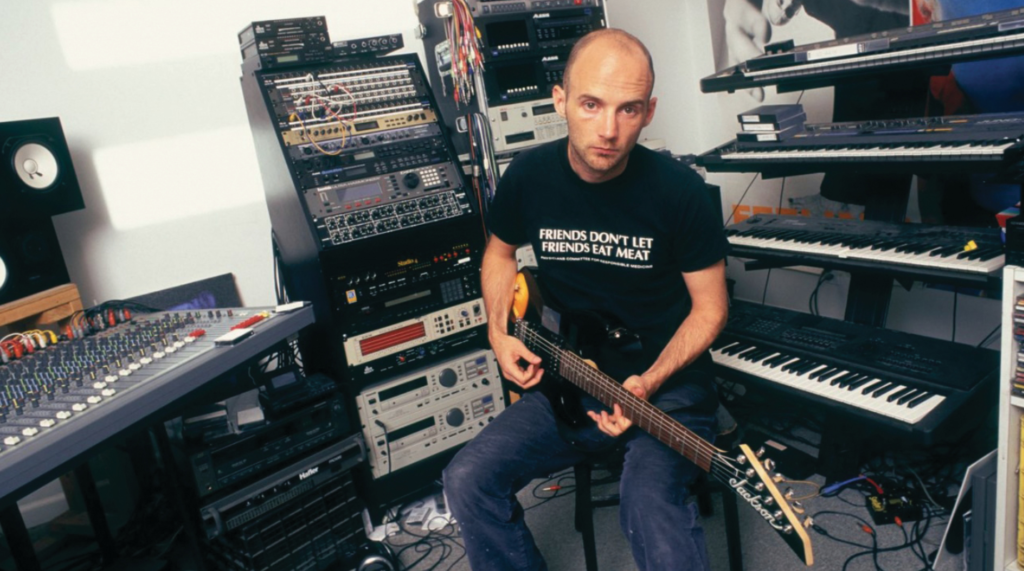 By Matt Diehl
"It's kind of like being a lepidopterist, but more nerdy, and not as pretty," Moby explains of his obsession in acquiring vintage drum machines—a collection he estimates contains between 200 to 300 pieces. "This hobby certainly hasn't helped me meet women, or anyone, really. Regardless of gender, most of my friends period aren't interested in old drum machines. To me, though, they're just adorable little artifacts."
The 52-year-old electronic-music icon—who recently released his 15th solo album, Everything Was Beautiful, and Nothing Hurt, to great reviews and solid sales, entering the top 40 across the globe—actually aspires to obtain every drum machine produced.
That spans the introduction in the late '50s of the first commercially produced model—the relatively sedate Side Man (designed to replace drummers and give rhythmic accompaniment to Wurlitzer organ players)—to early '80s models like the electro-futuristic funk boxes, including the Roland TR-808, which gave hip-hop its nascent speaker-shredding boom. "1975 to 1976 is perhaps my favorite period for drum machines, however," Moby notes. "The ones from that era have the funkiest, most soulful grooves. Clearly whoever was programming them was a disco-obsessed hipster genius doing tons of cocaine."
Ironically, Moby's gateway drug to drum-machine collecting proved to be his embrace of a sober lifestyle in the late 2000s. After decades of depressive decadence (brilliantly chronicled in his poetically frank 2016 memoir Porcelain), Moby found himself alone in a German hotel room on his first tour after embracing sobriety. "Instead of going out drinking like I'd always done, I was faced with crippling insomnia," he says. "To pass the time, I'd poke around eBay: I'd just gotten my first account, so I started checking out old drum machines."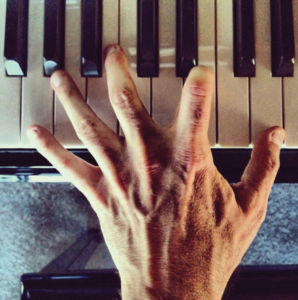 Stumbling upon a Maestro Rhythm King MRK-2—the model Sly Stone famously employed on his classic records—for a mere $30, Moby found himself automatically clicking "Buy," and found there was no going back. "I got the kind of dopamine-serotonin rush that comes from doing something simple that has good consequences," he explains.
Moby's collecting interests follow the significance drum machines have played in his life and career. Growing up in the '70s, he was fascinated by the synthetic pulse of songs like Kraftwerk's "Autobahn" and Donna Summer's seductive disco anthem "I Feel Love."
"I loved anything in the real world that seemed like it could come from Star Trek," he explains. Later, as he became enamored by the late-'80s rave culture and the innovative electronic producers that grew out of it, Moby discovered much of this new music that excited was produced ad hoc on supposedly obsolete analog drum machines and synthesizers discarded in the wake of contemporary hi-fi digital technology.
In Everything Was Beautiful, and Nothing Hurt in particular, Moby explores these retro-futuristic sounds anew—reflecting sonically and lyrically on where machine meets soul in a way that evokes his timeless breakthrough 1999 album, Play.
"I just love drum machines for their simple absurdity, and didn't know anyone else who collected them," he says, adding that while he no longer "goes on eBay five times a day" he still aspires to "grails" like rare, early Elka Wilgamat and Chamberlin tape-loop models.