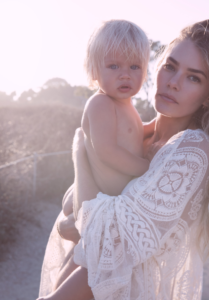 California-born model and swimwear designer Tori Praver is part of the wave of women redefining what it means to be a modern mother. At 16, Praver was the youngest Guess model; soon after, she was featured in three Sports Illustrated spreads. She's now all grown up, with homes in New York City and Malibu. As the face of the new ocean-inspired athleisurewear brand Bleusalt, from designer Lyndie Benson, Praver proved to be an organic ambassadorial choice, says Benson: "Bleusalt is an authentic Malibu lifestyle brand. Tori Praver lives here, and lives the lifestyle, so we were the perfect match."
The down-to-earth beauty finds balance and recharge through her consistent yoga practice, which nourishes her drive to raise strong and independent children. Purist shares some of her motherly wisdom from Claiborne Swanson Frank's new book, Mother and Child.
How do you describe your style of mothering?
I never baby-talk my kids. I always speak to them as if they understand me, no matter what age they are. It is crazy how smart children are. You can never underestimate them. Always listen to what they say, and always believe them.
How do you prioritize your self-care and the cultivation of passions while balancing obligations, responsibilities and family?
There is this thing called "mom guilt" that no mother can avoid. You must succumb to the fact that you physically cannot be in two places at once, and accept it. It is hard to choose to do things for yourself and take time away from your children, but it is a must and will make you a better mother.
What are your family's most important core values?
I tell my daughter [Ryan] to have courage and be kind every day. These are two traits that will make you a special person. So if she hears me saying that in the back of her head when she is afraid or cannot make a decision, then I have done a good job.