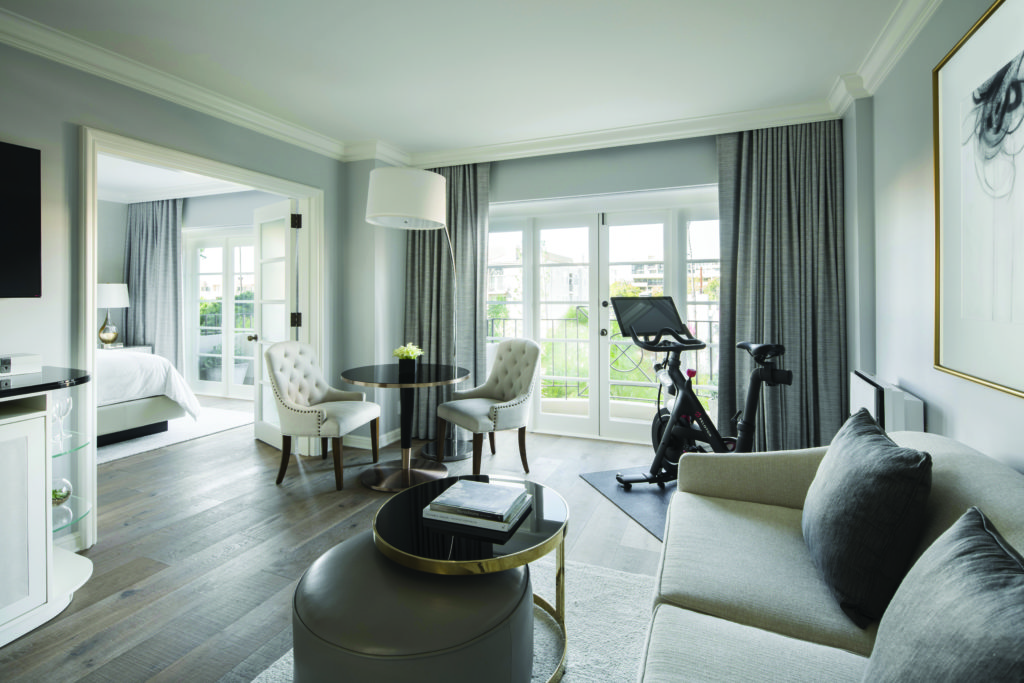 by Alexandra Cheney
Appealing to health-conscious travelers, the Wellness Rooms at the Four Seasons Hotel Los Angeles at Beverly Hills favor kombucha over cola; circadian lighting as opposed to standard dimmers; and hardwood floors in lieu of carpet. As part of a hotel-wide update, the five guest rooms and two suites promote salubriousness and strength while traveling.
The in-room dining menu and minibar highlight clean eating, with offerings such as zesty poblano and portobello tacos, a crunchy falafel salad bowl and gluten-free (albeit seed-filled) snacks, all approved by the Cleveland Clinic. Further wellness features include dechlorinated showers, natural baobab and shea-infused toiletries from Lather, and an air-purification system that reduces allergens, microbes and toxins, creating a trifecta of detox courtesy of Delos.
No need to trek to the gym: Dry-wicking Alo yoga mats and meditation videos by Deepak Chopra can be found in a standard guest room, and suites are outfitted with exercise equipment and a sleek Peloton indoor bike.
Promoting physical recovery in addition to healthy travel, Wellness Room guests receive discounts on select services at the spa, which is situated down the dove-hued hallway on the fourth floor. A stalwart of wellness, the Four Seasons also boasts robust programming around Global Wellness Day, an annual celebration of healthy living. fourseasons.com