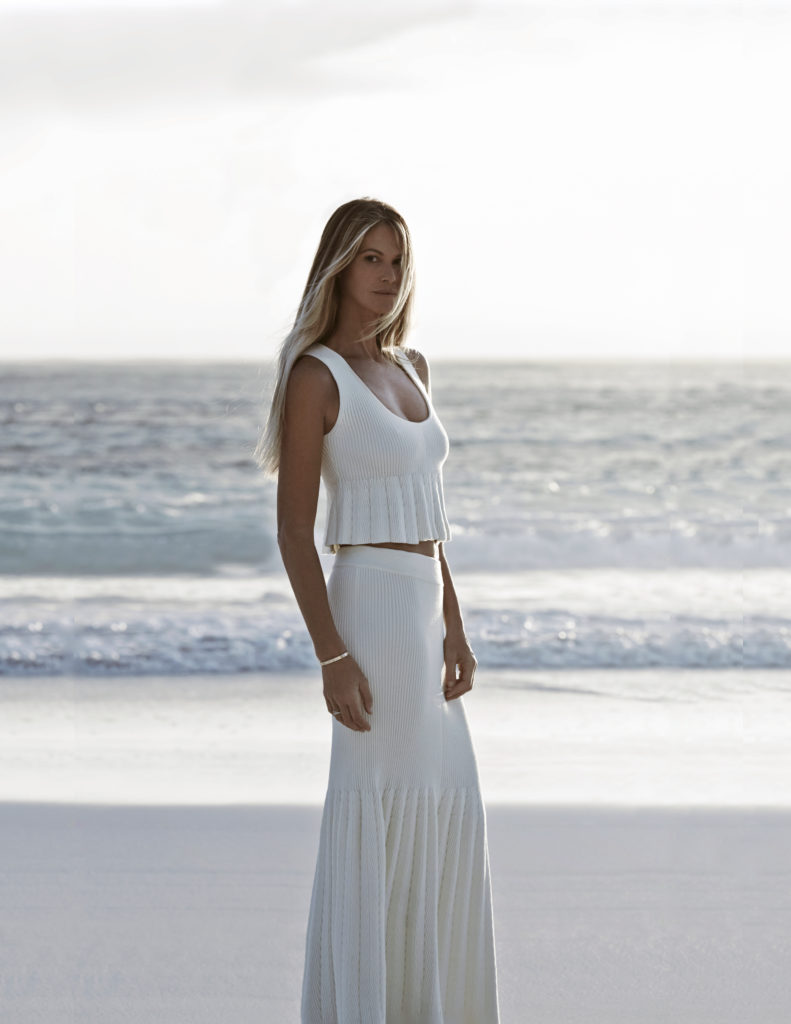 CRISTINA CUOMO: At what point did wellness become a priority for you? How has your perspective on wellness shifted over the years?
ELLE MACPHERSON: When I was younger, I saw a clear correlation between youth and beauty—as I matured, I noticed the correlation between wellness and beauty, and I realized I could no longer rely on genetics alone, and needed to make some changes in my lifestyle and diet.
My nutritionist, Dr. Simone Laubscher Ph.D., introduced me to an alkalizing, green, all-natural, plant-based vitamin, mineral, probiotic, prebiotic—a one-stop powder that turned my health around—and this philosophy later became the basis of WelleCo Super Elixir Greens, our hero product.
CUOMO: What compelled you to start a wellness business?
MACPHERSON: As big believers in the overarching benefits of good gut health, the concept that plant-based ingestibles were the future of health and beauty was exciting to my co-founder Andrea Horwood and me. It was clear wellness and beauty were merging into one, so we founded WelleCo in 2014 to bridge the two concepts. Our mission was to pioneer and explore new ingredients and formulations with real integrity. We have done this at WelleCo from the very start, and continue to as we expand.
Since launching, the industry has gained momentum, especially at the premium end. We were the first to take a natural ingestible onto the beauty floor at Selfridges three years ago. Plant-based supplements remain central to our business. We are proud to have spearheaded this change in the wellness market.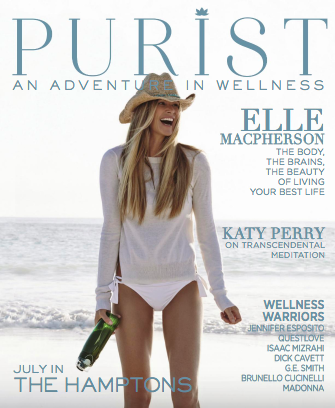 CUOMO: What does "absorbable nutrition" mean?
MACPHERSON: At WelleCo, we believe that a plant-based alkalizing daily diet is important for optimum health. When the body is nourished effectively at a cellular level, it shows on the outside. I take two heaping teaspoons of Super Elixir Greens daily in filtered water. It is formulated with 45 plant-based, whole food ingredients that the body recognizes and absorbs at cellular level. I combine this with organic whole foods—vegetables, fruits, nuts and seeds. Plus, lots of water.
Dr. Laubscher explained to me that nourishment and maintaining a healthy pH balance assists with lowering acidity in the body that can lead to inflammation, low energy, weight gain and accelerated aging of the cells. It has transformed the way I feel, and made me realize what a profound impact good nutrition can have on the way I feel, and how this can show on the outside.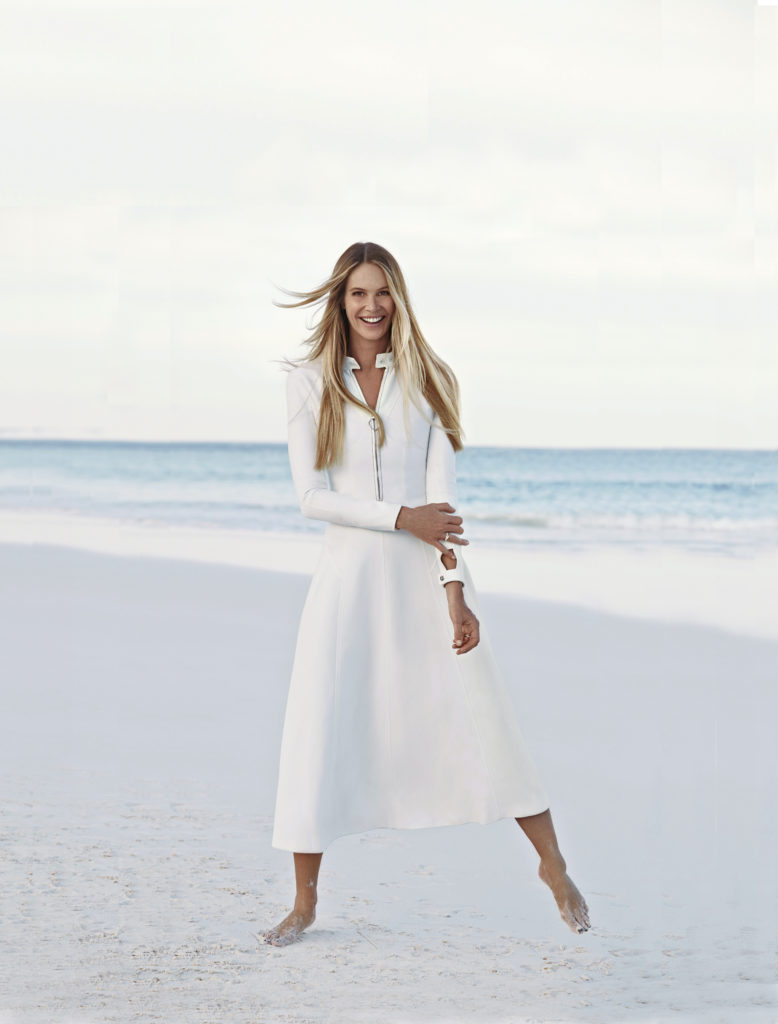 CUOMO: Tell us about the Super Elixir—what are its benefits?
MACPHERSON: It's a careful balance of plant-based nutrients. The nutrients work together to help maintain a healthy pH range, which I have learned is the best way to nourish the body right down to the mitochondria. When Dr. Laubscher was formulating the Super Elixir Greens, she looked at the average imbalances of an adult, and thought about what specific ingredients she could include to support gut health and balance the body's 11 systems. We chose horsetail and omega-3 for healthy hair, skin and nails; probiotics and prebiotics to support digestion, shiitake and maitake mushrooms, which, when combined, are great for the immune system. This considered approach has made WelleCo Super Elixir Greens the ultimate multivitamin.
CUOMO: What made you decide to bring WelleCo to NYC with a retail store?
MACPHERSON: We found a loyal and growing customer base in the U.S. through our welleco.com site—more than half the company's global sales come direct from the U.S.—before really touching that brick and mortar market. The WelleCo flagship NYC store (at the corner of Broome and Crosby Streets) will provide a tangible experience for our customers who are looking for science-backed, plant-based supplements to improve the way they feel, and add to their lifestyle. We have designed a unique wellness space that will include consultation areas, in-house events and smoothie-blending counters. Each aspect of the in-store experience demonstrates WelleCo's value of customer connection, so they walk away feeling empowered and informed.
CUOMO: How do you stay fit?
MACPHERSON: I don't have a set regimen—these days, enjoyment is my motivator. I love to spend my daily hour of movement outdoors, and try to mix it up. One day could be bike riding, surfing, or stand-up paddleboarding, and the next might be yoga or walking the dogs. A holistic approach to my health is key for me—feeling and seeing optimum benefits, inside and out.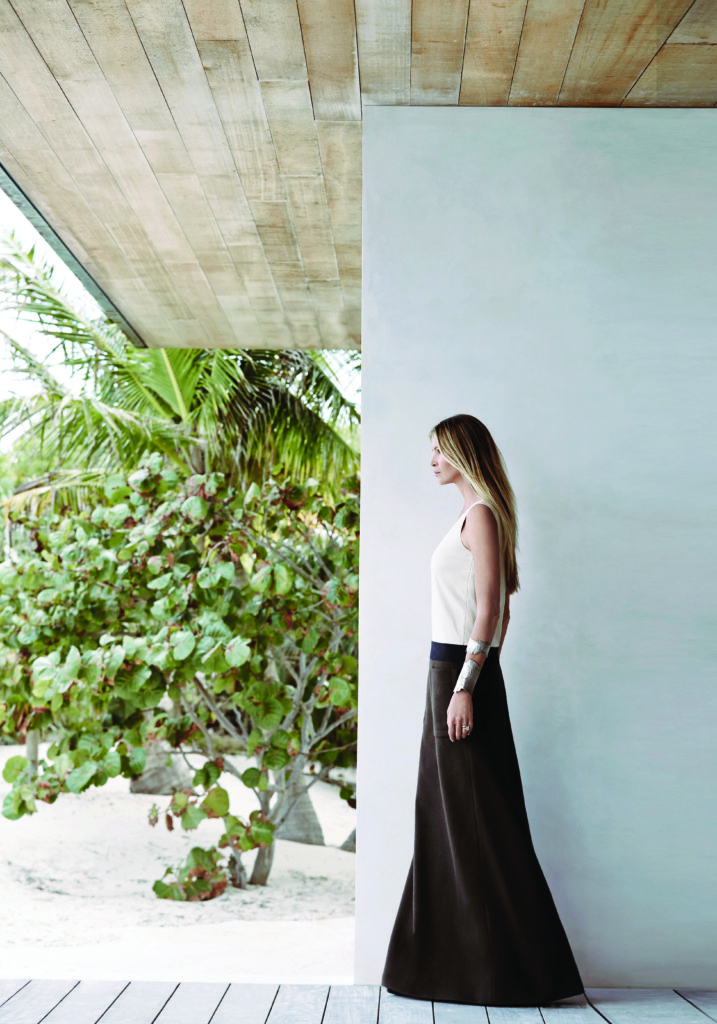 CUOMO: What do you do every day to maintain your health and well-being?
MACPHERSON: For me, it is about living every day as clean, green and active as I can. I'm vegan at the moment, and follow an alkaline diet of organic, seasonal whole foods. Because different greens provide a range of benefits, I make sure to eat a wide variety. If I am well nourished, fit and well rested, I feel healthy. It works for me. Lots of water and laughter go a long way to looking and feeling great.
CUOMO: What are your favorite plant-based ingredients, and why?
MACPHERSON: Super greens like barley grass, spirulina and acai for their alkalizing and antioxidant properties, vitamins, minerals, amino acids and chlorophyll content. Dandelion for liver support, maitake and shiitake mushrooms that, when combined, help maintain the immune system, and amazing horsetail for supporting healthy and strong connective tissue.
CUOMO: What's your guilty indulgence?
MACPHERSON: There is no guilt—I love dark chocolate.
CUOMO: How would your kids describe you?
MACPHERSON: Hmmm, I'm not even going to try to imagine what goes on in a teenager's mind!
CUOMO: What's the most inspiring thing anyone has ever done for you?
MACPHERSON: I believe the best gift anyone can give is to inspire you to think differently.
CUOMO: What's your favorite quote or motto?
MACPHERSON: Einstein's quote, "Imagination is more important than knowledge." One of the best pieces of advice I've received is: "Let your heart decide what to do, and your head decide how to do it."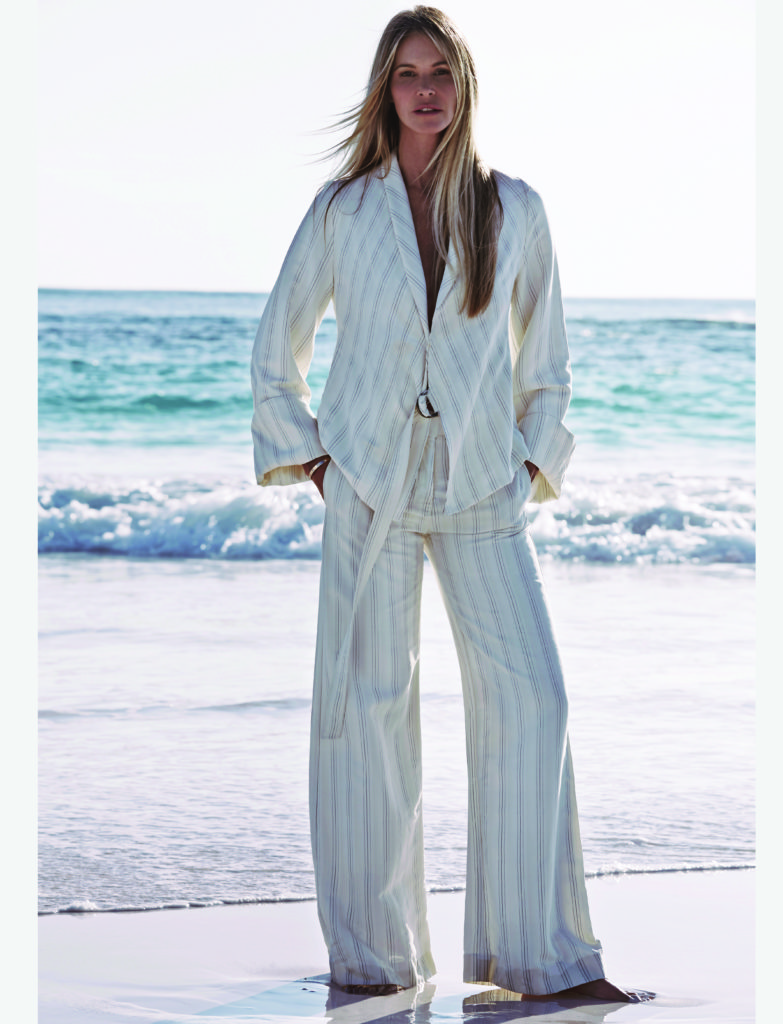 CUOMO: What's your favorite way to get out of a bad mood?
MACPHERSON: Laugh! Laugh at yourself, the situation, just laugh—it opens the heart.
CUOMO: What is one thing you do every day to maintain sanity?
MACPHERSON: Starting and ending the day calm works for me, and helps to organize my mind and time. I wake at 5.30AM and lie in bed for about 20 minutes, in meditation, before getting up and ready. At night, I do a yoga pose to help induce sleep. It involves lying on the bed with my legs up the wall. Afterwards, I will brew a pot of Sleep Welle Calming Tea. It is passion flower-scented and enriched with skullcap, valerian root and hops to help relieve nerves and anxiety. My aim is continuous sleep, full of dreams.
CUOMO: Favorite foods?
MACPHERSON: I try and stick to a vegan wheat- and grain-free diet. It's not a chore; I just love to eat this way. So many great recipes with veg, nuts and seeds. I don't have dessert every day, but when I do, I love vegan ice cream—it's hard to stop at one bowl.
CUOMO: Why was it important to you to create a product that your kids would love?
MACPHERSON: When we moved to America, my son Cy started eating lunch from the school canteen instead of the home-packed lunch he used to have in the U.K. He would choose empty carbs at school, and come home starving. To fill the gap between after school and dinner, he craved sugary snacks, and as a result, felt grumpy. I decided he needed a nourishing alternative that was good for him but still tasted delicious. So, we formulated the delicious and seriously healthy Super Kids Nourishing Protein, without all the additives, animal by-products, and sugar. It's a light, plant-based protein that is a great alternative for after-school snacks, sports or added to breakfast smoothies. Cy was on the tasting panel, and is always whipping up interesting concoctions in the kitchen.
CUOMO: What's most important to you these days?
MACPHERSON: Parenting—it's the gift that keeps on giving. Someone once said the best thing you can give your kids is time, and this really resonated with me, so I live by it. I'm also a big believer in what you do in the now creates your future, so put your energy into what's in front of you. WelleCo is where I put my energy, because I'm passionate about the overarching benefits from wellness, and beauty from the inside out.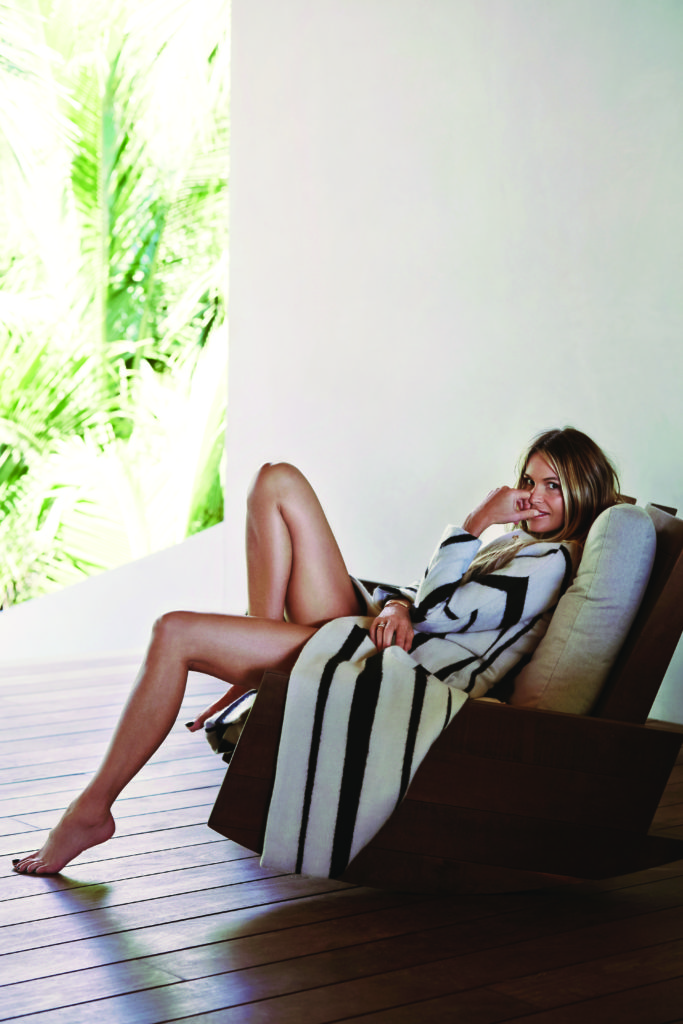 CUOMO: What advice would you give your younger self?
MACPHERSON: I would tell her, being healthy boosts confidence and self-esteem, which in turn makes us stronger. It's something I have only learned to value as I've gotten older, and something I share with the women around me.
CUOMO: What flaw do you appreciate in yourself?
MACPHERSON: Flaws?! [laughs] I'm probably oversensitive at times, but am learning not to take things so personally. I believe everything is in front of me for learning—there's no mistakes if we learn from them.