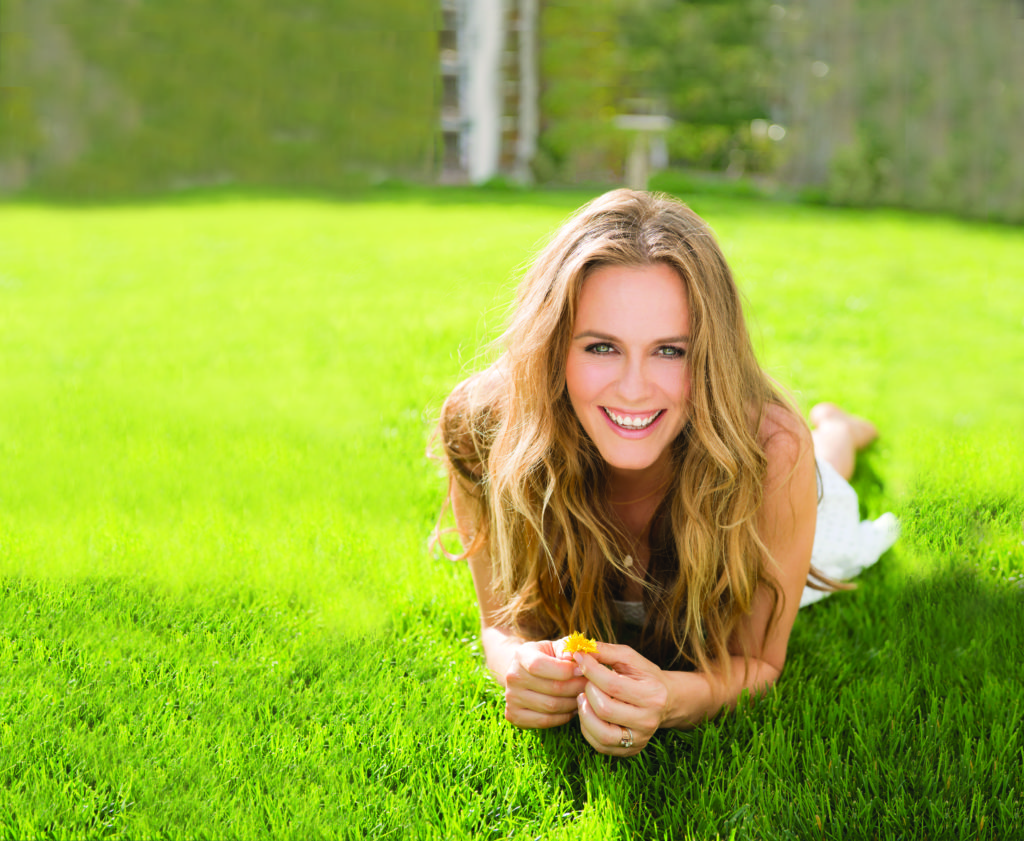 by Ray Rogers
RR: You've been a vegan and committed animal rights advocate for a long time now. What first made you aware of the plight of animals?
Alicia Silverstone: I've been an animal lover ever since I was a little girl. My mom was the same way; if we saw a stray dog running in the street, we would rescue it, which I still do to this day! Because of this love for animals, I flirted with vegetarianism throughout adolescence but it wasn't until I was 21 that it really struck me profoundly and I went all-in. I watched the documentary The Witness and took a look at my dog and thought, If I'm not willing to eat you, how can I continue to eat these other creatures that have the same desire to live, are just as funny, and have the same reaction to pain as my dogs? Little did I know, this diet would completely transform my health: I ditched my asthma inhaler, weekly allergy shots, and acne.
RR: It's so much easier to eat a healthy and delicious vegan diet today than in years past, whether cooking for yourself or dining out. Can you talk a little about how you like to cook for yourself at home now and what restaurants you cherish, at home in LA or elsewhere in the world?
AS: My books The Kind Mama and The Kind Diet have some of my absolute favorite recipes: a couple of highlights from The Kind Mama include protein-packed waffles, veggie sausage and sweet potato hash, and chocolate-dunked coconut delights. From The Kind Diet some go-to dishes include: quick date-apple-cinnamon oatmeal; artichoke, mushroom and leek crostini with pesto; bok choy drizzled in ume vinaigrette; and chocolate-peanut butter cups. Other go-tos really depend on the season, and what's fresh in our garden. In the summer, I make killer salads that my son, Bear, helps me put together. In the winter, I love a warming soup.
Some of the eateries I love in LA include Vromage—they have so many insane nut-cheeses and tasty sandwiches—and Crossroads Kitchen! Crossroads' menu changes seasonally, but delicious dishes I enjoy include the vichyssoise soup, impossible sliders, truffle potatoes, squash blossoms, and the peach sundae. In New York, I frequent Souen, Candle 79 and AbcV. Souen has been a staple for me for the past decade, with items like greens and daikon, kinpira, yuba soup, maze rice, and watercress salad. Candle 79 and the Candle Cafes have yum fun dishes like seitan piccata, seitan chimichurri, and peanut butter bliss. AbcV is out of this world; Jean-Georges Vongerichten's vegetarian food is seriously next level. The beet carpaccio is insane.
RR: Was mykind a natural extension of the kind of cruelty-free health regimen that being vegan is for you?
AS: Yes. This vitamin journey began when I was pregnant with my son. In order to grow the healthiest little human possible, I was already feeding my body with all the clean, nutrition-packed foods that had transformed my health years ago. But because these babies can be little nutrition vampires—and because some days were not all sunshine and kale—I wanted to have peace of mind that I was getting every health-supporting vitamin and mineral that my body needed during this time. I embarked on a quest to find the cleanest prenatal vitamin possible, ideally one that was aligned with the way I eat: organic, non-GMO, plant-based, and free of funky processed junk. I didn't want a bottle of chemical isolates dressed up with organic fluff. The vitamin I wanted to take didn't exist. So I went looking for a partner—the stars aligned with Garden of Life—and I co-founded mykind Organics. It is made from whole foods, and is certified USDA organic, non-GMO-verified and free of synthetic binders and fillers.
RR: What is one thing you would recommend taking every day?
AS: Before we made our own truly clean mykind Organics supplements, I didn't want to take anything on a regular basis. Now that mykind Organics exists, I try to take our B Complex vitamin, B-12 Spray, and Vitamin C Cherry Tangerine spray. I also take our 40+ Multivitamin Gummy as a sweet treat. Some herbal supplements I use as needed include mykind Organics Sleep Well R&R Spray, Ashwagandha, Adrenal Balance, and our delicious Elderberry Gummies.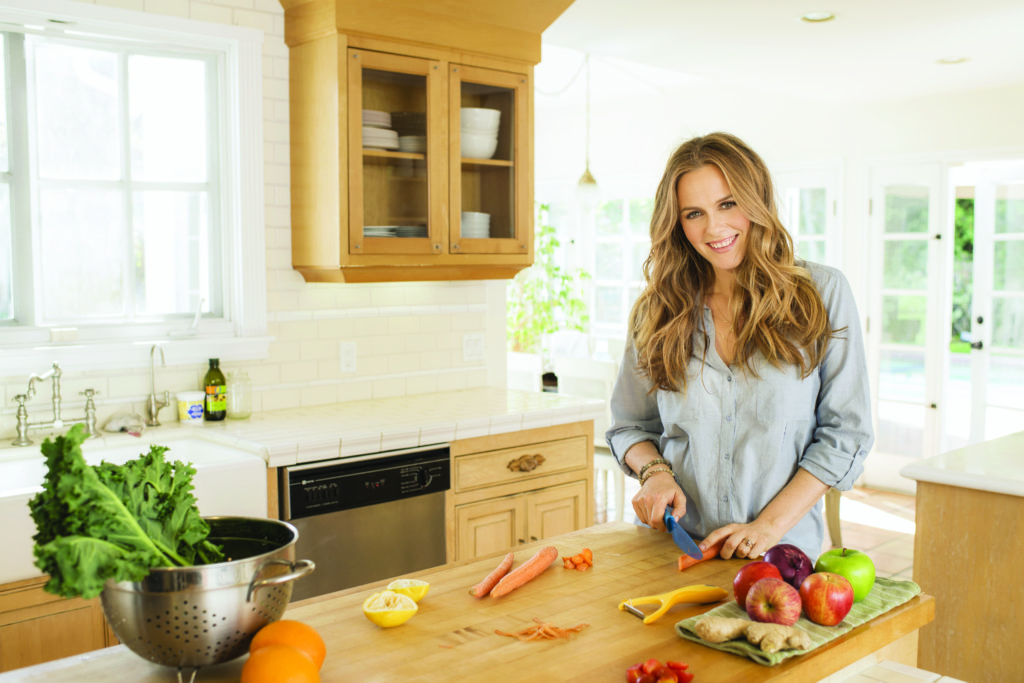 RR: What kinds of exercise do you enjoy most?
AS: I love doing yoga, circuit training, Pilates and walking in nature. Bear and I enjoy hiking together and frequent dance parties! Getting movement in the body helps me feel energized and refreshed.
RR: Do you have a regular meditation practice?
AS: I meditate, but not on a strict daily basis. Sometimes when I walk, I try to meditate by listening and being present with the sounds of nature, smelling the air and feeling my steps. My diet is really the core to feeling grounded. It leaves me so much more clear-minded, present, openhearted and connected to the Earth.
RR: What kinds of roles do you find most enlivening, and what upcoming acting projects are you most excited about?
AS: Juicy characters that have depth. I love roles that I can sink my teeth into, ones that are complicated, contradictory. Recently I was the lead in two indie films, Judy Small and The Pleasure of Your Presence. Both roles were so much fun, and great, interesting parts to play.
Last year, I really enjoyed playing Bonnie Nolan on the TV show American Woman. Bonnie was a feisty mama in the '70s. Overall, I'm excited about working with filmmakers like I did on The Killing of a Sacred Deer (Yorgos Lanthimos) and The Lodge (Veronika Franz, Severin Fiala).
RR: The Lodge premiered at Sundance to rave reviews. Can you tell us about working on it? Looks frightening—in a good way.
AS: At this time, I have yet to see it, but I can't wait to watch it. I'm a bit scared! Some of my friends saw it, and jumped into each other's arms at a certain point in the film.
RR: How do you cultivate a sense of well-being in the home?
AS: Food is No. 1, hands-down: cooking and serving plant-based meals. Bear and I maintain a veggie garden in our backyard, and make it a ritual to plant and harvest together. We also supplement the gardening with weekly farmers market adventures. After food, every material in our house has been consciously considered for its sustainability and health. A couple of examples: Almost all of the furniture in our house is vintage and bought second-hand; we have a house filtration system, so we can drink and cook with clean water while also eliminating the use of plastic bottles; our graywater is recycled for our fruit trees; and we use Branch Basics plant-based, nontoxic eco cleaning materials.