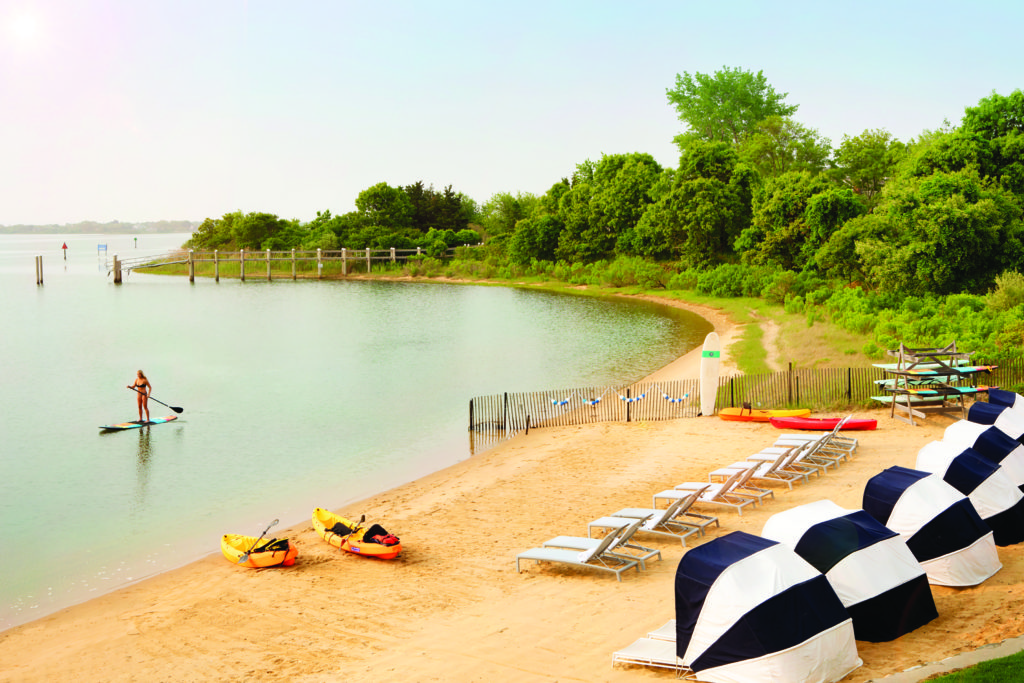 PURIST: What's your vision for Gurney's Star Island Resort & Marina?
George Filopoulos: With the new property, we are thrilled to unveil a second location in Montauk that extends the Gurney's experience out to Star Island, while introducing a new type of stay, designed to feature amenities centered around the water, including fantastic guest accommodations, unique dining concepts, outdoor facilities and an array of private spaces for events. We're also focused on community engagement by integrating local businesses and partnering with like-minded brands for wellness and retail pop-ups to elevate the guest experience. Our vision with the opening of Gurney's Star Island Resort & Marina is to create a memorable destination for travelers, locals, boaters and large groups alike, through the incredible service and space.
PURIST: The 13-acre island underwent a whopping $13 million renovation to become the Gurney's compound it is now. What inspired the design?
GF: The design stays true to the brand's coastal aesthetic and origin. Inspired by its nautical history, the resort showcases an earthy, neutral color palette and maritime elements throughout its 107 guest rooms and public spaces. It's home to the largest marina in the Hamptons, so our goal was to incorporate the stunning waterfront views as much as possible. From the tone of the walls and flooring to the light fixtures, we wanted to create a luxury feel without overpowering the natural setting, which is in many ways our greatest asset. We also expanded window space at every opportunity for natural lighting.
PURIST: What sets Star Island apart from the other Gurney's locations?
GF: When guests experience it, they are surrounded by the organic beauty of the destination, as the property delivers a lively waterfront vibe set against the backdrop of the area's most impressive marina. It also brings an exciting addition to Montauk's dining scene with Showfish, an original culinary concept that focuses on localism, seasonality and sustainability. We're lucky to be in such an ingredient-rich area with so much access to world-class seafood and produce. And the resort is central to Montauk's commercial fishing port, which means we can easily source tilefish, lobster, crab and more.
Favorable for families, Gurney's Star Island has a stellar kids initiative and has partnered with the Cornell Cooperative Extension Marine Program to deliver a custom youth-education program that includes impactful topics like water quality, aquaculture, STEAM (science, technology, engineering, art and math) and fisheries.
The sweetest part of the new resort is the opening of Van Leeuwen's first brick-and-mortar scoop shop located in a hotel. It has been an honor for us to bring the beloved ice cream brand to Montauk to offer guests their signature scoops (classic and vegan options) as well as the new "Weekend at Gurney's" creation—the ultimate s'mores flavor with a twist. gurneysresorts.com