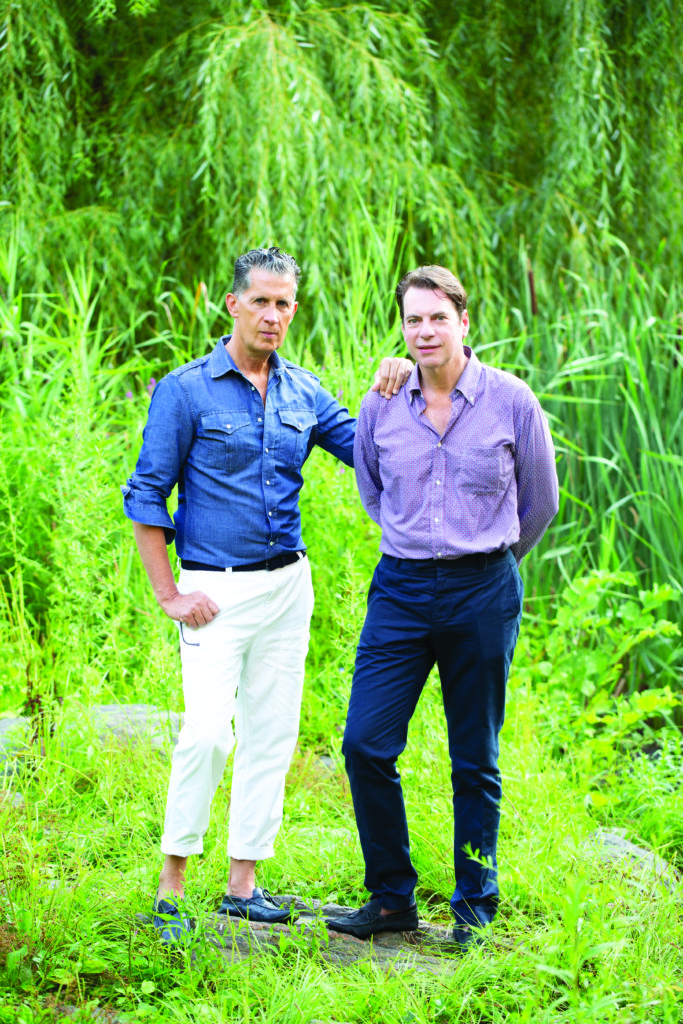 By Donna Bulseco
They can be counted as two of the world's accomplished overachievers—Stefano Tonchi, having helmed both T: The New York Times Style Magazine and, more recently, W, fashion's edgiest and most elegant publication; and David Maupin, who, as a top art dealer, co-founded the influential Lehmann Maupin Gallery in 1996 with Rachel Lehmann, and last year wowed the art world with a gorgeous new three-story flagship in the Peter Marino-designed Getty building in Chelsea.
That said, these charming individuals, gamely waking up before daybreak for a Purist photo shoot, lead impressively balanced and nurturing lives as parents of twin 8-year-old girls, Isabella and Maura. The couple, who married in 2011, admit they like nothing more than lazing around in Bridgehampton, which holds all the restorative elements the East End of Long Island offers. "Our place here is a retreat," says Maupin. "We keep a very low profile, spending time with our family and close friends, spending time together, decompressing, thinking, exercising, and taking advantage of our location." In truth, that "lazing around" is far from lazy. "We like the natural beauty of places like Cedar Point, the wildlife refuge at Elizabeth A. Morton where there are osprey," Maupin continues. "We go to The Springs for paddleboarding and hike in Montauk quite often." This summer, they watched a school of dolphins cavorting in the ocean.
The steady, slow-it-down rhythm of life here has a pleasing effect. "Leaving on Friday evening after school has become a bit of tradition for the girls," says Tonchi. "They are still at an age where we can push our love of the Hamptons, even off-season." The bounty of farm-fresh vegetables and just-caught fish also makes them happy. "We eat veggies from the garden, making corn salad with tomatoes and basil," says Maupin, who is on the board of Edible Schoolyard NYC. "I love to grill, and we alternate between a vegetarian day, steaks, and the big summer tradition—having fish—sea bass, local swordfish, fresh calamari. Stefano is the more accomplished chef." Adds Tonchi, modestly: "David does the cookies and the focaccia, and the girls are adventurous and love oysters, clams and mussels; our most successful meal is our weekly spaghetti alle vongole." And "if we are lazy" (there's that word again), the family bikes to Yama-Q for sushi, or heads to Tutto Il Giorno for pasta or a meal at Jean-Georges at Topping Rose House.
While socializing takes second place to family time, the two of them are not monks—the couple look forward to the Perfect Earth Project benefit at Larry Gagosian's place to celebrate the organization founded by landscape designer and pal Edwina von Gal, to promote toxin-free lawns and landscapes for the health of people, their pets and the planet. For Tonchi, who recently left Condé Nast, this summer is also about developing projects that "reevaluate esthetic value" and "continuing to do things I love—connecting contemporary art with fashion and the world of celebrities to put out a socially conscious message, to educate people and create some beautiful images." Surrounded by the beauty of the Hamptons and the love of family and friends, inspiration comes easily.