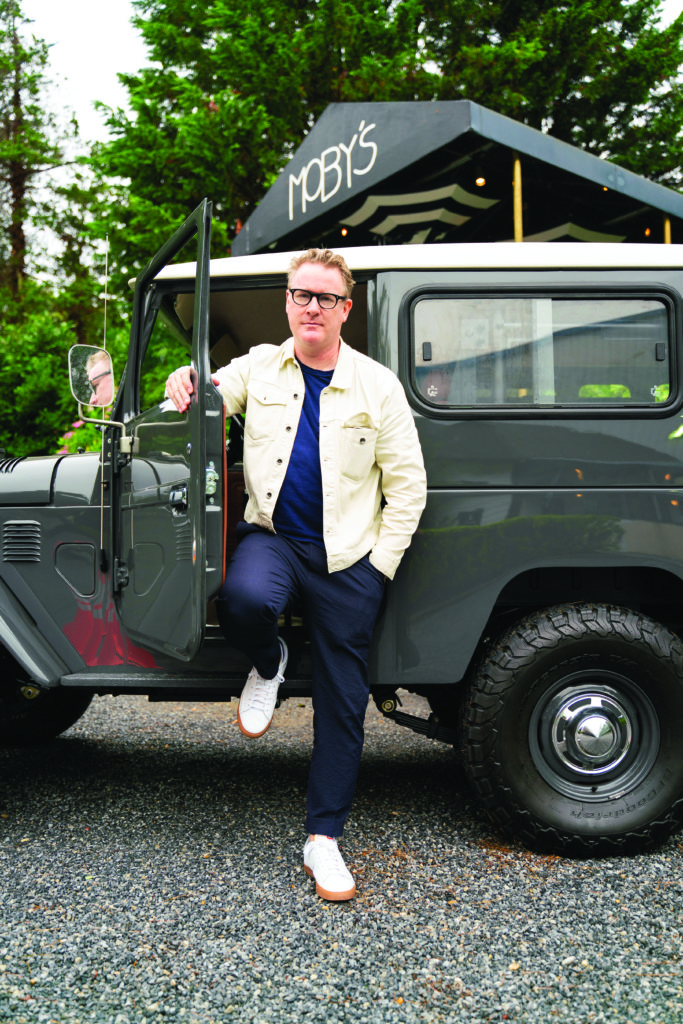 By Ray Rogers
Ray Rogers: Todd, you have what I'd consider a classic American sense of style—a sort of relaxed sophistication. What were some key influences or pivotal life experiences that have informed your aesthetic as a designer?
Todd Snyder: I definitely love New York, and while the brand maintains those urban roots in its aesthetic, growing up in the Midwest has always influenced my approach to design and style. My dad was a watch man, so he inspired my own love for timepieces. And in terms of style, my family always made a point to clean up, meaning look nice, for a meal, so I've grown to appreciate the importance of "cleaning up"—which you can do in big and small ways every day.
RR: Lincoln, coming from Australia, where your mom was the editor of Australian Vogue, I'm guessing you were surrounded by style and fashion from an early age, even before beginning to model or becoming a fashion photographer. What were your early influences that informed your sense of style?
Lincoln Pilcher: My mother was an incredible style influence, both in fashion and entertaining. It was her sense of ease and simplicity that deeply resonated with me and helped shape my taste today. Our home in Australia was always a hub for her fashion friends, delicious long lunches on the deck. She is also an excellent cook, clean and simple beautiful meals with exquisite table settings.
RR: Why was this partnership a good fit for each of you?
LP: Todd and I met, and we instantly shared the same ideas and views on what 'summer in the Hamptons' evoked. I have always loved Champion hoodies and Todd was already in partnership with them, so it was a perfect fit.
TS: I think our shared passion for the Hamptons is what made this partnership a great fit. Moby's is the ideal spot for a perfect summer evening, so it was amazing to capture that energy in our designs.
RR: Is there a shared sense of style, values?
LP: Yes, we both have similar sensibilities in relation to what people would want from a T-shirt or hoodie. Good quality and fun design were the common goals for this capsule collaboration.
TS: Absolutely. I think that's what initially drew us together—we had a lot of the same style sensibilities, but also a passion for our work that drives us to deliver at the highest quality.
RR: Todd, what was your vision for the Moby's apparel?
TS: I wanted to create something timeless that was reflective of Moby's hip vibe and beautiful backdrop.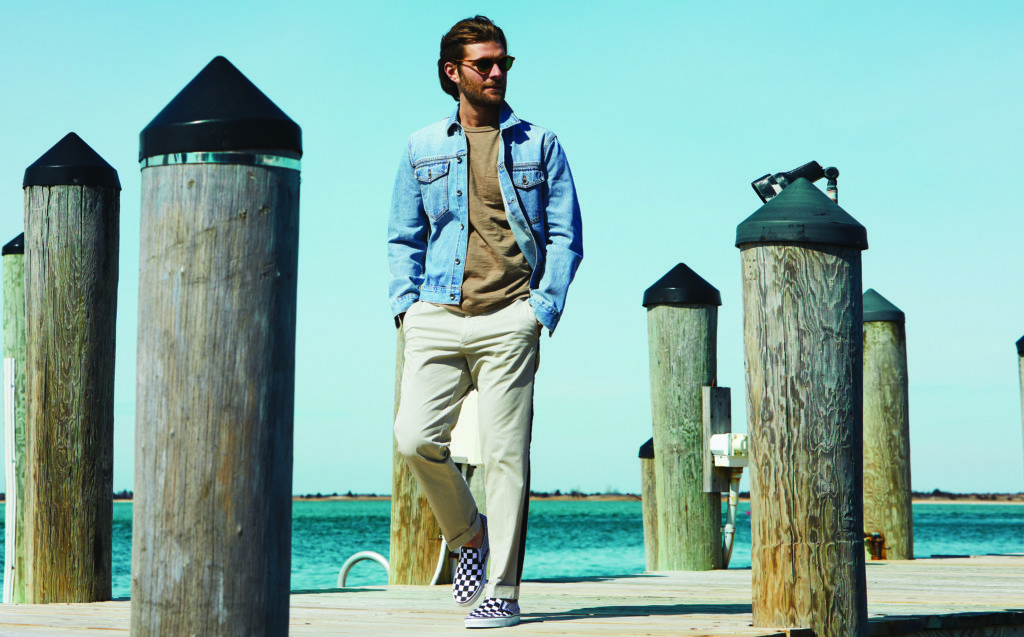 RR: Lincoln, how did you react when you saw the sketches and final products?
LP: I loved them. We had begun our process with a drawing of a whale that one of our employees had done on a chalkboard ages ago, back at the old Moby's venue. From there we added design elements, colors and our logos.
RR: Did you two know each other before collaborating?
TS: Yes, we were fast friends and I was drawn to his personal style. I also spend a lot of time at Moby's when I'm in town, so it was inevitable that we'd get to know each other.
LP: I was part of his catalog and did an interview and shoot with his team, and from there it grew into a great summer collaboration with Moby's.
RR: Todd, that car you tricked out is impossibly chic. That was your first automotive collaboration. What was that experience like for you?
TS: It was awesome to work with Nelson and Juan Diego Calle at The FJ Company for the Land Cruiser collaboration—really a dream come true, since I've been a fan of their work for over 10 years now. I was especially excited to put a more personal spin on these very classic trucks to make it more authentic to my brand. We picked out these great colors that are central to the brand's aesthetic, and I wanted to work with Red Wing on a really special leather for the interior, so it was like combining the best parts of my world as a designer in this beautiful truck.
RR: It sold at the Moby's event. Was it hard to part with?
TS: Definitely! All of the features of the Land Cruiser we created are so reflective of who I am and what inspires me, so I'm glad that the new owner gets to experience all of that firsthand and hopefully have the same great experience that I did.
RR: Lincoln, what's your ride? If you had the opportunity to create a dream car, what would it look like?
LP: I drive a Chevy pickup, but I am on the hunt for a 1970s Porsche 911!
RR: How much thought and care goes into the aesthetics of not just what you wear, but how you get around, where and how you live and work—does everything have a specific point of view, style-wise?
LP: My personal style is pretty effortless—out East, I'm surfing and at Moby's, so it's casual.
TS: I definitely put a lot of thought into everyday aesthetics, especially since my job always has me thinking visually about everything. I think the way you present yourself with your wardrobe, your car or your living space definitely affects your confidence and mood—and you can do it in a totally unpretentious, approachable way. I'm a huge fan of the classics, so I tend to gravitate toward tried-and-true styles, but I'm constantly thinking about how I can put my own twist on it and make it more modern.
RR: Lincoln, what are your plans for the last glorious days of summer? Moby's is at its peak season now. Do you have any downtime? What do you make a point to sneak in, even if you don't get much time off?
LP: There is not much downtime at the moment but any chance I get I head to Montauk for a surf and lunch at Hideaway.
RR: How about you, Todd? With fashion week coming up, do you get any R&R in?
TS: I start every season with a trip somewhere. I find that's the best way to clear my head and force myself to think differently. And I switch it up destinations every year, so I don't get stuck in a routine. In terms of travel style, I'm usually inspired by the destination itself, so I dress to adapt to my environment, but in a way that still feels authentic to me. I get a lot of great design inspiration from doing that.
RR: You both work in pretty demanding industries. How do you keep sane and fit?
TS: I think it's extremely important creatively to unplug and recharge every once in a while. As I mentioned, I love to travel and use this as my time to reset. It's also important to stay physically active, and a good sweat can also help boost creativity. I'm personally a big fan of spinning and love to lock in and check out for 45 minutes.
LP: A good game of tennis is a must to clear the head! I also cycle and swim most mornings; Albert's Landing is the best pool in the Hamptons.
RR: What is your ultimate summer hang—and how do you dress for it?
LP: Best summer hang is always a great day at the beach followed by a dinner at Moby's! Buck Mason are my fave pants at the moment and I love a great RRL shirt and always a Vans slip-on, and of course a Todd Snyder Moby's hoodie!
TS: I generally don't have just one consistent spot, so I tend to go to a bunch of places for summer travel. Locally, I love hanging out at my friends' places in the Hamptons for a dinner if we're not at a restaurant in town. A light cotton shirt goes a long way in this heat, and I love a good pair of sneakers at any time of day.