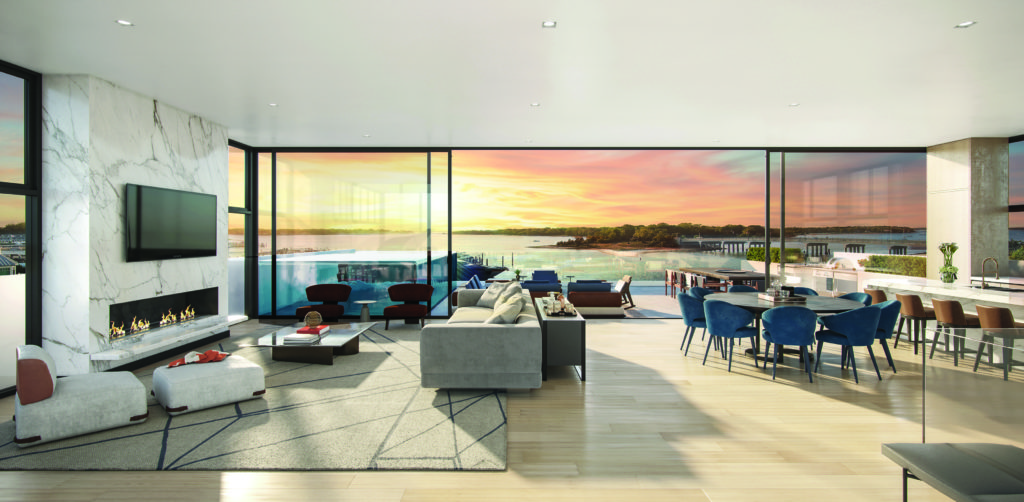 By Gabrielle Echevarrieta
Big upgrades are coming soon to the Sag Harbor bay. A new public park, named after late author and Sag Harbor resident John Steinbeck, will be a stone's throw away from developer Jay Bialsky's new waterfront residences, 2 West Water Street. Both spaces are designed to preserve and complement the character of historic Sag Harbor Village. The development, located in one of the most coveted lifestyle destinations in the Hamptons, will blend modern luxuries with the tranquility of nature. Anticipated renovations of the neighboring Long Wharf, including a hardwood pedestrian boardwalk and viewing area, will soon unite it with both the park and new homes.
2 West Water Street is comprised of a trio of ultra-luxury waterfront residences (two of which are available for sale), and has the distinction of being Sag Harbor's tallest new building in the last century. Spaces will feel light and airy, with an open breezeway providing stunning water views. Embracing the rich history of Sag Harbor architecture, realized in contemporary form, 2WW's groundbreaking design is rooted in the past, yet crafted with a look to the future. The property's strategic layout ensures residents will never have to hop in the car. One can fly in on a seaplane, or sail via yacht into one of the two boat slips included with each unit. Main Street's world-class dining and shopping are only a short stroll away as well. If driving is your style, each residence comes with ample garage space.
The village of Sag Harbor, Jay Bialsky and attorney Adam Miller have collaborated to ensure the new residences will upgrade the landscape without straying from its traditional aesthetics. "The Adam Miller Group has been invaluable in helping to bring this vision to life in record time, utilizing their years of experience and stellar team," says Bialsky. The land, originally owned by Greystone Development, was planned to house 13 condominiums. When Bialsky acquired the plots in 2018, he had a different vision. Although it made economic sense to build up the spread, he always knew flowing spaces and a park would be a better fit for the community and his own family. In early 2019, Bialsky's construction plans were adjusted, keeping the needs of neighboring residents in mind. The third unit was scaled down from 7,200 square feet to 5,600, and the rooftop pavilion reduced by 66 percent. Miller expresses his satisfaction with the agreement: "Working with Jay Bialsky on this challenging and rewarding transaction allowed us to exercise the depth of our real estate practice. With Jay's incredible vision, attorneys Brian Desesa, Brian Locascio and I were able to navigate the real estate, the Village and the Town to negotiate a deal that will forever change the face of the Village and allow public access to a waterfront park." 2wwsagharbor.com