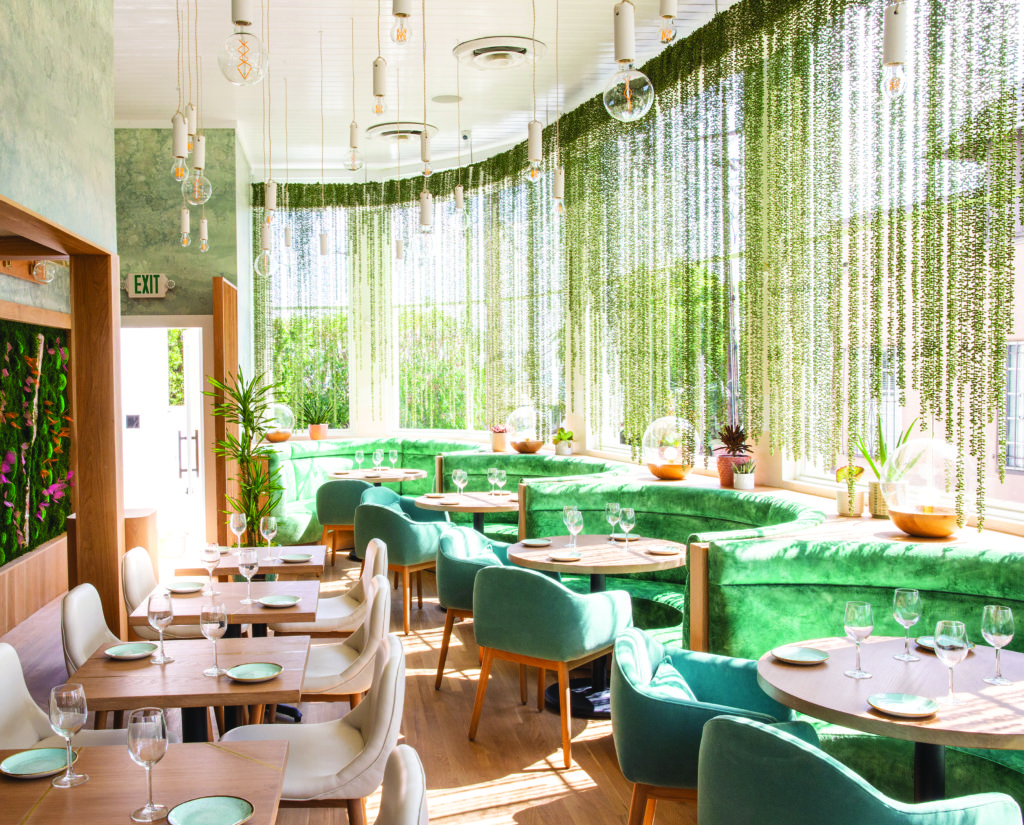 By Miri Sadigh
Following chefs Ludo Lefebvre and Gilles Epié's Summer of Ludo & Gilles South of France-inspired three-month pop-up, the City of Light lands in the City of Angels with the debut of Gilles @ Montage Beverly Hills (225 N. Canon Drive, Beverly Hills; montagebeverlyhills.com). At 22, Epié was the youngest chef to receive a Michelin star (while working at Miravile), and his namesake spot will pay homage to his since-shuttered restaurant Citrus Etoile on the Champs Élysées. Menu highlights include French onion soup, crème fraîche-topped baked potato, French Dover sole meunière and Franco's Baba Rum Flambé, served tableside with flaming rum and vanilla cream. The indoor-outdoor space, housed in the lobby of Montage Beverly Hills, serves dinner and offers a special three-course prix fixe menu for lunch to rival that of the always-buzzy Avra Beverly Hills just across the street.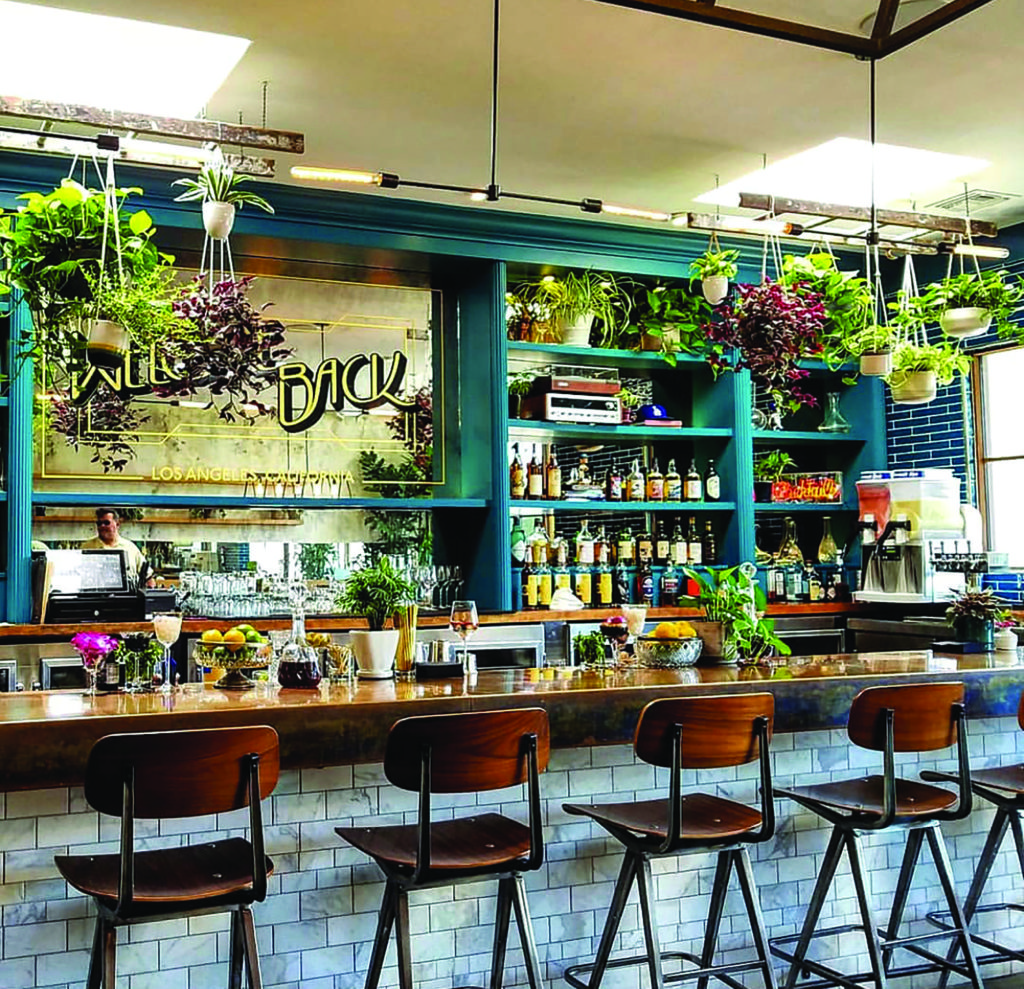 The hot-spot takeovers continue as neighborhood favorite Nic's on Beverly (8265 Beverly Blvd., Los Angeles; nicsonbeverly.com) has replaced Scott Conant's Ponte. Nic Adler is the master of this plant-based haven, which serves up brunch, lunch and dinner. Adler, who ran the Roxy in West Hollywood for 15 years, teamed with restaurateur Stephane Bombet and culinary director Steven Fretz to bring a melting pot of cuisines to the masses in a fast-casual setting with a greenery-lined patio. Cocktail expert Jason Eisner—known for his pours at Gracias Madre—has been tapped as beverage director; LA Mill coffee and house-made juices are served alongside inventive cocktails such as the one made with house-smoked Oaxaca black corn whiskey. The menu, which focuses on all products made in-house, includes a wood-fired Detroit-style pizza and the Chinois on Beverly salad, a vegan ode to Wolfgang Puck's famous dish.
Nearby Fresh on Sunset (8768 Sunset Blvd., Los Angeles; freshplantpowered.com) is a Canadian export not to miss. The vegan restaurant with five locations in Toronto makes the move to the West Coast with a fast-casual flair in the former Serafina spot. Check out indulgent plant-based bites—flatbreads, tacos, burgers and sweet potato poutine, and healthier alternatives such as smoothies, juices, bowls, salads and wraps—plus a separate gluten allergy menu and pours of vegan wine. Veteran vegan pioneer Ruth Tal sits at the helm of this Sunset Strip restaurant alongside former Top Chef Canada judge and West Hollywood's Terroni Los Angeles co-owner Shereen Arazm.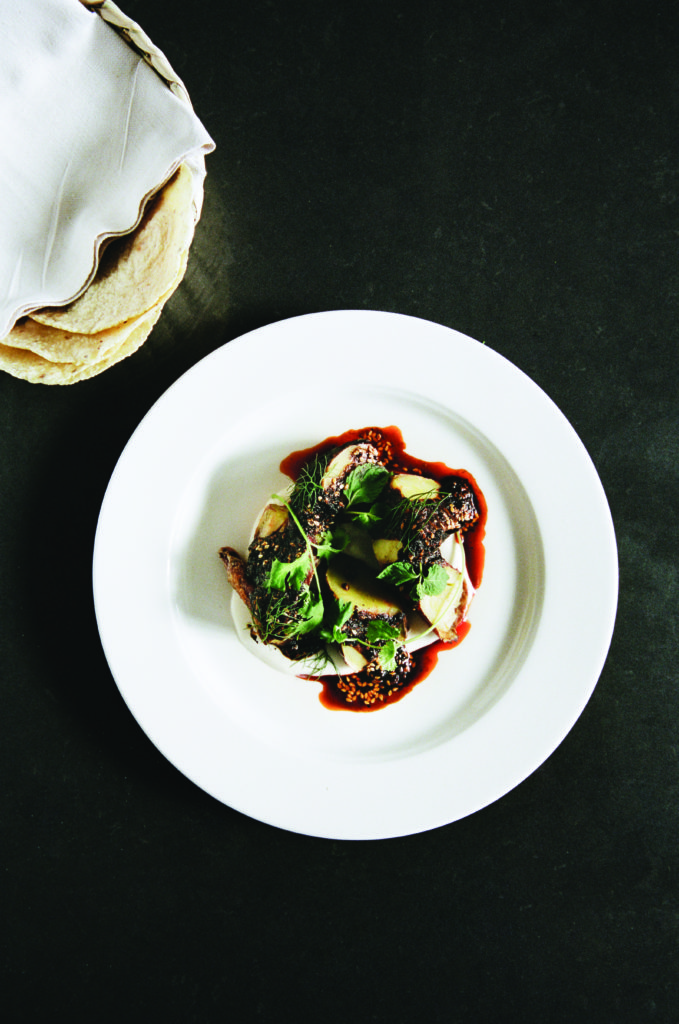 Starting with the opening of the 1 Hotel West Hollywood's lobby restaurant 1 Kitchen by Chris Crary, hotels are increasingly becoming dining destinations in their own right. Mexico City's famed chef Gabriela Cámara of Contramar lands in LA alongside local Sqirl chef Jessica Koslow at Onda (700 Wilshire Blvd., Santa Monica; onda.la). The hotly anticipated collaboration between the two star chefs has been years in the making and finds a home in the Kelly Wearstler-designed Santa Monica Proper Hotel. Meaning "wave" in Spanish, Onda conveys the rolling synergy between the two chefs and their origins: Mexico and California. Expect sustainable seafood offerings with Latin flavors and California market ingredients, such as the inside-out turkey pastor quesadilla and whole tapioca-fried market fish. The West Hollywood EDITION has also made its mark as a spot for locals with the stylishly serene, greenery-filled dining room of Ardor (9040 W. Sunset Blvd., West Hollywood; ardorweho.com), the hotel's main restaurant. Michelin-starred chef John Fraser takes the reins with a vegetable-focused menu featuring California cuisine for all-day dining that uses hyperlocally sourced ingredients. Order the raw cauliflower cacio e pepe with ancient grains and pomegranate; maitake mushrooms in a bouillon with leeks and Chino Farms egg; and roasted beets finished with a tableside spritz of rosewater.
GOING GREEN
Celebrated as the first of its kind in America, Original Cannabis Cafe lights up in West Hollywood. Lowell Herb Co's owners Sean Black and David Elias—in partnership with Hollywood nightlife vets Mark and Jonnie Houston—have set up shop with an array of cannabis- and canna-infused cocktails paired with sustainable, organic farm-to-table food. While marijuana-infused food is not on the menu, order from organic eats such as avocado-and-white bean hummus to a bánh mì done two ways (with pork, or vegan-style with cauliflower), all designed to pair with an enhanced sense of taste and smell.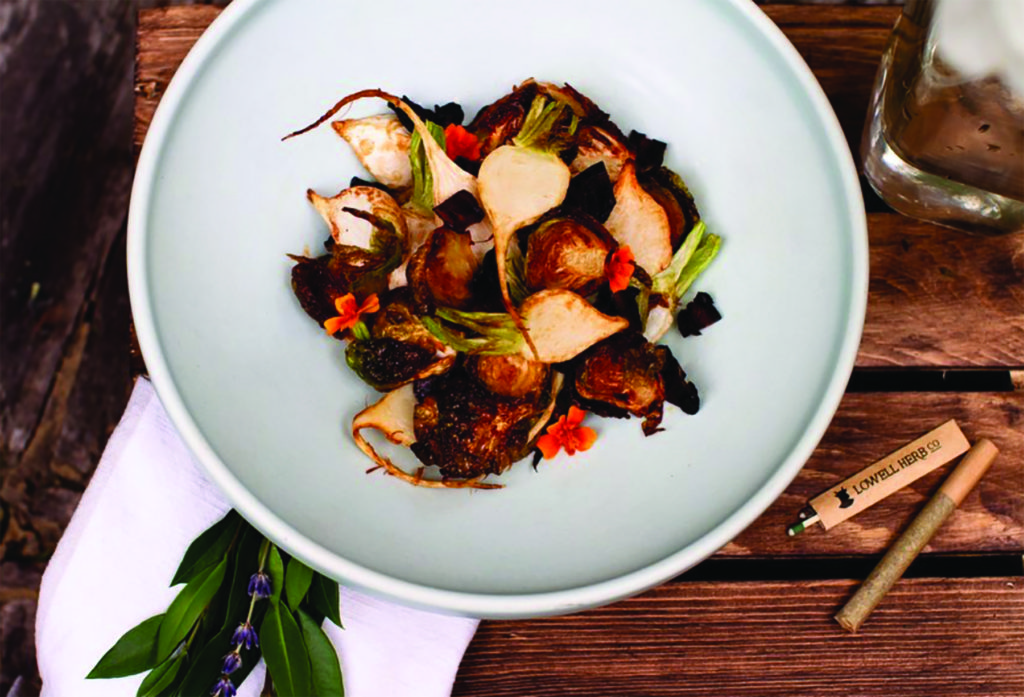 The all-day fare mirrors that of Lowell Farms' commitment to organic fertilizers, natural materials "from seed to sale" and sun-grown (as opposed to lab-grown) products, to conserve electricity. Whether you're in for a lunch meeting or post-work puffs, "budtenders" (think of them as sommeliers of weed) are on hand to advise guests on the various cannabis options.
1201 N. La Brea Ave., West Hollywood; lowellcafe.com