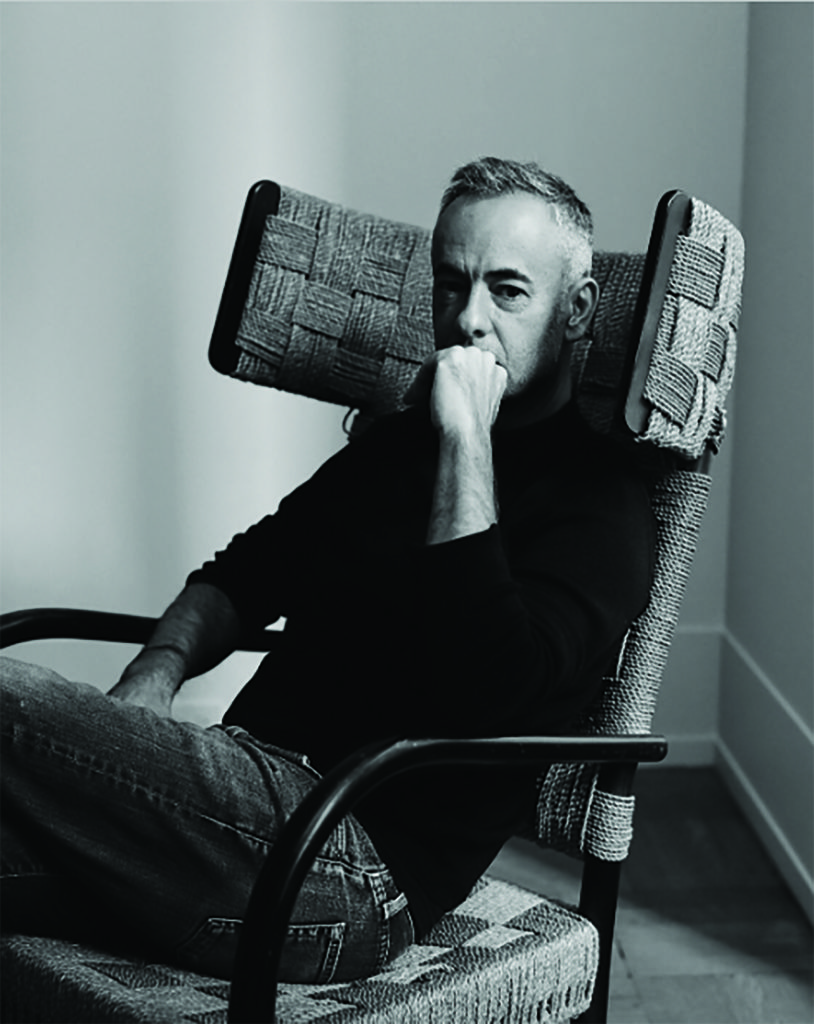 By Ray Rogers
Never mind the epic journey getting there, which is a story in and of itself—complete with a motorized canoe that lost its propeller hours into the long voyage down the Gregório river in western Brazil. When Francisco Costa, the two-time CFDA award-winning designer who helmed Calvin Klein's women's collections from 2003 to 2016, finally arrived at the home base of the indigenous Yaminawá tribe some 12 hours later, the sun was setting over the west coast of the Amazon rainforest in his native Brazil. He was shown to his sleeping arrangements: As a guest of honor, he was offered what he deemed "the fanciest" accommodation, a hut on a raised platform over a flowing stream. Settling in for the night, he was greeted by a cacophony of buzzing insects, incessant raindrops and "millions" of croaking tree frogs underneath.
For an understated designer heralded for his impeccable clean lines and elegant restraint, it was a shock to the senses. "It was insane," Costa, 55, reports with a quiet laugh. "It was torturous, in a sense." Unable to sleep, he arose at 5AM and went for an exploratory stroll, only to come back to his hammock to find a tribe member zonked out in it. (He simply took refuge in another nearby hammock.)
Today, sitting in his tightly edited Park Avenue apartment over herbal tea, a neat line of Christopher Makos portraits of Warhol in drag behind him (his first big purchase after he began to work under Tom Ford at Gucci), it's not hard to understand his initial reaction to that chaos. Yet when he left that first of three exploratory Amazon expositions, a bond with the tribe was forged, and a bounty of natural resources was found for his new clean beauty line, Costa Brazil.
After departing Calvin Klein in 2016, a return to his roots in Brazil (a country he left at age 21, without knowing a word of English, to attend FIT in New York) was a natural choice on multiple levels. "It was a search for purity," he says, describing the impetus for the trip. After rounds of research at some of the top labs in the States and in France, "looking for that magical potion, I soon realized that I had to go to the source—I needed to find what was also authentic to me."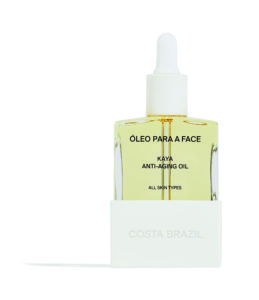 "I didn't know what I was really looking for when I went. I just wanted to experience the wilderness," he recalls. "But I came out of there after 10 days with this incredible resin, called breu, from the almacega tree, which the Indians burn all day and all night—they use that to activate the sixth chakra."
"And the scent is just magnificent," he continues, lighting a small piece of the material to demonstrate. Plumes of gray smoke encircle the sitting area, and indeed, the scent has a calming effect. "Right away, I said oh my God, this is incredible. I want to know about this one. We did trials, and the signature of Costa Brazil really came out of this ingredient, which I made into an oil."
Enlisting Conservation International, which helped ensure the harvesting of ingredients is done ethically and in an environmentally sound way, he also sustainably sourced two other ingredients that, a matter of months later, would make up the core trifecta of ingredients in Costa Brazil, which soft launched in December 2018: Vitamin E-packed cacay oil; and kaya oil, an antioxidant-rich "superfood for the body."
Costa created the elegant, architectural packaging while he was still at Calvin Klein, long before he knew what the custom, square-shaped glass vessels with rubber sole "shoes" would be containing. Inspired by the works of Italian artist Piero Manzoni, a progenitor of Conceptualism who recently had a two-floor retrospective at Hauser & Wirth in Chelsea, Costa's chic but functional vessels are timeless—"this could be from the 1920s or 2019," he correctly points out, picking up a bottle of his Kaya Jungle Firming Oil. "I wanted it to be glass. No beauty business is in glass now, but I needed it to be glass because of the aspect of respecting the Earth."
Only available at select high-end retailers and beauty boutiques, such as The Surf Lodge's new Sanctuary in Montauk, Barneys in Manhattan, and online at Net-A-Porter, the launch has received a groundswell of support. Naomi Watts, who stocks it at her natural beauty emporium ONDA, swooned over the body oil: "I love using this after the shower, as it keeps my skin hydrated all day. The smell is fantastic." Joanna Czech, facialist to the stars (Kim Kardashian and Bella Hadid, among them), raved about the Kaya Anti-Aging face oil's effectiveness in Vogue.
The line is unisex, which was important to Costa. "It's not about Barbies, but about the human being—people engaging in and feeling good about their rituals, taking their time to engage with the world." He can envision a whole Costa Brazil universe, all made from responsible, sustainably sourced materials. The possibility of brand extensions excites him: "I mean, I do love fashion," Costa says, with a twinkle in his soulful brown eyes. "However we approach fashion down the line, it will be about those essential things that we need, done in the most beautiful, desirable way, but with a huge stack of responsibility behind it."
The draw toward nature stems from Costa's upbringing in Guarani, a small town in the southeast of Brazil with a population of just 3,000 when he was growing up, where his mother owned a children's clothing factory and his father ran a ranch. "You're surrounded by nature, so waterfalls are very natural to me, going to the countryside is very natural to me. I love the scent of green; I love the scent of the Earth. It all relates."
Today, he cherishes his time spent in the garden on weekends in Bellport. "I'm really happy when I'm surrounded by flowers and green; I become another person, I decompress." He and his longtime partner, horse trainer John DeStefano, took a wrong turn on the way home from Fire Island 20 years ago and ended up in Bellport. Instantly charmed, they made an offer on a house the next week. They are now in their third house, contemplating a fourth move. "It's a community that's changed our lives. Going to Bellport is about being with friends and being at ease. You can ride a bike into town and get a coffee in your pajamas. Doors are always open. It's like my hometown; we'll walk to the neighbors without an announcement, just to say hi because they're friends. I also love to cook. I'll spend half of the day shopping in order to create that Babette's Feast dinner—even if it's just for me or one more person. Nature teaches me what to cook." livecostabrazil.com, @costabrazil