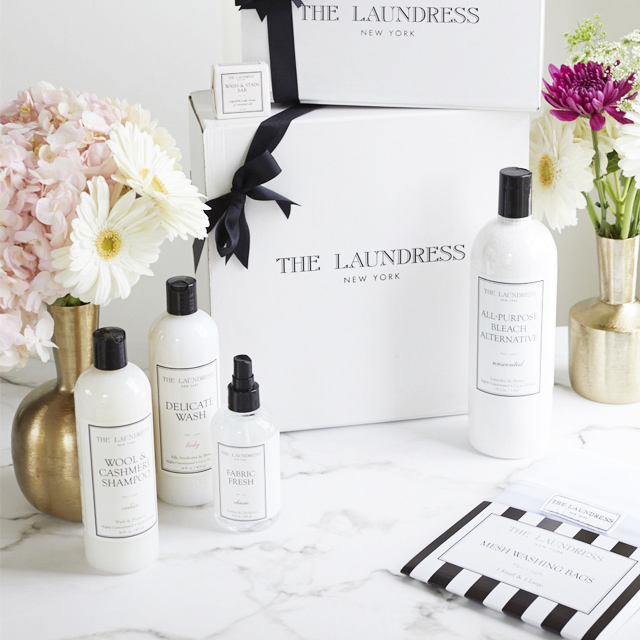 Keeping your wardrobe and home clean is more imperative than ever right now. These tips, from plant-based laundry and home care brand The Laundress, will let you clean fabrics considered dry clean at home and wash your down bedding with ease—all without harsh chemicals.
Wash your delicates:
Silk, synthetics (like polyester and acetate), lace, fine knits, chiffon, velvet, polyester, and other lightweight fabrics all fall under the delicates category. With many dry cleaning services shuttered until further notice, now is the perfect time to master fabric care for all of your favorite pieces. Although delicates require a little extra care when washing at home, it can absolutely be done using these simple steps.
Step 1: Sort
Start by separating your delicates from your other laundry so you can wash them all at once.
Step 2: Remove Stains
Pretreat stains with The Laundress Stain Solution for tannin or protein stains like dye, wine, coffee, or grass, or use The Laundress Wash & Stain Bar for oil or makeup stains. Work the stain-remover into the affected area with a finger or Stain Brush, then soak in cool water for up to 30 minutes. You can use your sink, a basin, or even your bathtub for this. If using the sink or tub, first remove all dirt and grime with our All-Purpose Cleaning Concentrate and hot water. Click here for The Laundress' quick guide to cleaning any surface.
Step 3: Wash
To hand wash:
Fill up your sink, basin, or tub with cool water and add two capfuls of The Laundress Delicate Wash*, which is formulated specifically for delicates and is extremely gentle. (It's important to use a fabric-specific detergent like this one when washing delicate fabrics.) Mix the detergent into the water, add your items, submerge, and agitate the mixture with your hands to distribute the soap. Soak for up to 30 minutes, then drain wash water and run cool water through items until rinse water is no longer sudsy. Be careful not to wring the fabrics! Instead, softly press the water out of your item between your hands or against the sink.
*Delicate Wash contains special enzymes that are suitable to be used on silk. The enzymes gently remove perspiration, oil, and buildup. Specifically formulated with cleaning enhancers and color guard, it maintains the cleanliness and color saturation of your favorite garments.
For wool and cashmere use the same steps and Wool & Cashmere Shampoo
To machine wash:
Turn items inside out and place in a Mesh Washing Bag to prevent them from snagging in the machine. Select the delicate cycle on your washing machine and make sure the water temperature is cold and the spin is on low, then add Delicate Wash. We recommend removing silks promptly from the washing machine to reduce the risk of wrinkling.
Step 4: Dry
Always air dry your delicates! Lay the items flat in their natural shapes on a drying rack or clean, dry towel, or hang to dry—just be sure to position properly on the hanger to prevent stretching. Refresh odor with The Laundress Delicate Spray as needed.
You can also hand wash non-delicates. Here's how:
First, sort your laundry by color, fabric and construction. For instance, if you have a large pile of white cotton garments, you can wash them all together in the tub. For smaller loads, save time and water by opting for the sink or a wash basin. In general, it's easier and less daunting to keep up with the laundry by washing a small load every day or every other day to avoid it from piling up.
Follow the same steps for hand-washing delicates, except use Signature Detergent and warm water instead. Use the appropriate amount depending on the size of the load—usually 2-4 capfuls.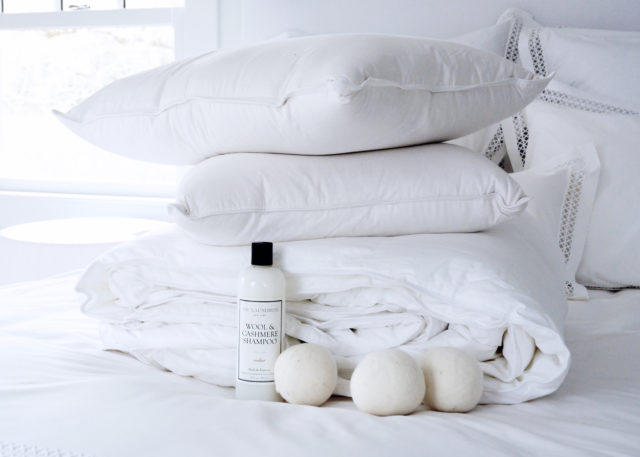 Cleanse your down bedding:
Clean bedding is always important, but especially right now. The feeling of being wrapped up in a fluffy, fresh scented comforter is one of the best in the world! With The Laundress' line of sustainable fabric cleansers, you can sleep better knowing your bed is a safe haven, clean and free from germs and toxins.
STEP 1: Hit The Spots
Treat your most stubborn stains with The Laundress Stain Solution—formulated to target and break down tannin stains such as red wine, chocolate, coffee, and yellowing. Apply it directly to the stain and work it into the fabric with your finger or The Laundress Stain Brush.
Step 2: Set Your Cycle
Select the woolens or delicate cycle on your washing machine and make sure the water temperature is cold and spin is on medium or low. Add the appropriate amount of The Laundress Wool & Cashmere Shampoo according to the machine type and load size.
STEP 3: Dry
Yes, down bedding can be put in the dryer. For the most successful finish, set the dryer to the low heat/low tumble cycle and repeat the drying cycle until ALL moisture is gone. To help redistribute and fluff up feathers and filling, add wool dryer balls or clean tennis balls to the cycle.
Halfway through the dryer cycle, remove the duvet and give it a good shake to redistribute feathers. Move around any remaining clumps with your hand before adding back to the dryer. Make sure it's fully dried to prevent mildew. If the filling still clumps together, excess water is present.
STEP 4: Freshen In A Flash
Spritz the The Laundress Wool & Cashmere Spray from 6 inches away when making the bed. This nontoxic formula with antibacterial properties adds scent while removing odor. While we love cedar, moths and critters don't!
STEP 5: Final Finish
While you shouldn't iron down items (and never starch), we recommend steaming between launderings to help remove allergens and odor-causing bacteria.
The Laundress also offers comprehensive guides on keeping your kitchen surfaces clean, like the fridge, microwave and dishwasher.
Enjoy 25% off at thelaundress.com using code PURIST25 at checkout. Offer valid until June 30, 2020.