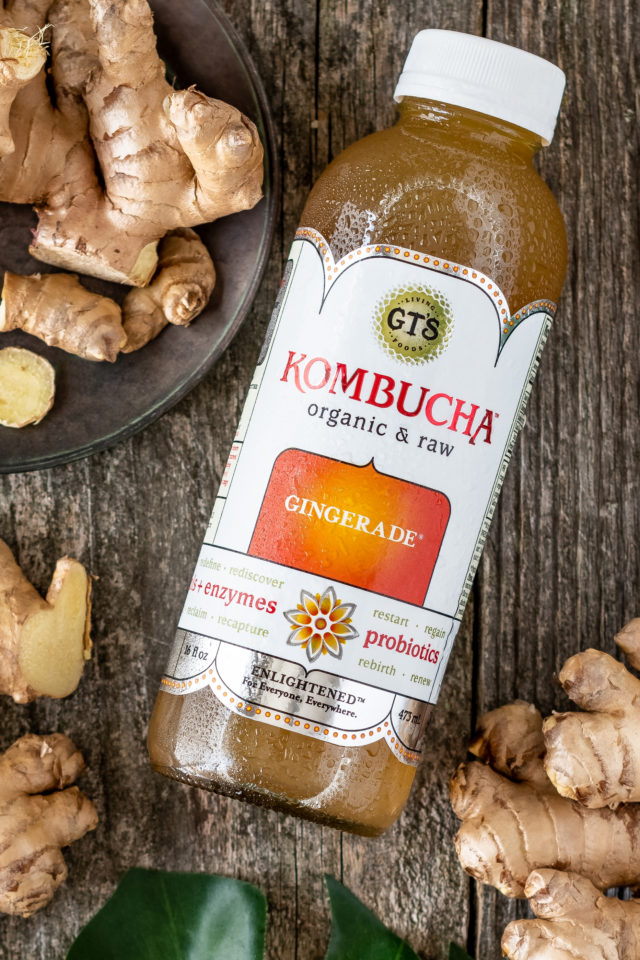 Purist: How does Kombucha support gut health—and why is that important now, in the midst of the pandemic?
GT Dave: Kombucha contains a variety of probiotics that are naturally created during its fermentation. These beneficial microorganisms help replenish and restore the gut flora (aka microbiome) in our digestive system. Studies have shown that our gut health has a direct link to our immune system and our body's overall performance (i.e. mood, energy, and appetite). Therefore, with a healthier gut your body is stronger and more resilient. In the midst of COVID-19, incorporating gut healthy and functional living foods into one's diet, like Kombucha, becomes critical when trying to increase your resistance to viral activity.
What are some of the other health benefits of Kombucha?
GT: Kombucha's most important health benefit is that it restores balance to the body by replenishing the gut and cleansing the body of toxins. Once balance is restored to the body it performs better and has improved natural defenses. This is why many people who consume Kombucha regularly report improvement with their skin, energy, weight loss and overall well-being.
You created the company when you were just 15 years old, after your mom recovered from breast cancer. Your homemade Kombucha was part of her health regimen while she was battling cancer. Can you talk about how that inspired the formation of the company and how it continues to inspire its mission?
GT: My mother's story continues to be the driving force behind everything we do. It was very evident to me early on in life that food can be medicine—and just as easily poison. My parents raised me with this philosophy therefore it's at the nucleus of all our products. We believe that Mother Nature is the world's greatest healer and the ingredients she provides give us everything we need to be healthy and strong. This is why we are committed to making foods that are living, unprocessed and nutritious. From Kombucha and Water Kefir, to Adaptogenic Mushrooms, we see ourselves as servants of nature.
What does GT's Kombucha do specifically that's different from other Kombuchas out there? (I know the brand is raw and organic. Is that out of the norm?)
GT: What separates us from other brands is that, much like farmers, we "grow" our products rather than "manufacture" them. We allow nature to run its course and we do our best not to interfere. From day one, we always have chosen to make our kombucha in small batches (less than 5 gallons) and fully ferment them for 30 days (the longest in the industry). Once the fermentation is complete, we take the batches and bottle them immediately. With the exception of adding some fresh ingredients post-fermentation, we do not process our Kombucha in any way. We promise to offer our Kombucha unpasteurized, unfiltered and in its most raw form, without any additives or fermentation "short-cuts"—just like nature intended.
Tell us about your favorite flavors. Are there any favorites/best-sellers among fans? Why do you think these are favorites and what are their benefits?
GT: I tend to agree with our fans…my favorite flavors are our bestsellers: Gingerade, Trilogy and Gingerberry as well as Multi-Green and Tantric Turmeric. These are my favorites because in addition to the raw Kombucha, they contain very nutritious ingredients that have incredible health benefits, such as ginger that is antimicrobial, turmeric for anti-inflammation and blue-green algae for brain health and antioxidants. I believe these have become some of our most beloved offerings because the added health benefits complement the bold flavor of Kombucha.
GT's new Sacred Life beverage celebrates the company's 25th anniversary this year. It's got coconut water, ginger and blue spirulina in it. Why was this combination made to celebrate this milestone anniversary?
GT: With Sacred Life, it was important for me to remind everyone that life truly is sacred—it needs to be around us, inside of us and in our food. The "life force" of Kombucha is what makes it so special and for the 25th Anniversary we wanted to continue to steward this message.
Both the ingredients and the bottle embody the meaning of "life." Coconut water, ginger, and blue spirulina were chosen to symbolize Earth's different elements; the blue spirulina naturally creates a blue color in which we pay homage to our planet's sacred oceans that are being severely impacted. The Sacred Geometry pattern called "The Flower of Life" embossed on every bottle is considered the universal symbol of creation. It's rooted in the belief that all forms of life are connected in more ways than we understand.
I understand GT's is making community contributions during this current health crisis. Who are you supporting?
GT: It's always been important to me to show gratitude and give back whenever possible. At GT's, we are deeply connected to our community and now more than ever we want to support our frontline workers as well as vulnerable groups greatly impacted by COVID-19. From the west to the east, we are donating bottles of Kombucha to organizations like Cedar Sinai and Downtown Women's Center in Los Angeles, Seton Medical Center in Austin. The Dallas Fire Department, Meals 2 Medics in Chicago, local hospitals in Miami and the Javits Center in NYC.
To all individuals on the frontlines, we send our love, gratitude and above all strength. Strength to keep fighting, strength to stay home and the strength in knowing that we are all in this together. You are our heroes. gtslivingfoods.com, @gtskombucha