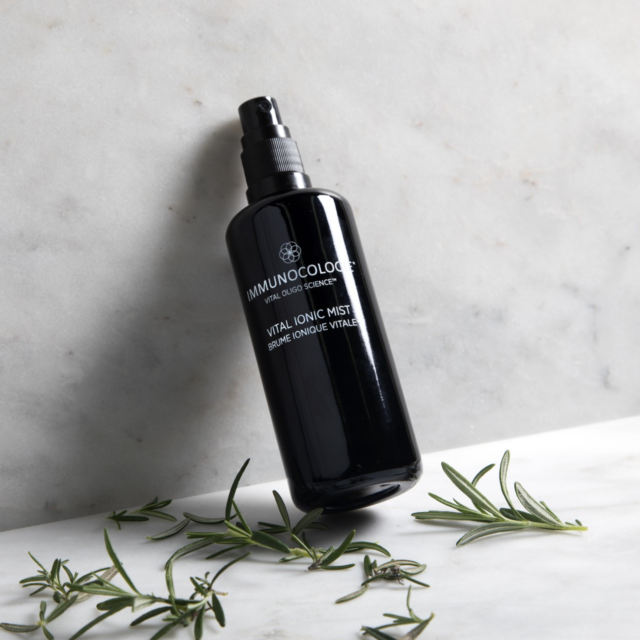 The experts agree that a key to fighting the novel corona virus is vigilant cleansing—the virus is no match for soap and water. But true protection should involve a one-two punch of cleansing AND moisturization.
Enter Immunocologie's Vital Ionic Mist, a mineral-rich hydrating spray that promotes skin health and encourages detoxification, moisturization, and protection.
For many, diligent cleansing of the face, hands, and body has resulted in compromised and irritated skin, which can provide unwanted entrée of nasties like viruses, bacteria, and microbes into the body. Plus, if the skin is broken down or raw, it's less able to repair itself.
Indeed, hydration and moisturization is a vital step in self-care during the pandemic. "Openings in our skin leave us vulnerable to infection," notes Karen Ballou, founder of Immunocologie. "Excessive face and hand washing and sanitizer use, while imperative in reducing the spread of viruses and bacteria, can result in dry, cracked skin. As a result, keeping skin supple and hydrated is a critical part of staying healthy. Adding Immunocologie's Vital Ionic Mist to your skin- and bodycare regime can be an important part of that process."
Vital Iconic Mist is just one of several powerful products from Immunocologie, a clean plant- and mineral-based line. And
Ballou
knows better than most the importance of healthy, nourishing protection. The veteran skincare executive created Immunocologie following a cancer diagnosis. As she recovered, she made it her mission to create a safe, natural, effective skincare brand designed to ensure skin health from the outside in. Immunocologie products are meticulously crafted from ethically sourced, sustainable ingredients from around the globe. With Immunocologie, all skin types are nourished and balanced, resulting in healthy, bright, radiant skin.
immunocologie.com