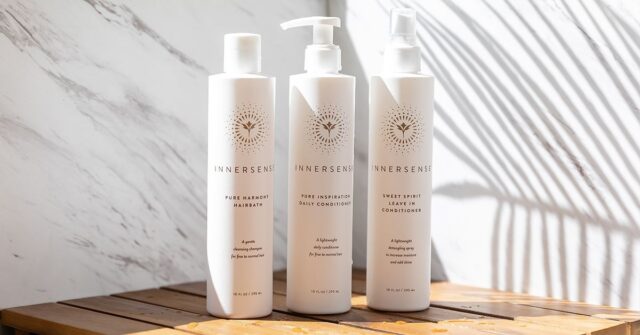 Self love is at the core of every wellness journey. We cannot achieve true peace until we feel as much compassion for ourselves as we do for others. Time dedicated purely to our beauty does wonders for our mental health, and we deserve beauty rituals full of safe, nontoxic ingredients. Innersense Organic Beauty's clean hair care products deliver salon quality and performance with carefully selected, Certified Organic botanicals that restore natural balance and leave hair healthy and full of body and shine.
Innersense Organic Beauty was co-founded by beauty industry veterans Joanne and Greg Starkman, a husband and wife duo, who believe in the power of clean beauty and self love. Their combined decades of experience in both styling and product development have awarded them the ability to create luxurious, clean hair care that is kind to both our bodies and our planet.
Formulated through conscious chemistry, Innersense Organic Beauty products are ethically sourced and organically grown through trusted, transparent plantations, orchards and farms from around the world. As a certified Green Brand, and proud signer of both the Safe Cosmetics and Truth in Labeling Acts, each product is paraben, silicone, gluten, cruelty and GMO-free, and contains high concentrations of plant-based ingredients, meaning less water is used in every batch.
Its Pure Trio, a collection of color-safe clean hair care essentials, uses recognizable, clean ingredients to soften and fortify hair. Pure Harmony Hairbath includes pumpkin seed oil, coconut and rice bran for gentle cleansing and increased circulation. Nourishing avocado and rice bran oils in Pure Inspiration Daily Conditioner moisturize and strengthen hair, smoothing cuticles, improving elasticity and neutralizing free radicals. Finish off with a spritz of Sweet Spirit Leave In Conditioner, with fragrant lavender, honey and tamanu oil, a topical healing agent from the sacred tamanu tree.
Innersense Organic Beauty is offering The Purist community exclusive access to this exquisite Pure Trio collection so that you may personally experience clean, pure beautiful hair care. Specially Purist priced at $65 with free shipping within the United States, this offer saves you 20% off this regularly priced Pure Trio of $84! innersensebeauty.com/thepurist/