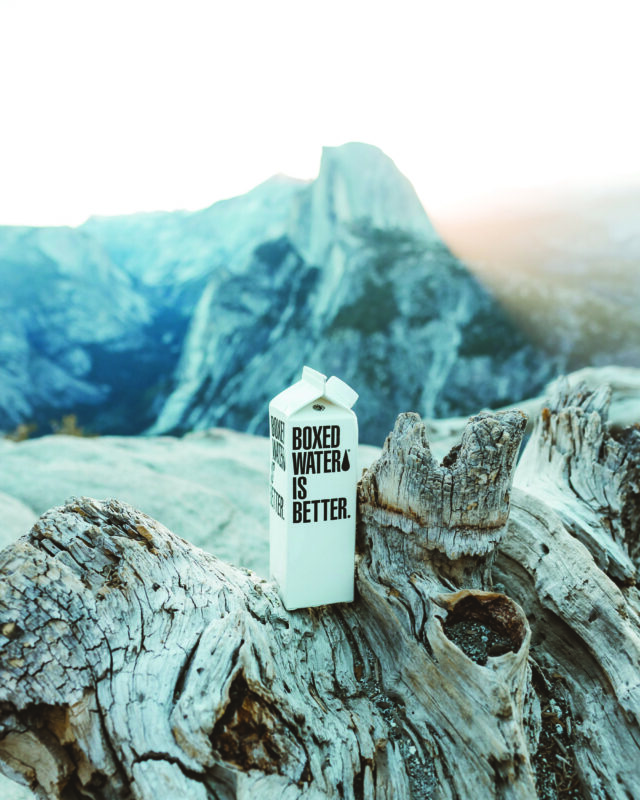 By Gabrielle Echevarrieta
In March of 2019, an emaciated juvenile Cuvier's beaked whale washed ashore in the Philippines, its stomach packed with more than 88 pounds of plastic. This whale's untimely death was just one of the 100,000 marine mammal fatalities caused annually by plastic pollution. Over 69 billion plastic bottles are produced per year, averaging 1 million per minute. Nine out of 10 bottles end up in landfills or the ocean, and will remain there for over 700 years. We each have the responsibility to curb consumption of single-use plastic, and sustainable brands like Boxed Water Is Better are making it easier than ever.
Boxed Water Is Better was born 11 years ago after founder Benjamin Gott was disturbed by the volume of discarded plastic he saw during day-to-day life. Months later, the first four cases of Boxed Water Is Better sold out at Grand Rapids, Michigan's Grand Central Market in just three hours. The brand has grown exponentially and is now available online and in stores internationally. Boxed WaterIs Better utilizes 92 percent renewable materials to create its refillable cartons. Recycled tree pulp, often discarded during paper production, is repurposed (or upcycled) to provide oil for their new plant-based cap.
"Our name is a challenge to always do better. We're always looking for ways to do more," says Robert Koenen, chief marketing officer of Boxed Water Is Better. The brand's sustainability efforts reach far beyond merchandise, notably through its One Million Trees initiative in partnership with the National Forest Foundation (NFF). The "You Post, We Plant" social media campaign, in which two trees are planted in National Forests for every photo ofBoxed Water tagged with #betterplanet and @boxedwater, has planted 1 million trees thus far, with plans to double that number in the future. "It's beautiful because it not only raises awareness, but creates a community of people doing creative things online, with hilarious photos and families posting," says Koenen.
Boxed Water Is Better acknowledges that forests aren't the only ecosystem in desperate need of protection, and has collaborated with Ocean Blue Project to clean 3,000 miles of beaches from coast to coast. Each year, 8.8 million metric tons of plastic wind up on our shores, and the brand has taken action through corporate-sponsored cleanups, from beaches in the Rockaways to Montauk. "These days, brands need to evolve to represent something that is good in this world," says Koenen. "You can't just be a brand and have a good product; you need to earn people's loyalty."
Most recently, Boxed Waters has teamed up with Alaska Airlines to eliminate plastic use on their flights. By shifting their first class cabin to Boxed Water, the airline will be removing over 7.2 million plastic bottles this year.
Receive 20% off your first online order using the code THEPURIST20.