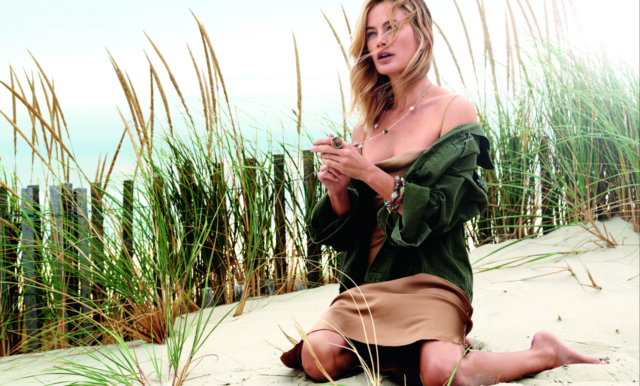 By Gabrielle Echevarrieta
Tamara Comolli's fine jewelry is built on Earth's natural gifts: precious stones and gems. This passion has taken the brand's founder on a constant quest for rare minerals. "I wanted pieces that spark a twinkle in the eye, that are wearable," Comolli says. Growing up near oceans and lakes, Comolli developed a strong connection to water, which shines through in the soft, flowy shapes of the brand's designs, including the new Ocean Jasper collection.
Ocean Jasper has enchanted collectors for decades; it's been incorporated into Tiffany lampshades and used in crystal healing to open the heart chakra. After laying eyes on the radiant swirls of Ocean Jasper at a mineral show in Hong Kong, Comolli found her latest obsession. "I had an inspiration for a collection with earthy, boho appeal," she says. "I was looking for a gem with a pattern. When I came across this Ocean Jasper, I said, 'That's it.'" Acquiring the gems was no easy task. Found exclusively on the coast of Madagascar, Ocean Jasper formed millions of years ago when mineral-rich lava plunged into the cool ocean, creating a fusion of solidified rock.
Comolli developed silhouettes that would capture the distinct beauty of each gem. Featuring olive-shaped beads, the coconut bracelet and necklace provide a three-dimensional view of every Jasper. The coconut design is embellished with two delicate water droplet charms, another homage to the life force of the Tamara Comolli brand. The collection also includes an Ocean Jasper cocktail ring, adorned with a border of champagne diamond pavé set on a warm rose-gold band.
The Tamara Comolli brand holds a deep respect for the source of its inspiration, and has partnered with nonprofit organization Oceana to preserve the health of our oceans. Each piece is created with sustainability in mind, utilizing every harvested stone and manufactured without synthetic materials. "Each new collection is built on the past. It's sustainable because it embraces tradition," Comolli says. "Everything from nature needs to be honored, not exploited." tamaracomolli.com