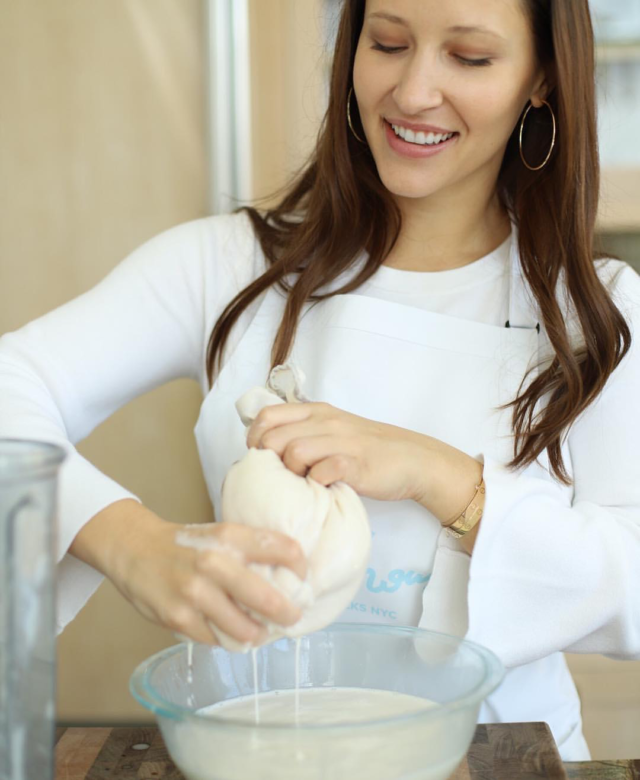 By Cristina Cuomo
Cristina Cuomo: Tulo Mlk is now a full-time milk delivery company in the Hamptons. What freshly pressed milks are you delivering, and how far is your reach?
Laura Hopkins: Our current milk options are vanilla bean almond (sweetened with dates or unsweetened), coconut-cashew and tiger nut. We used to be based in Soho, but since closing our brick and mortar due to COVID-19, we relocated out east and now deliver from Southampton to Montauk.
CC: What are the clean ingredients that you include?
LH: I strongly believe that less is more. The average, store-bought vegan milk is packed with gums and preservatives. These not only make for an unnatural consistency, but can also be very damaging to your gut health. We source only organic nuts, and when it comes to our recipes, we keep it simple with minimal ingredients and no refined sugars.
CC: Why did you pick these nuts specifically? What are the benefits of almond, cashew and tiger nuts?
LH: Almond is a crowd favorite. Cashews are a great source of healthy fats, and our coconut/cashew milk steams beautifully in lattes. Tiger nut is definitely the favorite ingredient we use. First, they aren't a nut, but a root vegetable that can be found in Niger, Africa. They are packed with prebiotic fiber, and most importantly, are extremely sustainable. These grow like a weed and require little water to flourish. The growing of these also provides jobs for many people in the community each harvesting season. Not to mention, they are naturally sweet in the middle! So, using just tiger nuts and filtered water, we can create a sweet, creamy milk.
CC: Flavor is important to you. How did you come up with the combinations of coconut and cashew milks, and almond milk with vanilla bean? Which is your favorite?
LH: Lots of experimenting! In the early days of our storefront, I spent a lot of time playing around with different nut combinations. We tried both cashew and coconut on their own, and they weren't huge sellers. One day I decided to combine them, and violà! We add a dash of cinnamon as well, which makes it very warming. For the almond, I was inspired by my childhood favorite, Breyers vanilla bean ice cream. When you can see all the black specks from the fresh vanilla, something about it just feels very decadent.
CC: For those who are lactose intolerant, what recipes work well with nut milks?
LH: I love using the coconut-cashew in curries. They're great in smoothies, soups for added creaminess, and pretty much every dessert.
CC: What are the vegan, gluten-free and Paleo bites you also offer?
LH: Our current offerings are Monty's cashew cream cheese, Keayk seasonal muffin dough, Ingrained granola, Matchaful ceremonial-grade matcha, and the best GF Paleo bagels by The Pagel. Everything we sell has minimal ingredients, no additives, gums or refined sugars, and we work with predominantly female-owned small businesses.
CC: Having grown up in Australia, what was your favorite milk memory, or a memory of how you started on the path to good health?
LH: I think the biggest influence food in Sydney had on me is how bright and colorful all of it is. You are always eating the rainbow (colorful food equals a great variety of nutrients). Australian cafes in New York have become extremely popular in recent years, and I think it has a lot to do with how fresh and beautiful these common dishes are. Aussies have some great lifestyle habits as well—not wearing shoes being one of my favorites. In my small beach town in Sydney, the "no shirts, no shoes, no service" rule simply does not exist. You pretty much live barefoot. Sometimes it is nice not having anything separating our feet and the Earth. tulomlk.com