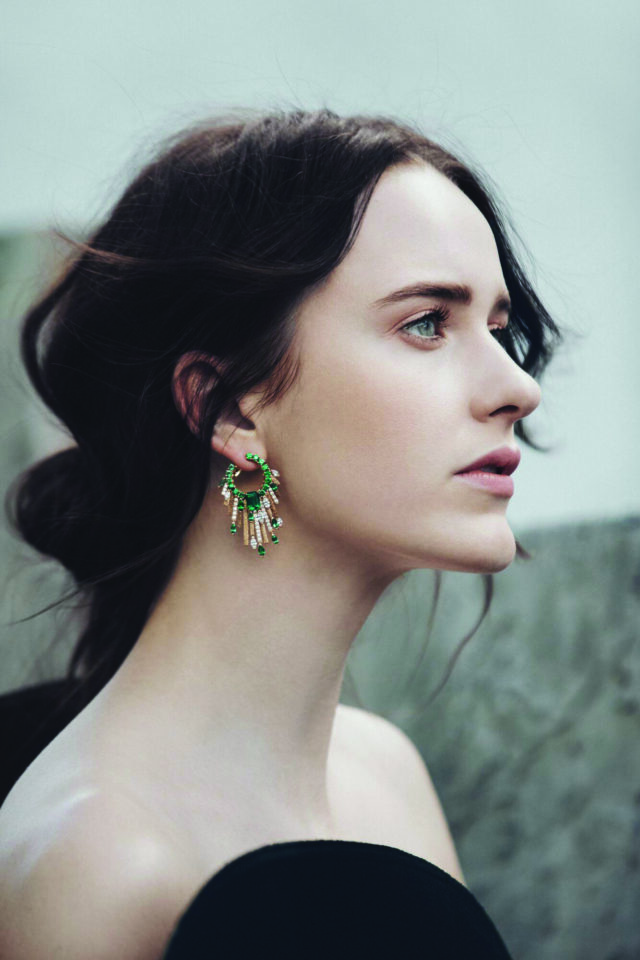 By Cristina Cuomo
'Tis the season for sniffles, sugarplum fairies and rain checks on holiday gatherings at home. So if you're looking for a period piece that reminds us that our modern problems aren't so modern, there's never been a better meld than The Marvelous Mrs. Maisel, a love letter to late-1950s New York. I doff my cap to the star of this brilliant award-winning comedy, Rachel Brosnahan, who—alongside co-stars Tony Shalhoub, Jane Lynch and Alex Borstein—has supercharged this past year's quarantined fans with a strong dose of explosive laughter.
I caught up with the 30-year-old comedian road-tripping with her husband, actor Jason Ralph, across the country. Brosnahan will be back in time to begin filming season four of Mrs. Maisel and embrace a big year ahead—a new comedy special, Yearly Departed, a montage of eulogies to 2020, two films, I'm Your Woman and The Courier with Benedict Cumberbatch, and her production deal with Amazon Studios—powered by a "be here now" mantra.
Cristina Cuomo: Hi, Rachel. How are you?
Rachel Brohanson: Oh, good. I'm currently en route back to New York after working on the West Coast. I'm somewhere in the middle of Ohio, I think. So hello, from here. I want to make sure that we make it back as safely as possible.
CC: That's very Mrs. Maisel of you. The power of laughter to heal—like a natural painkiller—helped so many get through 2020 so it deserves a thank you.
RB: Well, thank you. It has been so encouraging to hear that people found some solace and a bit of escape in the show during this really, really challenging time.
CC: What led you down the hardest acting path—comedy?
RB: That was a real surprise. I initially embarked down quite a different path, but read this brilliant, brilliant script and by the bottom of the first page, I knew that I wanted to fight for this part. I could see a way into this woman who was ambitious and could be single-minded and was hungry for this new chapter in her life. And I'm the beneficiary of brilliant writing and incredible collaborators. It still feels weird for me to say that I've been working in comedy for the past couple years.
CC: What do you find most challenging as a comedian?
RB: The timing. Just being able to hear the music of the comedy and executing it, as well. They say that drama is easy and comedy is hard.
CC: You've chosen some very strong women to portray—even if they evolve to a place of strength, as with Jean, in I'm Your Woman. Is there a role that you'd like to play that you haven't yet?
RB: I'm always looking for roles that feel far away from the ones that I've previously occupied. Just the idea of exploring the inside of someone's head that I never have before is very exciting. Specifically, I'd love to play some kind of creature. I would love to play a cowgirl. I'm waiting for the right next thing to come along.
CC: The cast of Mrs. Maisel is incredible. When my husband got COVID, Tony Shalhoub kindly sent him some glutathione powder and said to take it every day as it helped him get through it, too. What is it like working alongside some of these brilliant comics?
RB: It's surreal. It's a dream I didn't know I had. I feel like one of the luckiest people on the planet to get to watch these brilliant actors and comedians work up close for my job. This group is a family, and this is one of the most generous and professional and kind and lovely groups of humans I've ever had the privilege of working with. I mean it's a relatively small example in the life of Tony Shalhoub but that's exactly who Tony is. Someone who says, This is something that helped me; I'm going to pay it forward in big and small ways. And I've learned so much about acting and comedy and what it means to be a leader from these brilliant actors that I have the privilege of working with every day.
CC: It's just wonderful to watch and get a history lesson on old New York. Going to the Borscht Belt, summers in the Catskills, oh, and Lenny Bruce, what a genius comic trailblazing for freedom of speech.
RB: There's a whole new generation of Lenny Bruce fans born in the world. It's wild.
CC: The writing is just impeccable. It's so good, and I'm a born-and-bred cynical New Yorker. I know you live in New York and went to school in New York. What's been one of your most favorite things about the city?
RB: I love that you can walk anywhere in New York if you're determined enough. Walking aimlessly remains one of my favorite pastimes in New York. I've had moments of great joy and also sadness and frustration. I've walked the length of the island multiple times and even when you're lost in the city you can always find your way home.
CC: That's nice. I love that. It makes the city seem so serene. Most people describe the city as hyper-energizing, like the way laughter lends to that. That's a nice way to describe it right now, too.
RB: I can see it energizing when you're new to it or coming from somewhere else. But there's a calm and chaos within the city that I've always really appreciated.
CC: Mrs. Maisel is set in the late '50s and early '60s, and so much has changed since then for women, especially housewives. But unfortunately, some things haven't. What have you observed that has stayed the same for women?
RB: To some degree, the expectations of the roles that women play in society, even though in some parts of the country this expectation has changed faster than others. The expectation of what family looks like and the role that women play within families has a way to go still. People still say women aren't funny no matter how many incredibly funny women have been right in front of their noses.
CC: You're so young, and yet a great example of a woman taking on lots of different roles in your industry, including that of producer. How are you able to juggle that?
RB: It's a new role for me, so I'm still figuring out that balance. I'm lucky to have really wonderful mentors. I've had a front row seat for the past couple years to Amy Sherman-Palladino as a producer and a showrunner and a director and all of the different hats that she wears on The Marvelous Mrs. Maisel. Jordan Horowitz, whom I had the great privilege of producing I'm Your Woman alongside, is an incredible producer with a breadth of experience. He so kindly took me under his wing and also gave me the space to find my own voice as a producer on this project, and to really earn my seat at the table. It's been very exciting so far and I'm looking forward to more.
CC: In I'm Your Woman, your character Jean goes on this dangerous on-the-run journey of isolation to a place of strength. What impressed you most about this film?
RB: The writing is gorgeous and I was so moved by Jean's journey, even if I didn't understand why she made the choices she made. I loved getting to have many, many hours of conversations with Julia [Hart, the director and co-writer], in particular, about what motivated this script and what is driving Jean. It takes confidence as a director and a writer to allow this ordinary woman's journey to unfold frame by frame. It's not something that I have seen very often, particularly at the heart of this crime thriller genre.
CC: Then there's your comedy special, Yearly Departed, a series of farcical eulogies to 2020 alongside some of the funniest women in television. What was that like?
RB: Weird—and a blast, given the precarious time that we shot it in. It's a really technical feat as well. So many of these women were not in the same room; they were delivering to an empty room very intimate comedic eulogies at our satirical funeral for 2020, so it's a testament to their talent. It was so nice to be able to laugh together and apart. And we're really excited for everyone to be able to heal together through collective laughter and also say goodbye and f— off to this shit-storm of a year.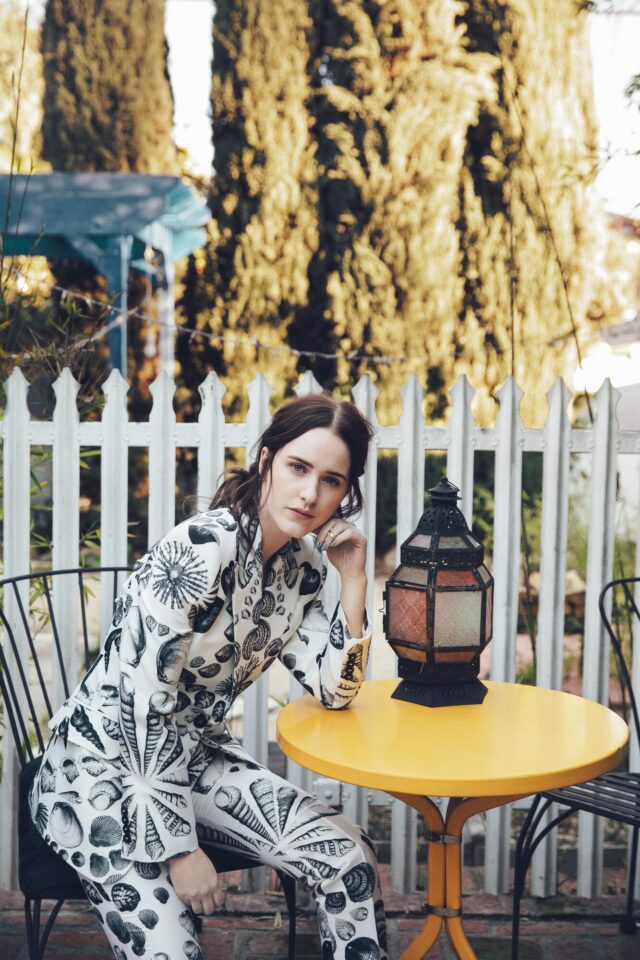 CC: You head back to the '60s with Benedict Cumberbatch in the period piece, The Courier. What made you migrate to that dramatic role?
RB: I was really excited to play a woman who felt so different from so many of the other women that I'd been occupying in the past couple years—a young and hungry CIA agent in the '60s. It was a period I had never explored. It seems criminal that we didn't learn about the story of Greville Wynne and Oleg Penkovsky in school when we learned about the Cold War. It's such a fascinating story. I did research about the story and went deep down the rabbit hole. I heard so many wonderful things about Dominic Cook, who is a brilliant theater director, and it was a great experience all around. I'm half British and had never had the opportunity to work in the U.K., so that was very exciting. I felt like I was returning to my second home.
CC: What was it like working with the genius Benedict Cumberbatch?
RB: Phenomenal. He is such a dynamic actor and also an incredibly generous scene partner and funny, kind and frighteningly charming. He was a producer on the film as well—so speaking of mentors and people to look up to! It was thrilling to watch him wear two hats on this project, not knowing that a short while from then I would attempt the same feat.
CC: Amazing. Congratulations on your Amazon multiproduction deal. It's good to have things locked up.
RB: It's nice to be able to keep working during this time when so much has been shut down, as well as meet new collaborators and keep developing things.
CC: Our Purist readers want to know your beauty secrets. Everybody talks about how incredible your skin is, and I think the artist played by Rufus Sewell in season two refers to your milky white, electric-white skin. What is your beauty regimen?
RB: The best free beauty advice I could give is sleep and water. No matter how many lotions and potions you put on your face, nothing compares to an incredible night's sleep and frightening amounts of water. And so I try my hardest to prioritize sleep and to remember to drink water. I'm not always good at it. I've been using Cetaphil cleanser for many years. It's super gentle and you can use it with or without water, which I only learned in the past year. You put it on like a cold cream and wipe it off with cotton. I try to get a facial from my friend Joanna Vargas in New York about once a month when I'm working, and that just gives me a good reset.
CC: How does nutrition factor in?
RB: I definitely notice a difference in my skin when I eat better, but I also notice a difference when I feel less stressed. So it's a balance of eating foods that are nourishing for your body and your mind, and also eating foods that make me feel good. Sometimes you just need a good ol'-fashioned hamburger and french fries.
CC: My children would agree with you.
RB: It's a constant balancing act. I have also fallen in love with bone broth. I drink bone broth when I'm working. It gives me energy. A friend of mine taught me a really great variation on a bone broth recipe where you add a tomato and it just makes it a little bit richer. You put a full tomato in and let it simmer on the stove for three days on really low heat. And the tomato just adds a fullness to the broth. It feels like a treat.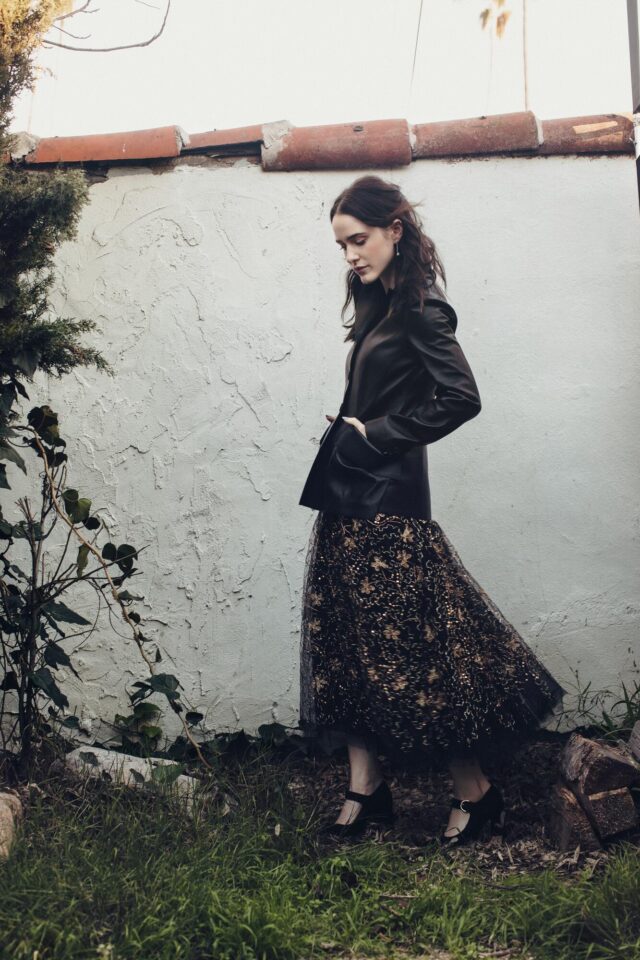 CC: The best advice you've ever been given?
RB: Be kind to everyone. It costs you nothing and it'll take you far.
CC: Do you have a favorite joke?
RB: What's the difference between a tire and 365 condoms?
CC: Oh my, what?
RB: One's a Goodyear and one's a great year. I'm so sorry for that. I need to find a new joke. I've told that one so many times.
CC: I never heard it, so it worked. Favorite word?
RB: Chuffed. It's a British word. It means pleased.
CC: I'm chuffed. I love it.
RB: It feels good to say it.
CC: One thing you do almost every day to stay centered?
RB: I cuddle my doggies every day either in the morning or at the end of the day before going to bed. I have a pit mix named Nikki, and a shiba inu named Winston. They're so sweet—and they're free therapy!
CC: Favorite book you read during quarantine or on the road trip.
RB: It's a Joan Rivers biography called Last Girl Before Freeway by Leslie Bennetts. Caroline Aaron, who plays Shirley Maisel on the show, gave it to me months ago, as I'm a big Joan Rivers fan and had the great privilege of meeting her in 2013. She came to see a play that I was in, and she came up to say hello to everyone and she was so complimentary. She obviously loved theater a great deal.
CC: What do you love most about performing?
RB: The opportunity to dive inside someone else's mind and body and how much it provides the opportunity to grow your sense of empathy.
CC: Do you have a mantra that you live by?
RB: Be here now. I can be a bit of an anxious person and always have an eye on the future and what's next. And acting is in itself an exercise in being present, but it feels like an important reminder in all parts of life.
CC: Safe travels! Any favorite state you've gone through so far on your road trip?
RB: Kansas! It was so flat and really beautiful to drive through in its simplicity.
CC: My 10-year-old daughter always says, "We're not in Kansas anymore, Toto" when I say something that seems ancient to her generation.
RB: I literally got to say that as we drove out of Kansas. It was quite thrilling.