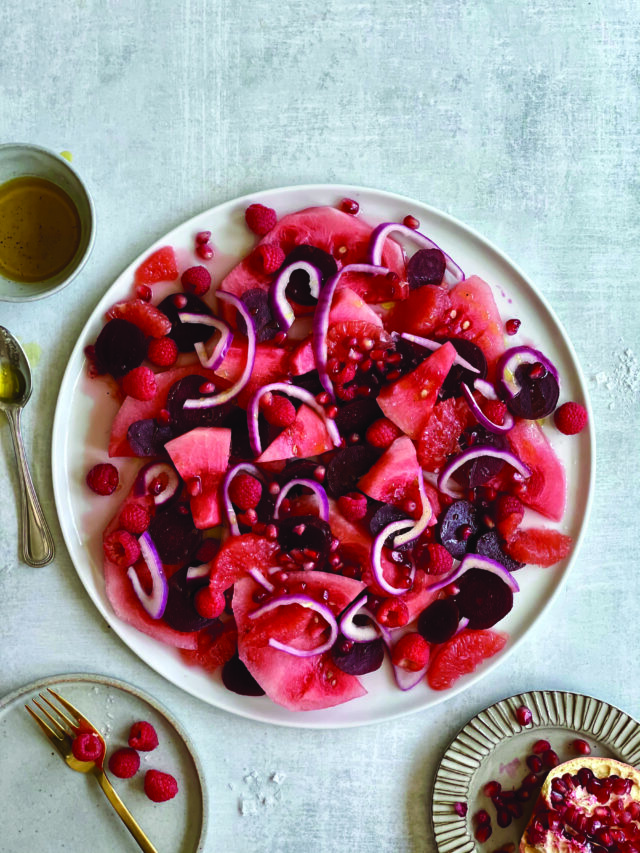 By Peter Som
Food and design? Yes, there's a connection. What makes shelter a home? What makes food into cuisine? While the techniques are vastly different, the intent behind them is the same: Thought and consideration, creativity and attention matched with function as the foundation. Here are three dishes that pay tribute to some 20th-century design icons who have captured our imagination—Luis Barragán, Hans J. Wegner, and Charles and Ray Eames. A vibrantly pink-hued salad, a humble yet elegant fish chowder and a tender chocolate cake—each dish started as a building usually does—as an assemblage of various ingredients and parts that come together as a harmonious unit. Form follows function? Yes, indeed. And in this case, food follows along as well.
Pink Salad With Sherry Vinaigrette
Inspired by Luis Barragán
Think pink, indeed. The signature angled rosy-hued walls of Modernist architect Luis Barragán inspired this vibrant salad. Not just an acclaimed architect, Barragán was equally a bon vivant—he lived a life as colorful as his architecture, and loved the best and most beautiful of everything—and that included food. His love of color—especially pink—and its interplay of form, structure, light and space was a lifelong work. It was often said that at times he wanted to only eat pink meals, such as sherry-drizzled melons. This recipe combines all things pink-hued—tender roasted beets, the acidity of pink grapefruit, the sweetness of watermelon and the zing of pickled red onions, all enrobed in a simple sherry vinaigrette. Color aside, this dish is perfect for entertaining; the flavors only deepen the longer it sits. Looking at the world through rose-colored lenses never tasted so good.
Serves 6
Ingredients:
1 small red onion, thinly sliced
½ cup sherry vinegar
½ cup cold water
2 tbsp. kosher salt
1 tbsp. sugar
2 tsp. Sriracha sauce
4-5 small beets, roasted and cut into ½-inch slices
3 cups watermelon, cut into ½-inch slices
½ pint raspberries
1 pink grapefruit, peeled and cut into sections
1∕3 cup pomegranate seeds
Flaky sea salt, for finishing
For the Vinaigrette:
1/3 cup sherry vinegar
½ cup olive oil
1 tsp. kosher salt
½ tsp. ground black pepper
Instructions:
1. To pickle red onions, in a small bowl combine red onion, vinegar, water, salt, sugar and Sriracha and stir to combine. Set aside at room temperature for 30-40 minutes or up to overnight in the fridge.
2. For the vinaigrette, combine vinegar, olive oil, salt and pepper in a jar with a tight lid and shake until combined.
3. On a large platter, arrange beets and watermelon; top with raspberries, grapefruit, pickled red onion and pomegranate seeds. Drizzle with vinaigrette and finish with flaky sea salt.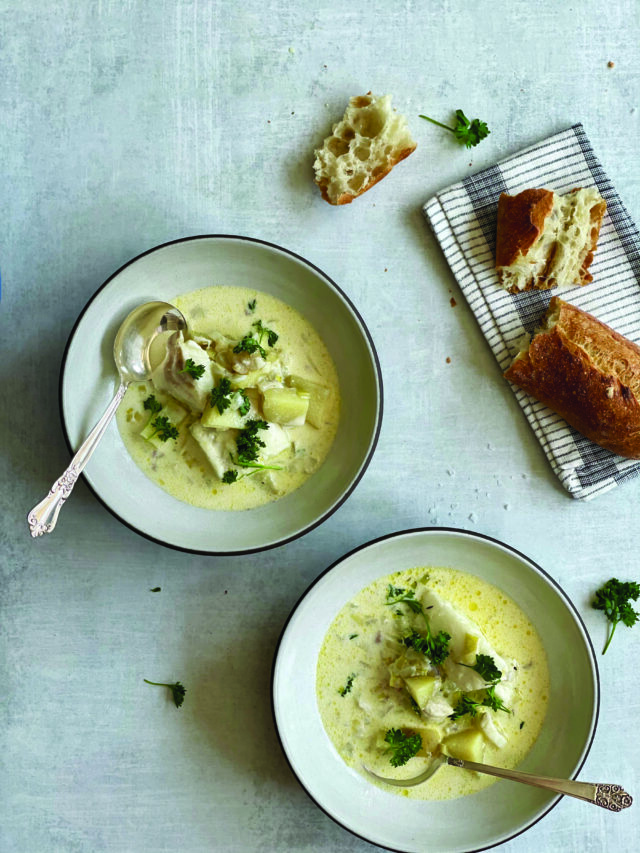 Fish Chowder
Inspired by Hans J. Wegner
The undisputed Master of the Chair, Hans Wegner's Danish roots give flavor to this fish chowder. From his humble beginnings (he was trained as a cabinetmaker), to the start of his career as an assistant to Arne Jacobsen, to his now-icon status with more than 500 different chair designs alone to his name—Wegner's love of natural materials and an intrinsic understanding of design and function is the stuff of legends. Design fans flock to Denmark for modern design and of course food, too. Now a bastion of cutting-edge cuisine (think Noma), Denmark has its roots in rustic, simple dishes. The abundance of seafood—specifically cod and other whitefish across Scandinavia—has resulted in a bounty of seafood dishes; whether pickled, boiled or fried, all are hearty and delicious. While there is little documentation of what Wegner ate, in the same way that his chairs are a studied alchemy of the best ingredients, I'd like to think he would appreciate this fish chowder. Simple ingredients, simply but thoughtfully prepared, resulting in something delicious. Pull up a chair, take a seat, and have a spoonful.
Serves 6
Ingredients:
1 tbsp. olive oil
1 tbsp. butter
1 large onion, finely chopped
2 leeks, light green and white parts only, chopped (approximately 1½ cups)
Kosher salt and ground black pepper
2 Yukon gold potatoes, peeled and cut into ½-inch pieces
2 cups clam juice
1 bay leaf
1 tbsp. thyme leaves, chopped
Dash of Old Bay seasoning
1¼ lb. boneless cod or sea bass, cut into 2" pieces
1½ cups heavy cream
¼ cup flat-leaf parsley, chopped
Instructions:
1. In a large (6-qt.) pot on medium heat, heat oil and butter. Add onions and leeks; season with salt and pepper, and cook until softened, about 5-7 minutes.
2. Add potatoes, clam juice, bay leaf, thyme, salt and pepper, and Old Bay seasoning. Bring to a boil, then lower the heat to simmer and cook, covered, until potatoes are almost cooked, about 10-15 minutes.
3. Place fish in pot on top of potatoes; add cream. Cover pot and cook until fish is opaque, approximately 5-8 minutes, making sure liquid is just simmering.
4. To serve, garnish with parsley and serve with crusty bread.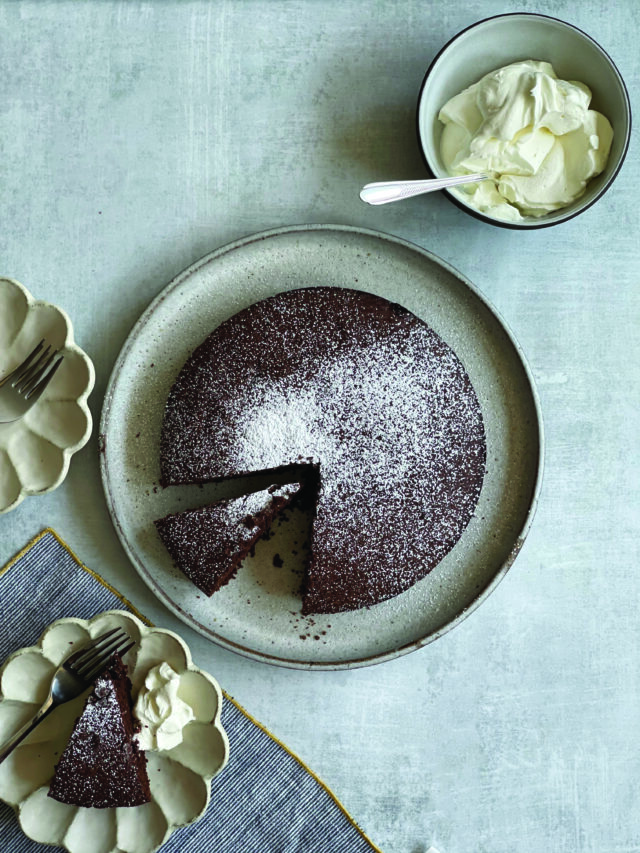 Chocolate Torte 'Schokoladentorte'
Inspired by Charles and Ray Eames
"Take your pleasure seriously" is a famous quote by 20th-century design icons Charles and Ray Eames, and who are we to disagree? Food was a big deal to the Eameses and luckily for us, their love of entertaining and hosting is well-documented and has reaped a bounty of photos, menus and signature dishes from the pair. Even their twice-weekly office lunches featured fresh fruit, flower arrangements and delicious baked goods from the local boulangerie. Schokoladentorte—a chocolate cake—was a favorite of chocolate-lover Ray. It is a simple single-layer cake with a soft tender crumb and a delicate yet bold chocolate flavor, so I've bumped up the chocolate with a hit of instant espresso granules. It's often glazed with a chocolate icing—which is perfectly lovely; I've kept it simple with a final flourish of confectioners' sugar and a healthy dollop of whipped cream.
Serves 6
Ingredients:
1 cup all-purpose flour
1 tsp. baking powder
½ lb. dark chocolate,
chopped finely
1 tsp. instant espresso granules
½ cup unsalted butter
1 cup sugar
5 eggs, separated
1 tsp. vanilla extract
Confectioners' sugar, for finishing
Whipped cream, for serving
Instructions:
1. Preheat oven to 350F.
2. Butter a 9-inch springform pan, line the bottom with parchment and butter the parchment.
3. In a small bowl, whisk together flour and baking powder. Set aside.
4. Set a pot with 2 inches of water on the stove over medium-high heat. In a medium heatproof bowl, combine chocolate and espresso granules. When water is at a low boiling point, place the bowl on top, ensuring water is not touching the bottom of the bowl. Reduce heat, add butter to the chocolate mix. Melt until smooth, stirring frequently. Add sugar and stir to combine. Remove from heat and allow to cool.
5. Transfer cooled melted chocolate to a large bowl. Use an electric mixer and add vanilla and egg yolks, one at a time until combined. Add flour mixture in 4 parts, mixing between each addition, until just combined.
6. In a medium bowl, add egg whites and beat until stiff. Use a spatula and fold egg whites into chocolate mixture and pour into prepared pan. Bake for 35-40 minutes or until toothpick comes out clean. Cool on a wire rack, then remove pan sides and gently slide onto a serving platter. Dust with confectioners' sugar and serve with whipped cream.