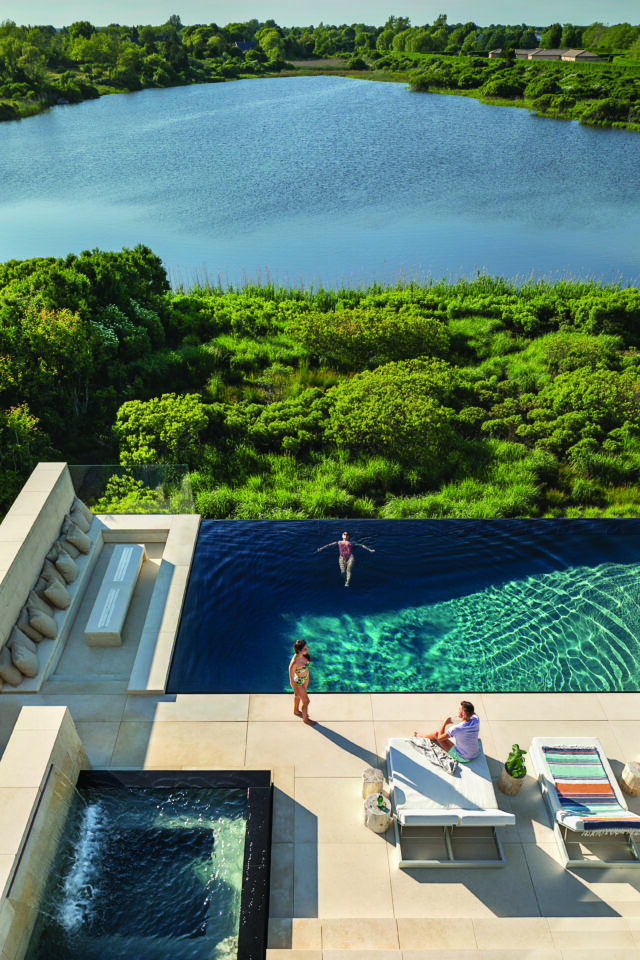 Artists first came to the East End of Long Island for the light and rustic scenery: the sandy beaches, windswept dunes, saltwater inlets, and forests of wild holly, pitch pine, scrub oak and shadbush. The Tile Club painters ventured out as early as 1878, and the rest followed suit, as did the architects, who came because of the artists and also the light, always the sea-brewed light. Peter Blake walked into Jackson Pollock's studio in 1950 and had a life-changing epiphany. Inspired by the performative aspect of Pollock's all-over paintings, Blake designed his own house in the shape of a pinwheel with sliding walls so that he could experience an uninterrupted, 360-degree panorama. It was all about the light and low-lying landscape of sandy moors, inlets and bays, the "walking" dunes, pitch pine, shadbush, bayberry and other native plants that grew on the windswept extremities of this 118-mile-long sandbar that was shaped by glacial deposits and hurricanes.
The postwar generation of East End modernists—including Blake, Pierre Chareau, Andrew Geller, George Nelson and Gordon Bunshaft—saw their experimental beach houses as sculptural objects dropped into a watery Eden. They liked it the way they found it, but this kind of direct response was no longer possible by the 1960s and 1970s, when dunes and potato fields were filling in with summer homes in every imaginable shape and size. There were a few architects who recognized the dilemma and attempted to soften the collision between nature and architecture through a more integrated approach. At the top of that list was Norman Jaffe, who envisioned his architecture as an organic extension of the land. In many ways, Christopher LaGuardia, founding partner of LaGuardia Design Group, has carried on that legacy and amplified our awareness of place through an authentic interpretation of the East End's genius loci.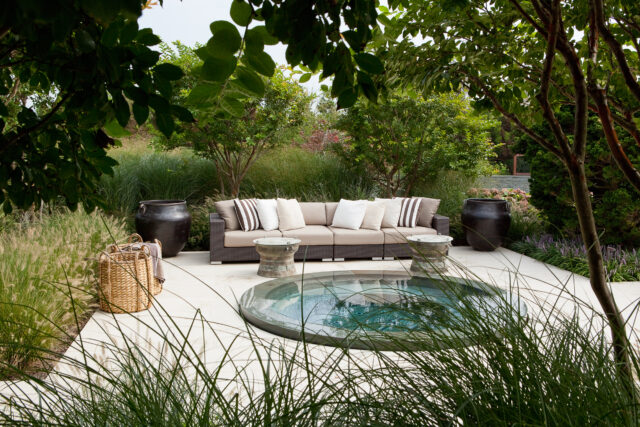 LaGuardia launched his own design practice in 1993 with a number of relatively small projects, including a terraced garden for a waterfront house in Long Beach on a barrier island off the south shore of Long Island. It was published in Garden Design, won an award, and led to a series of larger commissions in the summer communities of Eastern Long Island. Over the next 20 years, the practice has gradually expanded in tandem with the general growth of the Hamptons, which exploded as a global destination and cultural phenomenon. Real estate values skyrocketed, and the houses grew exponentially larger, often filling their building lots. As dunes, potato fields and forests were further subdivided, the art of site planning and sustainable land stewardship became more important than ever, and LaGuardia saw his mission as one of thoughtful mediation.
He grew up in a rural area of upstate New York, studying architecture and landscape design at the University of Georgia, and moved to Bridgehampton in 1984, where he worked for Peterson and Lynch, a landscape design firm based in Southampton. During those first few years on the East End, he and his wife, Jane, would set out on their bicycles and explore the back roads, peeking through privet hedges to find gardens and houses they'd heard about. This was when LaGuardia first discovered the houses of Norman Jaffe, with their broadly sloping roofs and rugged stone foundations. In particular, he was taken by the way that the Perlbinder and Becker houses played off their respective settings.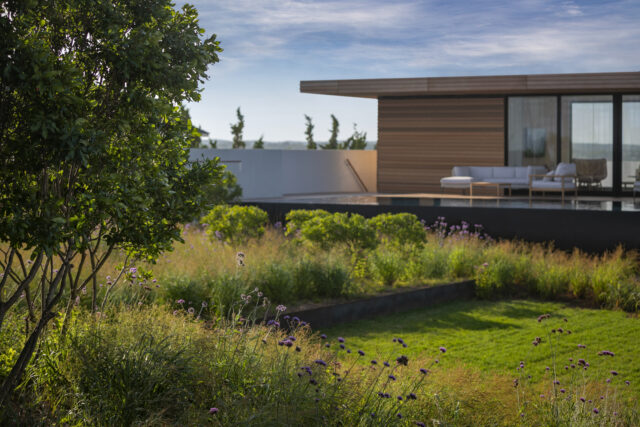 The focus of the LaGuardia Design Group's mission has been to merge architecture and nature through creative grading, planting native species, and stitching structures into the rolling contours of eastern Long Island. In some cases, the distinctions between architecture and landscape dissolve altogether and they appear to be one and the same. Each project begins with the specific ecology of the site. Sometimes the land is reshaped and sculpted into a more natural state, as was done for an oceanfront property on Meadow Lane in Southampton. Here was the case of a pristine object—an austere, rectilinear box by Stelle Lomont Rouhani Architects (SLR)—set against the riotous backdrop of sea, sky and dunes. Three separate structures, including the main house, guest house and a pool house/studio, were artfully positioned so as to blend in with the sandy, swelling site, allowing each structure to inhabit its own microenvironment.
One of the firm's most challenging and rewarding projects was to reconfigure a relatively flat 14-acre site in Bridgehampton and transform it into an open-air museum. The world-class art collection includes major pieces by Walter De Maria, Richard Serra, Isamu Noguchi, Maya Lin and others. Each artwork was given its own context within the greater landscape and buffered from one another by carefully curated plantings, slightly different grade levels, and allées of honey locust trees that effectively separate the property into eight different outdoor "galleries."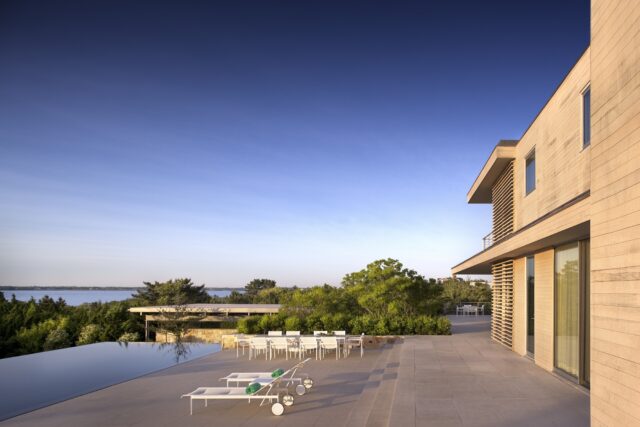 The Hamptons have changed dramatically since Chris LaGuardia started working here more than 35 years ago. The pressure continues to escalate with larger houses and congested roadways. Despite overdevelopment, there's something about the landscape that carries its own memory—in the watery light, the bayberry and scrub oak—providing a sense of continuity. In their stewardship and respect for the native environment, LaGuardia's design team has managed to channel that memory toward a more resilient and enduring philosophy of design.
Contemporary Gardens of the Hamptons: LaGuardia Design Group 1990–2020 (Monacelli) is available at BookHampton, Southampton Books and Sylvester & Co. Modern General.