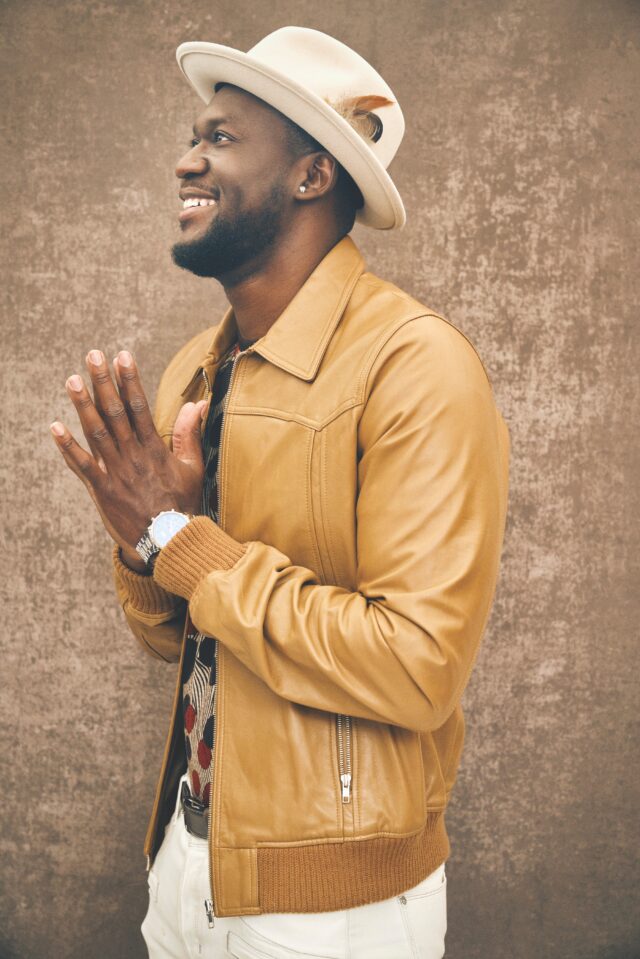 By Dimitri Ehrlich
When most of us think of having a bad day, it might be stress over unpaid bills, relationship problems or loud construction noises outside your window. For Blondy Baruti, the challenges he grew up with included running for his life from violent militias waging civil war in the Democratic Republic of the Congo, sickness and the threat of starvation.
At the age of 10, Baruti fled his village and began a 16-month odyssey through the Congolese jungle, walking more than 500 miles, subsisting on rotten fruit, stumbling across corpses and haunted by frequent gunfire. His mere survival is remarkable. But the fact that his journey eventually took him from poverty and strife in Africa to Hollywood—where Baruti, 30, is now an acclaimed author (his memoir, The Incredible Story of Blondy Baruti, was published in 2018 by Simon & Schuster) and actor who has appeared in Guardians of the Galaxy Vol. 2—defies the odds on an entirely different scale.
Now adding a new chapter to an already improbable life story, Baruti's latest incarnation is as a tech entrepreneur. He has just launched BePerk, a social media platform whose goal is to promote mental well-being by allowing users to decide how they want to be represented on social media. "When I was in the war, running for my life, I wished I had something that could give me hope, the feeling that I'm gonna survive," says Baruti, from his home in Marina del Rey, California, where he lives with a white Akita named Athena. "I didn't have that, so I wanted to build an app that will bring hope to kids who are suffering. I want them to look at this app and know I was one of them and I survived, and let them know, yes, I can survive this, I can make things happen in my life."
The concept of BePerk—the name is Afrikaans for "control"— is to address the bullying, anxiety and other mental health issues that are often a part of social media use. "Everyone wants to be in control of their life, and BePerk puts full control into the user's hands," Baruti says. "The user on BePerk decides how they want to be viewed, how long someone can view their content, how much access people have, what you can see and what you cannot see. I believe that way we can minimize or slow down the bullying and anxiety, judging, depression and mental health issues."
Baruti is in a good place now, but escaping the hunger and violence of a civil war wasn't life in America has had a lot of the end of his travails. His ups and downs. In 2010, he earned a scholarship to play Division I basketball at the University of Tulsa in Oklahoma, but early in his sophomore year, an injured ankle put an end to his hoop dreams. He shifted gears and decided to pursue acting, and managed to land a role on an ABC TV pilot, but it didn't get picked up. This lifelong roller-coaster ride of opportunity and disappointment has taught Baruti a lot about perseverance, grit and determination.
"I don't look at my life based on what bad things happened to me," Baruti says. "I look at my life and think about the good things that happened to me. The bad, I can only learn from, and be excited about what's to come and what I'm doing with my life today. So I get excited and look back at where I came from and I have a lot to be thankful for. I just have to be persistent and resilient and go after whatever I want." beperk.life