By Nancy Kane
THE NORTH FORK
Known as the un-Hamptons, the North Fork can be a great antidote to traffic and crowds. Vintage shops and independently owned restaurants fill the 19th- century village of Greenport, and the roads that connect it to nearby towns are sprinkled with family-owned farm stands and vineyards.
Where to stay:
Located in the heart of Greenport Village, The Menhaden, a boutique 16- room hotel with a sleek, chic black-and-white color palette, boasts the Fork's only hotel roof deck, complete with fire pits and lounge seating. Walk around the village or take their complimentary Moke, like an open-air jeep, to local vineyards and farm stands.
For a more laid-back stay, try the Sound View, right on the Long Island Sound. Take a painting class on the beach or sign up for a chef-led farm tour, and don't forget to check out their new shop At Dawn, a beachside outpost envisioned by Sound View's owner Erik Warner, offering a highly curated collection of chic accessories, home goods, wellness items, travel necessities and gifts.
What to eat:
Feast on local seafood at the Sound View's restaurant, The Halyard with food direct from foragers and farmers, growers and fishermen and a Summer Guest Chef Series. A table at sunset offers unparalleled views of the sun setting over the Sound.
Or dine poolside at Jack's Shack—a reborn icon from Jack Levin's snack shack that was one of the area's biggest draws post-World War II. It's now at the pool of the Sound View, with classic fare and a festive feel. Back on Main Street in Greenport, stop by Demarchelier Bistro for authentic French fare.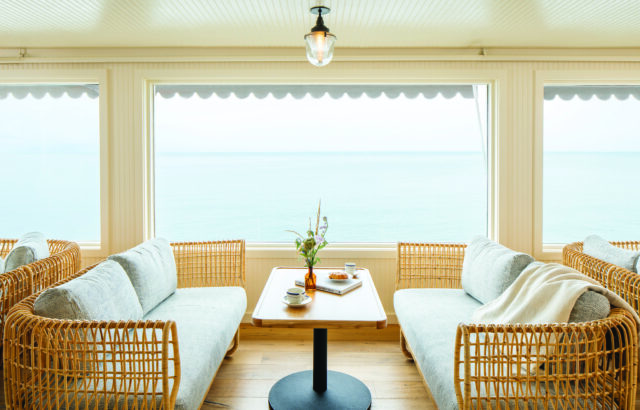 Must do:
Due to COVID, many of the North Fork's vineyards and wineries are open by appointment only and limited to smaller numbers. Check out Clovis Point for their merlot and cabernet franc clones and renovated potato barn, or Macari's Barrel Cellar, where you can toast their sparkling cabernet franc "Horses" along with custom-curated cheese, charcuterie and locally baked sourdough. Call ahead for reservations.
Fun fact:
Greenport was first settled circa 1682, and at various times it has been called Winter Harbor, Stirling and Green Hill (it was officially named Greenport in 1831). Once a whaling and shipbuilding village, rum- running and speakeasies became a significant part of Greenport's economy during Prohibition. It was said that the locals knew the waters so well, they could outrun the Coast Guard.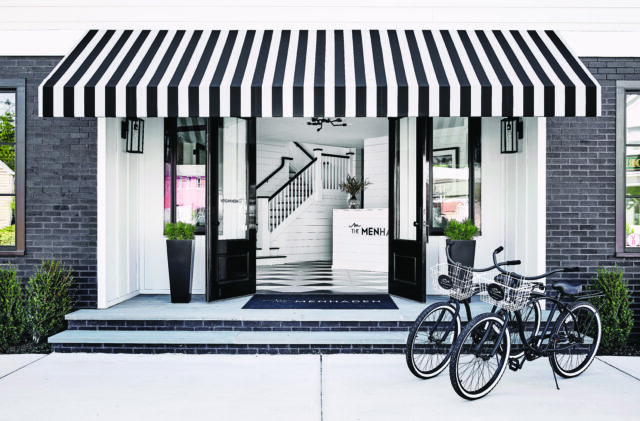 BLOCK ISLAND
An hourlong ferry ride from Montauk, Block Island—just south of mainland Rhode Island—is known for its beaches, open spaces and laid-back vibe.
Where to stay:
Steps from the Old Harbor ferry port, Block Island Beach House, a beautiful beachfront hotel, offers otherworldly views of Crescent Beach and beyond. The former Victorian cottage turned "Surf Hotel" has maintained its surf-shack charm while adding modern amenities. Lounge around the wraparound porch or head to The Surf Shack for a beachfront cocktail.
What to eat:
Grab breakfast at the Old Post Office Bagel Shop or check out Payne's Donuts, a food truck serving up sweet treats. For a romantic sunset dinner, book a table for two on the terrace of the Restaurant 1879 at the Atlantic Inn and sip vino from an award- winning wine list. Dine on fresh seafood; you can even buy a round of beer for the chef and staff for $20!
Must do:
Music on the lawn of the Spring House Hotel in the shadow of a Victorian grand dame complete with wrap- around porch, mansard roof and cupola. Get in some cardio with a hike along the Mohegan Bluffs—on a clear day you can see the tip of Montauk! The historic North Light is an iconic granite- and-iron lighthouse that dates from 1867 and is home to a museum open weekends through Columbus Day. Just beyond the lighthouse is the National Wildlife Refuge and Sachem Pond, a haven for all kinds of birds, and the serene pond is what the locals call a "sacred labyrinth." If you look, you can find a box of notebooks where other visitors have shared their thoughts. You may be inclined to write something as well.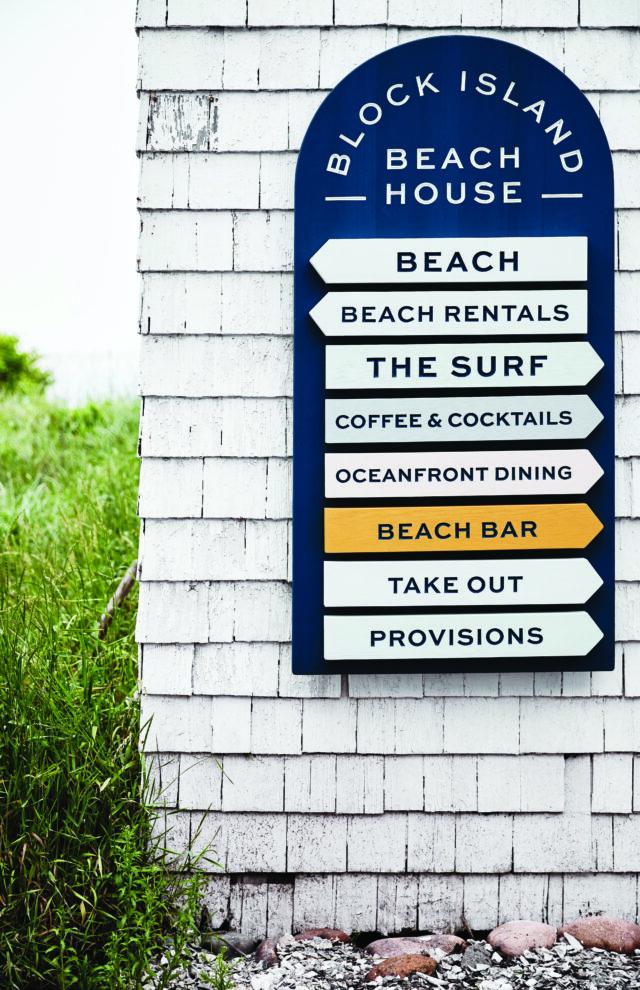 Fun fact:
Numerous paranormal sightings have been reported at the Harborside Inn, including a Victorian woman in a black dress roaming the hallways.
WESTHAMPTON BEACH
Stay at the Beach and Bay Bungalows. Converted military barracks, the Beach and Bay Bungalows are a one-of-a-kind getaway. Situated on the bay and across Dune Road from your own pathway to the ocean, the elegant yet homey bungalows are outfitted with colorful modern amenities but retain their rustic charm. Each has its own deck, grill and picnic table, and guests are welcome to hop right into the water, just outside your door—the barrier island locale allows you to kayak, paddleboard or swim in Moriches Bay or opt for the surf of the ocean. Every suite comes with a kitchen and essentials like towels and sunblock.
Where to eat
If you venture out, head down the road to John Scott's Surf Shack for sunset views, cocktails and live music. Grab a pistachio latte at Laurent Tourondel's new coffee shop, Caffeine Westhampton, just over the bridge to town. Eckart's Luncheonette is a step back in time to an old-fashioned diner with great food.
Must do:
The Westhampton Beach Performing Arts Center has a full slate of entertainment (Los Lobos, John Hiatt, the Spin Doctors) with summer concerts under the stars at the Village Green, and art shows at The Great Lawn. The Westhampton Beach Historical Society events offer a trip back into the area's rich history. A visit to GOOD Westhampton, a general store, is always worthwhile for picking up a carefully curated item for your home. Explore the lovely hamlet of Quogue or drive to beautiful Bellport, only about a half-hour away.
Fun fact:
Some of Westhampton Beach's historic buildings have been lost over the years, but three of them are still standing—the Crowther House, the U.S. Post Office, and the Foster- Meeker House, which was constructed circa 1735.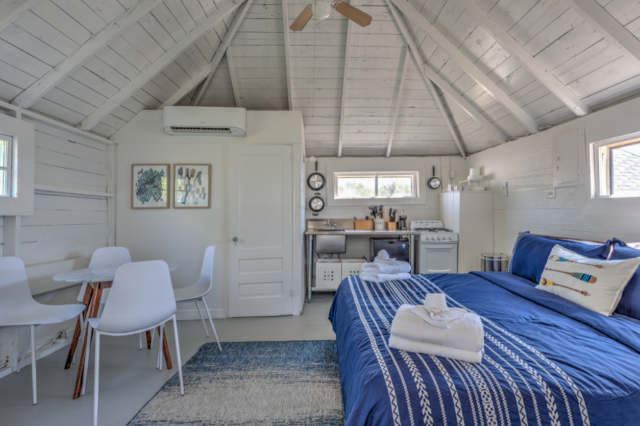 SHELTER ISLAND
A quick ferry ride from Sag Harbor, Shelter Island is a sleepy, charming neighbor offering unspoiled beaches and historic manor homes with nearly a third of the land protected by the Nature Conservancy.
Where to stay:
The famed Rams Head Inn is under new ownership and they've upped the ante with a full-service water program featuring a 42-foot yacht that can be booked for private charters (from $3,000) and ship-to-shore dining, as well as wellness offerings like Yoga on the Bluff with YogaSammy, meditation classes and an emPOWERment WALK with Victoria Exnicios, a leadership and performance coach. Rooms have been given an upgrade and there's an expansive lawn running right down to the water. Later this year, they'll be offering an all-inclusive Grass Pass for day visitors to access onsite amenities like waterfront picnics. The historic Chequit, built in 1872, is undergoing extensive restorations, with its Summer Cottage open and programming beginning this month.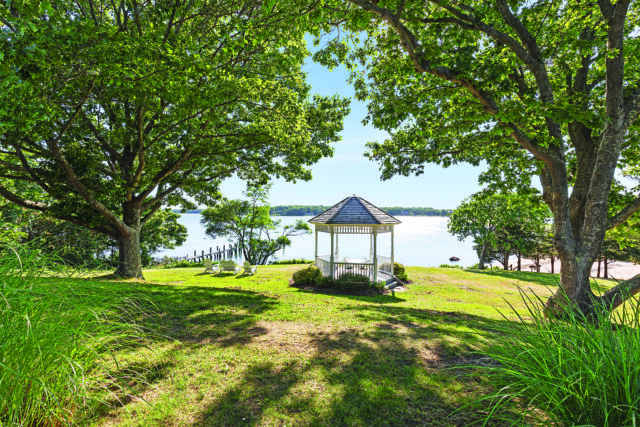 Where to eat:
In a converted vacant boatyard, SALT is a nautical-themed restaurant serving up classic local seafood and some Hawaiian-influenced dishes. The Shipwreck Bar, a converted 1930s-era scalloping vessel, is an outdoor party with live music and lawn games. Pick up French croissants, tarte tatin and other delicious prepared food at Marie Eiffel and pop by the Tuck Shop for ice cream and coffee.
Must do:
Stop in Black Cat Books for fine vintage collectibles and signed first editions. Visit Sylvester Manor Educational Farm, established in 1651 as a slaveholding provisioning plantation for the Barbadian sugar trade. Take a Farm Tour, a Sustainability Tour or a History & Heritage Tour and enjoy live music at this historic site.
Fun fact:
Follow in John Steinbeck's footsteps: In 1960, the author began a cross- country journey, leaving his summer home in Sag Harbor to start an odyssey that would become the subject of his book Travels with Charley: In Search of America.