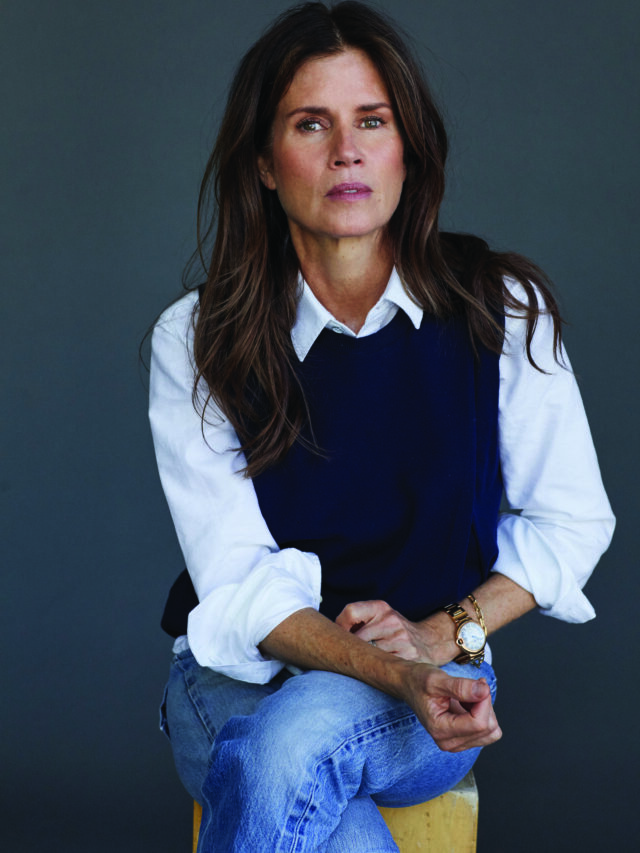 By Julia Szabo
Scaling the heights of her industry for nearly three decades, internationally renowned makeup artist Gucci Westman—influencer of influencers, guru of movie stars and cosmetics giants like Lancôme and Revlon (she served both in a leadership capacity)—achieved in record time what few dare to envision: her name on a breakout beauty brand. What's more, the brand is perfectly aligned with her uncompromising values as a clean-beauty pioneer, because she built it herself. Westman astonished her industry by creating one of the world's most trusted makeup marques—Westman Atelier—in just three years.
"When it came to doing my own brand, the focus was always going to be on performance,
ingredients and packaging," Westman says. "I wanted it to be this whole experience that feels like it's just what you've been looking for." Westman Atelier is a marvel of marketing, without marketing: Wildfire publicity spreads via word of mouth from Westman's loyal legion of A-list supporters, who include Michelle Pfeiffer, Martha Stewart, Christy Turlington Burns, Gwyneth Paltrow and Julianne Moore. A peek at Westman's verified Instagram feeds reveals a power posse of followers quick to offer encouraging words and emojis.
"There's a constant dialogue when it comes to our ingredient listings," she says. "Someone will say, 'Oh, it's clean according to so-and-so' but that doesn't matter if it's not clean according to Westman Atelier. We never compromise on ingredients; we find alternative ingredients that are incredibly well vetted and extremely safe." The criteria: "Is it ethically sourced, is it from a plant, is it synthetic?"
Ingredients that are RSPO-certified [by the Roundtable on Sustainable Palm Oil] are graded on a scale from one to five, one being the most pure and five the least. Westman Atelier stands firm: "We won't accept the higher numbers." When Westman Atelier loves an ingredient, it's a safe bet it will be folded in with a generous hand. Of one such component, Westman recalls, "All our labs said, 'Are you sure? Nobody includes the highest amount; just a drop.' And I was like, Hell no!" Westman's insistence on clean ingredients stems from her own experience with rosacea. "I didn't have it until I was older," she says. "I never had any issues with my skin"— until she got contact dermatitis "from a product I used to love. I developed an irregularity in my skin texture and tone, so I did a deep dive and discovered one of the ingredients is also in antifreeze! The experience was a catalyst for making products that focus on the health of your skin."
For Westman, skin is a crusade—"The skin is the most important; it's our biggest organ for personal well-being." It's also a canvas. With Westman Atelier, the clean-cosmetics queen invites everyone into her court to experience the creative power of nuanced color. Plus, she's generous with her hard-earned pro tips: "Start by focusing on the quality of your skin: What do I need to do to have the best possible outcome? Do I need to evaluate my skin care routine? What could improve the look of my skin on its own? Then go in with foundation, correct redness and pigmentation areas that you don't want to be red—and then add color back in."
Westman Atelier products are as much ritual as they are remedy: Consider a gleaming, polished gold brass-plated brush cup and tray, collaborations with the Scandinavian heritage brand Skultuna, metalsmiths since 1607 in her beloved Sweden. The cup is precisely designed to house Westman Atelier brushes (which are made in Japan by the world's oldest brush artisans), while the tray corrals the brand's much-loved foundation sticks. These are, Westman explains, intentional luxuries: "We really want doing your makeup to feel like a special moment, an emotional connection. Makeup can work as a mindfulness tool. The ritual in which you do your makeup should be cherished: It's a moment to pause and have time with yourself. It's sacred and special." westman-atelier.com