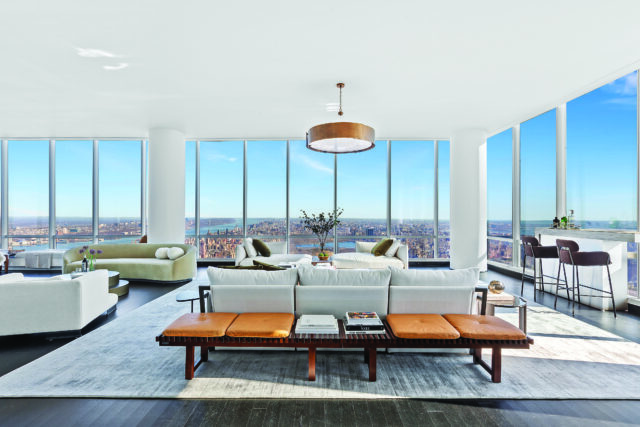 By Nancy Kane
"If you can afford to live in New York, there is no better place," says Douglas Elliman broker Richard J. Steinberg, who then notes that real estate in the greatest city in the world is on the rise.
Steinberg says that after a year and a half of living in the Hamptons, Westchester, Connecticut and Florida, home- seekers are realizing—with the opening of Broadway and museums—that the market is robust and interest rates have remained stable. "People have realized, why shouldn't we come back to New York?"
As a resident of New York City and a broker for over 25 years, Steinberg has seen cycles of depressed markets (in the '70s, '91 and '92, and again in 2008), and he knows one thing: "New York City rebounds."
That is evident in some of the offerings Steinberg currently has on the market. At One57, for example, a private elevator, full-floor, 4-bedroom, 5.5-bath home is asking $44,000,000. Dubbed New York's most luxurious residence, the building features the services of the flagship Park Hyatt located within and accessed through a separate lobby. Multilingual concierge services, a health club with pool and spa, a restaurant, a library, a screening room, a pet washroom and attended parking satisfy the most discriminating buyer's need for luxury amenities. The apartment provides views of Central Park through floor-to- ceiling windows. From the great room, watch the sun rise over the East River, and see it set over the Hudson.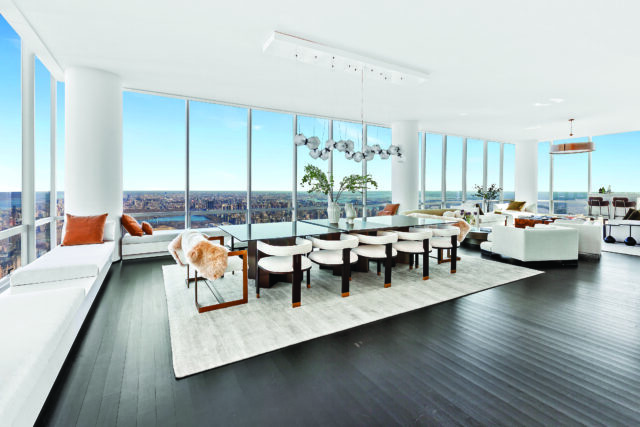 If downtown is more your speed, Steinberg has a dream townhouse at 271 West 11th Street, in the heart of the Greenwich Village Historic District, asking $26,600,000. The contemporary seven-story urban mansion features a new proposed contemporary interior, rear wall and landscaped garden, along with the restoration of the historic facade of the Greek Revival James Harriott residence, constructed in 1836 and designed to meet the criteria for a Certificate of Appropriateness from the NYC Landmarks Preservation Commission. Inside, the proposed new residence is designed to offer nearly 9,000 square feet of interior space on seven levels—including a two-story-tall garden room, private elevator, spa/pool and rooftop terrace and nearly 5,000 square feet of outdoor space—unheard of in downtown Manhattan.
While the high-end market for homes like the ones above are still a bit sluggish, Steinberg says the below $2 million apartments were strong even through COVID, and those in the $5 million-$10 million range are brisk.
Steinberg's tips for buying in Manhattan (and Brooklyn) right now:
Look for apartments that have been on the market for more than 100 days.
Don't be afraid to make lowball offers. The worst that can happen is you won't get a counter, but you'll know where you stand.
Never let ego get in the way—the key to your new home will make it worth it in the end.
"Good brokers are educating buyers and sellers," Steinberg says. "It's a perfect storm to buy in New York." rsteinberg@elliman.com, elliman.com