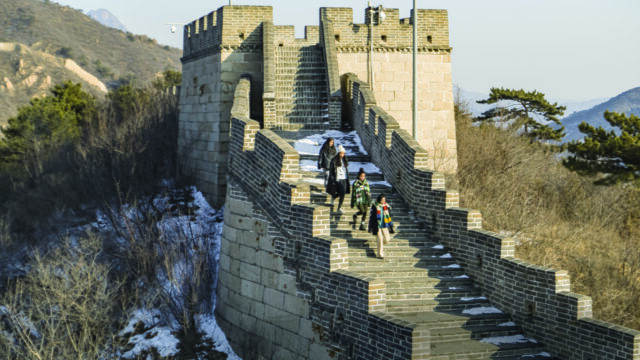 By Julia Szabo
The true measure of a documentary filmmaker is a gift for making an unscripted, seemingly ordinary story every bit as compelling and memorable as the most extraordinary narrative films. Watching Step, Amanda Lipitz's rousing 2017 film about a high school step team in inner-city Baltimore, audiences easily forgot that what they were seeing on screen was a group of real teenagers on a very real journey. "I am very attracted to coming-of-age stories, especially young women coming of age," says Lipitz. "Those are the stories that really inspire me."
With her new feature, Found, Lipitz cements her reputation as a first-rate documentary auteur. Blithely ignoring decades of escapist entertainment centered on reckless rebels, singing starlets or jail-bound juvenile delinquents, Lipitz respectfully follows three young women, all born in China and adopted as infants by American families, as they explore their shared past with poise and sensitivity.
The trio, in order of appearance, are Chloe, Sadie and Lily, who—in a seemingly only-in-the-movies coincidence—discover via 23andme.com that they're blood-related cousins, get to know one another online, then arrange (with parental permission) to travel to China, where they met one another in person, in search of their roots. It's impossible not to be moved by the discoveries these youngsters make on their journey: "Everyone needs to know that when they're going through something, they're not alone," Lipitz says. "There are other people out there going through the same thing, even if the circumstances might not be exactly the same."
Speaking gracefully to the inquiring teen in each of us, Found offers spiritual balm for anyone, in any part of the world, who has lost touch with some part of their heritage. That the film's focus profoundly touches its director's heart is evident from the very first scene, set in Israel, where 13-year-old Chloe—who happens to be Lipitz's niece—is seen becoming a bat mitzvah.
"My films are just deeply personal to me," the director admits. "I don't know how to make films that aren't deeply inside my heart! And from the moment my brother and sister-in-law told me they were adopting a child from China, I couldn't have been more excited for our family. I've always been madly in love with Chloe." Adds Lipitz, a mother of three herself, "As she grew and began asking questions, in my mind I thought, how does all this feel to her? What does it feel like to be the only person of color in an American family, and to be raised Jewish?"
The film's soundtrack—by composer Toby Chu, who previously scored the Oscar-winning animated short Bao—ends on "Mystery of Me," a song written by MILCK, Simon Wilcox and Chu, performed by Phillipa Soo (who played the original Eliza in Hamilton) and featuring MILCK. Chloe explains how "this trip helped me fill in the mystery of me." Her aunt Amanda concludes, "You don't have to be adopted to have a mystery about who you are. A big part of wellness is having the strength and fearlessness to go and find out for yourself—and when you do, you open your whole life to adventure and opportunity, love and new relationships. And you discover that you're not alone."
Found makes its world premiere at HIFF on October 9.