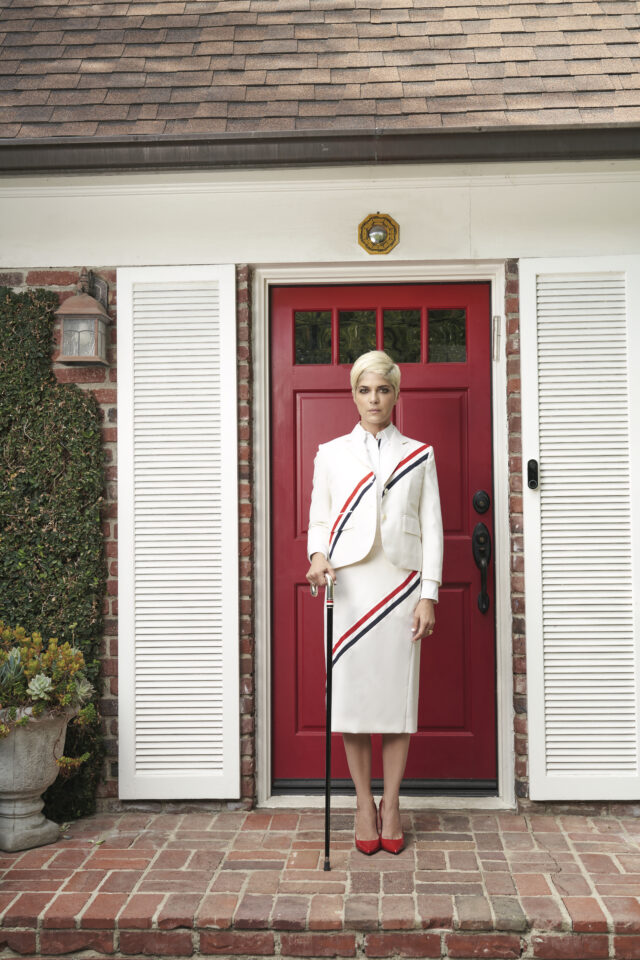 Cristina Cuomo: I just wanted to tell you thank you so much for doing this. I am so excited to have you on our Purist cover. My 11-year-old just said, "Wow, she's so beautiful."
Selma Blair: Oh, stop. I'll take it. I love it.
CC: We're sending you lots of good vibes from the East Coast.
SB: I appreciate it so much. I really, really do. I appreciate all good vibes, and I send them right back to you.
CC: Congratulations on your documentary. I was so grateful to share in that experience, and learn so much about you and everything you've gone through. I want to ask you about the role you think stress played in your illness. You talk about it a bit in the movie.
SB: The stress, I still don't know how to interpret it. I'm rebuilding myself and reintroducing myself to a new way of living, because obviously the old way I dealt with stressors wound me up in a really tough cycle of unwell.
CC: Do you have a good support system? How important have your friendships been throughout the years?
SB: This film was the start of me inviting people into my life to say, "OK, here it is. You can film it." And those same people —Troy Nankin (Introducing, Selma Blair producer and Blair's manager) and Rachel (Fleit, the film's director), Christina Applegate, my baby's dad and my son are the people I'm pretty close with now, so it all worked to build a support system. I have to be forthcoming with them about where I am, and sometimes I need help driving and things. You have a big family and a husband you've been married to.
CC: Twenty years.
SB: It's an amazing thing.
CC: Unity. It takes a village.
SB: It takes a village and it takes a village to stand by the people in your life that you love when it's hard to communicate. And I'm someone who doesn't love to communicate. I rely on people to call every day and check in. And I do the same for other people.
CC: I noticed that the relationship with your mother is a big theme in the film. How did you find peace with her before she passed away?
SB: My mother died at the beginning of COVID. It was a shock that I wasn't by her side to put on her makeup, to make her look beautiful for the coroner. We were so close, and yet I feel like the only things we ever talked about were how unwell I felt my whole life. She was very critical, but did try to bring out the best in me. It was just hard reckoning having her go and not being able to say, "Mommy, I want to celebrate everything with you." It's too late.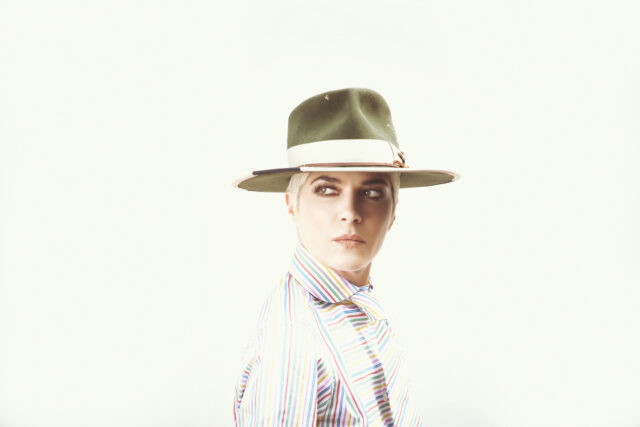 CC: I'm sure she would be very proud of your journey.
SB: I hope. She was a huge presence as a judge and a woman in high heels and red lipstick. I just adored her, but this has been a really hard few years, letting mom go. She didn't get to see me get to the other side of acceptance.
CC: At some point, you turned toward this very progressive stem cell procedure. I want to know what the hardest part of that stem cell harvesting process was for you.
SB: The hardest part was that I had no idea how rigorous the chemo would be. You wouldn't be able to easily survive that amount of chemo without reingrafting new stem cells. I had MS for so many years. It had gotten to a point where it was so aggressive, and none of the disease modifiers I'd tried had good results. This was a last resort of getting a treatment to halt the progression. It worked out well. I have halted progression. The lesions have gone down. I have neurological damage, and I'm still wonky and discombobulated in a lot of ways, but I make a lot of gains. More gains than losses for sure now.
CC: And you sound great, by the way.
SB: Thank you.
CC: Let's talk about those things that you do everyday to stay positive. Let's start with physical fitness. What do you do to build endurance there?
SB: I'm working on it. I'm working on just basic pushups. I have narcolepsy now. Everything's shifted. I'm a night person, but it's hard to be a night person when you have a son, so I nap a lot. I make sure I do apple cider vinegar and water every morning. Then I just try and meditate, and then get him to school. Meditate again. I get off track easily, so it's just a maintenance thing of keeping my mind positive, trying to see beautiful things and stop scrolling the news. I give myself a half-hour to scroll every day now, tops.
CC: Oh my god. You should just cut it off.
SB: It just brings me down. It's hard wanting to not be someone who doesn't know what's going on in the world, and if you know what's going on, it's too much for one person to handle. It's taken me this long to go, "You're just one woman in a house with a kid trying to figure out her life. You cannot change the laws right now."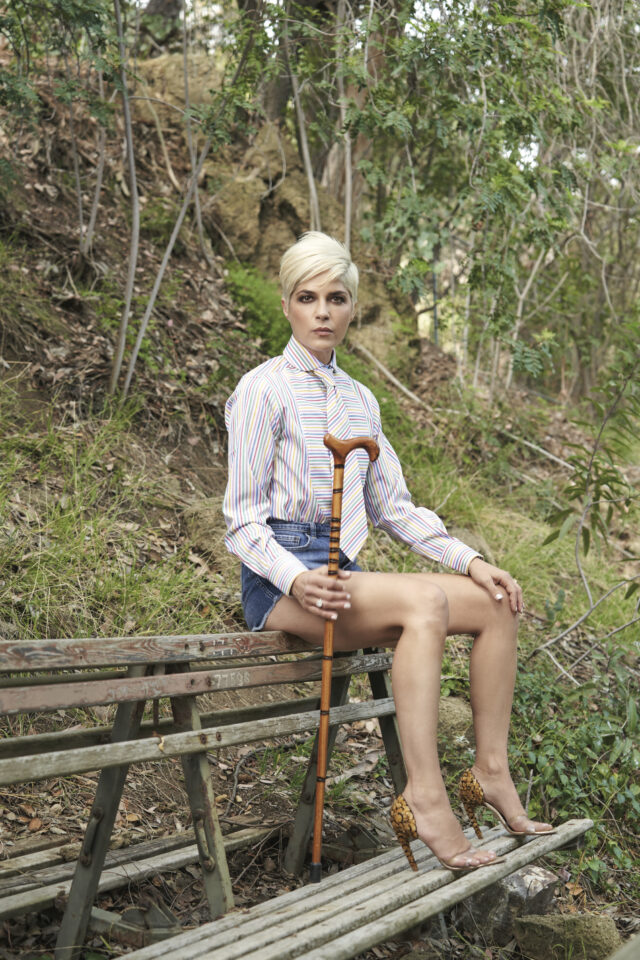 CC: How old is your son now?
SB: He's 10, but the daytimes are nearly impossible for me to achieve stuff. I welcome the night. I stretch. I start yoga, then something begins waking up in me. I I make something in the oven to put in the refrigerator for him to heat up, whether it's a noodle kugel or some type of casserole. I clean the backyard, I pull weeds. As soon as I'm still again for five minutes, it starts all over again with the stiffness.
CC: How have horses aided?
SB: I rode my horse yesterday, and it was incredible. I walk the best either with an AFO brace [ankle and foot orthosis, for support], or with my riding boots. I just have to keep building my endurance to get to the barn, which is an hour away. I'm still building my stamina. My hope is that I'll go to a horse show this summer and ride on the flat. I won't be able to be ready for a jumping class, because I'm just still reconditioning my body. I have real problems holding my body, but I'm building it, and I'm in a good place. But it's tedious.
CC: And what role does nutrition have in your health protocol? Do you use Dr. Terry Wahls' protocol?
SB: I did Terry Wahls, and some of it works. I use some of the Medical Medium. There's tons of things, but the truth is also I have no appetite in the daytime. I try to get in an apple and some peanut butter and a green smoothie, and just try and drink water and lemon and then come nighttime, that's when I get my appetite. I do know how to eat right, and if I had my druthers I would be drinking a lot of celery juice and more water. Intermittent fasting works for me. For someone who feels pretty hellish, I don't look half bad. A little food can go a long way when your body is overstressed. I'm a real amateur, even though I've been doing cleanses and eating right for years.
CC: I'm sure you've learned a lot.
SB: I'm still partial to a Dorito, and to processed food occasionally. It's the worst thing that you can do. So, I try to balance that.
CC: You've got to get rid of that MSG.
SB: The worst. Swimming is great, and getting on my horse. It does so much for my mood to have my horse, and to be in beautiful places. Even knowing I'll go to the Hamptons and that there will be people celebrating, and maybe some lanterns in the evening—just that keeps me going.
CC: Are you coming to the festival?
SB: Oh my god, yes. It's the first time I'm going to be on a plane in two years. The first film I was in—Strong Island Boys—had gone to the Hamptons Film Festival in 1997 and got a good review. That's the same year I had my first short film called Gone Again in the Hamptons and Alec Baldwin wrote a glowing review. And then I was there for Legally Blonde. I'm so excited to come back now. I feel like such a New Yorker who has been transplanted to California. So, for me it's just really extra-special.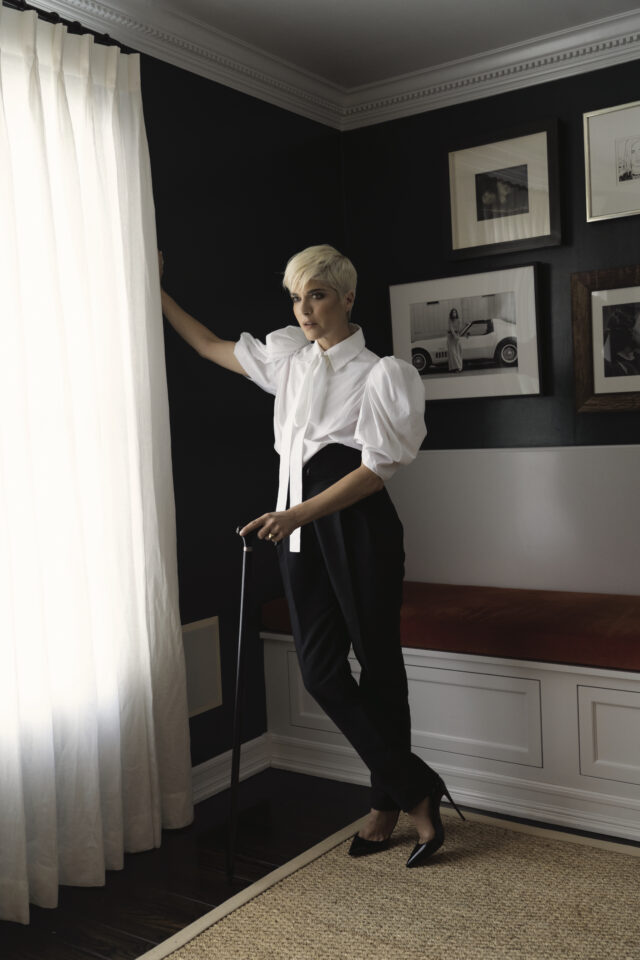 CC: Do you think you might return to acting one day? Do you miss it?
SB: Sometimes I really do. Sometimes it's so painful for me to see a good film because I just say, "Oh god, I would have loved to have witnessed that, to have been a part of that, to have played that experience or played some experience adjacent." If something comes along that's the right thing, yeah. I don't see it yet, but it could.
CC: I love how you said in the movie that you used to look for ways to just check out, and basically what a waste of time that was, and how precious life is.
SB: It is, and I understand it's the best sometimes people can do because when you feel in terror, if life just does that to you, it really is hard. But now that I've had a glimpse of silver linings, of people caring, and know that I'm so much better off than so many people, I just need to find a way to help a few people. I can't do a lot. I don't have a huge amount of energy and I'm one person, but staying connected is key.
CC: What role has humor played in your recovery?
SB: It's everything. I can be so down in the dumps, which totally affects my physical health. I have a weird sense of humor. I love to complain. Oh my god, I'm such a kvetcher. My complaining is humorous to me. I was reading some really snarky article the other day that made me smile. To be able to laugh can make my headache go away. I think there are so many ways to heal. Finding the willpower is huge, because I can't say my whole life I felt it. I would really give in to the dumps, and just let that carry me away. I don't have that anymore. I don't want to do that. I want good things.