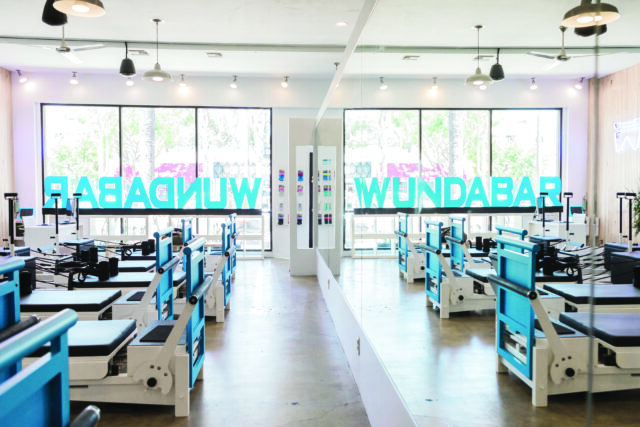 By Julia Szabo
The practice of Pilates motivated Amy Jordan to leave a career as a Hollywood marketing executive—at Universal/ Dreamworks and after that, Marvel—to nurture her true superpowers. Jordan's WundaBar Pilates has been one of the most consistently successful breakout businesses in fitness. Jordan opened her first Pilates studio in 2008. By 2011, she'd created the now-famous WundaBar Pilates studio, which offers a way of doing Pilates at a cardio pace), prototyped the WundaFormer (this ingenious hybrid workout machine offers the best features of the Reformer and other Pilates machines), and given birth to her first child.
By March 2020, WundaBar had captivated New York, with two locations in Manhattan and one slated for Brooklyn, and Jordan admired by all as "Pilates Girl." Then came the pandemic of 2020 and, like all exercise establishments, WundaBar was forced to temporarily close its doors, and the Brooklyn location's opening was delayed until the fall of 2020. But not everyone gained the dreaded "COVID-19" of the waistline—Jordan and her dedicated followers stayed in peak physical shape throughout the crisis. "Serendipitously," she recalls, "we launched WundaBar On Demand a week before the pandemic shut everything down, offering no-equipment streaming workouts from anywhere." Beneath lights clamped to the beams of her ceiling at home in California, she continued to put WundaWarriors through their paces.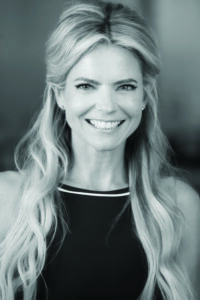 Three months into the pandemic, like a scenario from a Marvel movie, Pilates Girl met her archenemy: small cell neuroendocrine carcinoma of the cervix, a rare and aggressive form of cancer. Turns out, cancer had met its nemesis too: a wellness entrepreneur as rare
and aggressive as the disease trying to kill her. It was no contest: While most of us were lamenting the absence of professionally styled hair, there was Amy Jordan—her head totally bare from chemo and beautiful as ever—gamely leading virtual workouts. After intense chemotherapy treatments and surgeries, it was game over for cancer— and renewed health not only for Jordan, but for her business, which has continued booming, with New Jersey's first WundaBar opening last month and five more studios nationwide expected to open in 2022.
Looking back, Jordan acknowledges this about her deadly opponent: It's a peerless marketing strategist.
"Nothing beats cancer," she says with a laugh. "Cancer is a sinister opponent. When we talked about how I'd still do my work as a spokesperson for WundaBar Pilates with all of the studios closed, no hair, and through a health crisis, we decided to call this our 'Lemonade campaign.' It gave me the opportunity to really put my money where my mouth is. A battle like this attracts attention, and it gave me the opportunity to bring people together who were interested in my story. We got a ton of support, and even more people wanting to become part of this experience. Our sense was that people recognized, 'Wow, she really is invested in what she does for a living—this is not just for a photograph, this is how she lives her life, and this could help me too.'" wundabar.com