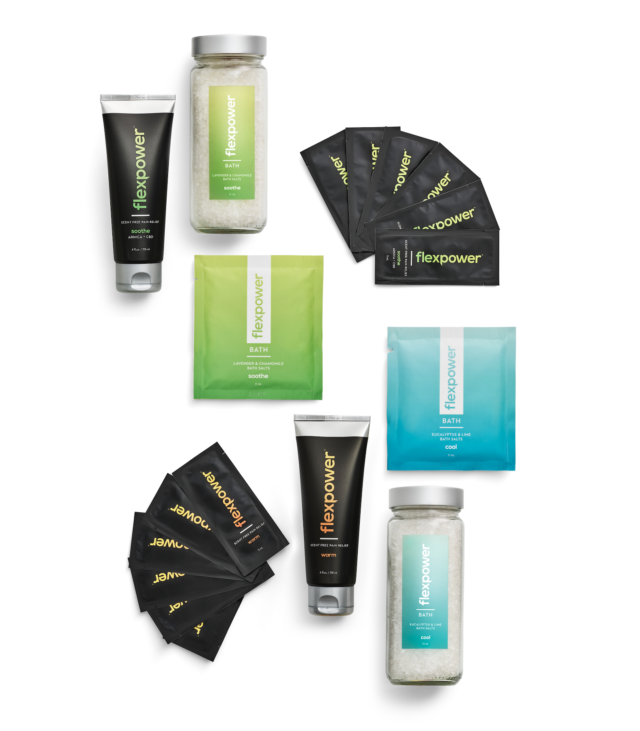 Moving the body daily, whether it be through a casual neighborhood walk or a heart-pumping cardio workout, is an integral pillar in whole-body wellness. Everyone has a different physical activity that nourishes their soul: from peaceful yoga to exhilarating surfing or a challenging bike ride. But at times, physical pain and soreness can prevent us from becoming fully immersed in these activities. Advil, an ice pack or heating pad can only go so far to help the body bounce back, but Flexpower's muscle health products is expertly crafted to relief pain and rejuvenate muscles on a deeper level.
The brand's CEO, Heather Vandenberghe, a marketing professional with over 20 years of luxury retail branding experience, launched Flexpower to the consumer market in order to fill a demand for clean pain relief aids with efficacy that surpasses mainstream over-the-counter remedies. Warm, a topical lotion formulated with plant-based glucosamine and vitamin E, nourishes the skin and provides all-day muscle recovery that continues to activate as the body moves. Soothe, infused with arnica, echinacea and eucalyptus, tackles bruising and inflammation for faster recovery after high-impact activity. The company also offers arnica-infused bath salts in Soothe and Cool, a perfect way to unwind and eliminate muscle fatigue and joint tenderness.
Flexpower's capabilities extend far beyond an after-gym shower or bath. Used by professional athletes to warm up muscles, models to prep their feet before stepping on the runway, and plastic surgery patients for post-op pain relief, Flexpower's remedies support the body during life's most crucial moments. Aspen snow sports fanatics can shop Flexpower's line at Gorsuch and the spa at The Little Nell. Click here for a recap of Flexpower's exclusive Aspen product launch at Ajax Mountain!
Enter code PURIST20 at checkout for 20 percent off online orders at flexpower.com