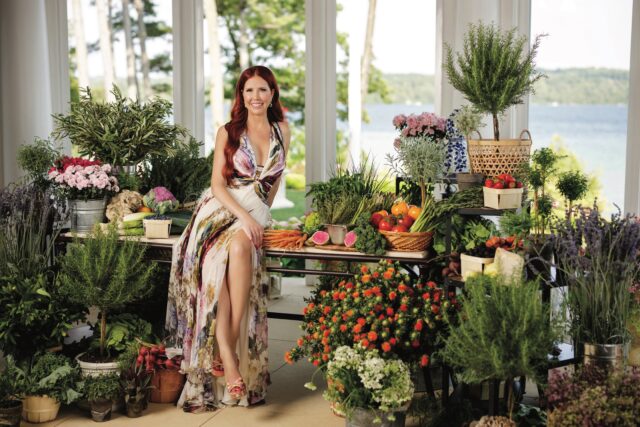 Dr. Stacie Stephenson, DC, CNS, a competitive figure skater turned functional medicine practitioner, is on a mission to help wellness warriors tap into their inner vibrance. With her comprehensive online health platform, VibrantDoc, paired with her groundbreaking book Vibrant, Stephenson uses natural medicine and anti-aging modalities to promote transformation from the inside out. Here, she speaks with Purist founder Cristina Cuomo about her signature three-pronged approach to longevity, and shares simple, nutritious recipes to nourish the body.
Cristina Cuomo: What are the modalities you promote to achieve physical and emotional well-being?
Dr. Stacie Stephenson: I call these modalities the Vibrant Triad: diet, exercise, then connections with others. The food you're eating translates directly to your inner glow and vibrancy, health and wellness. Exercise, movement and fitness at any time in your life and any type of movement or exercise all translates to value. Of course, they all burn different numbers of calories and affect different parts of the body and hormones. Select the activity that works for you, whatever that is. If it's yoga, fabulous. Weight training, fabulous. When it comes to emotional health, you can really make an impact on your health by improving things with the people around you. There are emotional vampires, where you leave interactions with them or hang up the phone and realize that it just doesn't work. It's OK to let those go with compassion. Most successful people surround themselves with positive people they can learn and grow with.
CC: Let's talk about diet. No one teaches us this in our youth. You get to college, don't know how to cook, and you turn to junk. How do you get your nutrition in order?
SS: What is the one thing you do consistently to stay alive? It's eating. You're in charge. Maybe you didn't learn it in school, but it's not that confusing. I want to urge everyone to have a lifelong sustainable plan. We need to eat a fresh fruit and veggie diet, good lean protein, fiber and water. The protocol I've created is a gluten-free, low-sugar, low-carb diet. The rates of gluten and dairy sensitivity are much higher than you'd believe. The gluten-free diet movement is not a fad. It's nutritional science that has permeated into a greater public consciousness. Even if you're not sensitive, wheat products are extremely inflammatory. [Cutting gluten is] going to lower inflammation and carb intake. At the end of the day, grains are sugar. I've eliminated dairy because adults don't digest it well. If you want to keep your metabolism in check and body fat down and work on gut bacteria, you should cut out dairy as well. I'd rather you see get your protein, calcium and vitamin D from other sources.
CC: Your book also comes with a host of recipes that look easy, including the spiced Mediterranean salmon with burst tomato relish over sweet potato puree, and Vibrant mini pumpkin pies, which are a great treat.
SS: When people start a new diet they want to know what to buy in the store and what to have in their pantry. So there's a shopping list in the book as well as recipes. Some people intellectualize it, and they can think of it in their head and figure out their meals. I've personally eaten every single one of those recipes and refined them. I'm OK in the kitchen but I don't love it. So I wanted to give people recipes that can be put together more easily without processed foods.
CC: What if you're not a great cook? What do you do if you're ordering out a lot?
SS: You're going to have to be really careful with takeout. If you're not great at cooking, do a really good job with your shopping. The busier you get, try to eat more raw, or things that aren't cooked a whole lot or simple recipes. If you do your own shopping, you're in charge of what you're eating. One thing I'm excited about is the amount of recipes now focused on healthful diets. In restaurants, you still need to be careful and read the menu, and usually you can find plenty of good choices.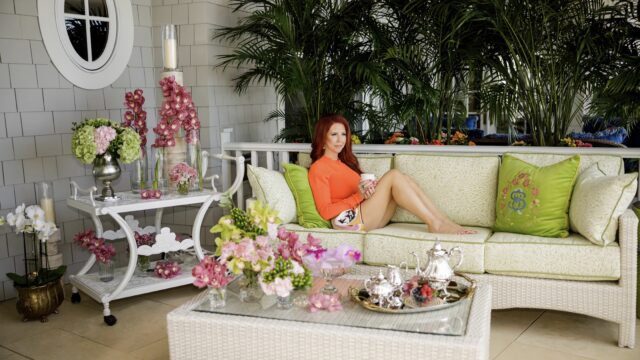 CC: This Vibrant Triad is essentially a lifestyle remedy. It incorporates all the elements we need to succeed, live longer and happier. Tell us about the "wins" one experiences when following the program in the book.
SS: At the end of every chapter there are three wins you can implement immediately. One win, for example, may employ the rule of halves: cutting your coffee in half, cutting your wine in half, sugar in half. You begin implementing each win, read the next chapter, implement more, and by the end of the book you'll be doing the whole program and won't even realize it. At the end, we put the whole program in a chapter so you can see it in its combined form. We also provide a 30-day meal plan. If you can stick to something for 21 or 30 days, that's enough to gain habits and make lasting change. We also have QR codes embedded in the book. You can engage with our community by clicking on them, which has links for self-evaluations and more recipes that weren't included in the book. We have self tests on emotional well-being and relationships, on caloric intake and understanding vitamins, and how you should analyze and select your vitamins.
CC: Energy is such a big subject in wellness. Is low energy a cause or a symptom?
SS: It really is both. I can get drained really quickly. Energy is the fountain of youth. It's what you put in, because you have to turn food into energy. What nutrients you take in, reduce things that will pull our energy away, like coffee. You can enjoy it in moderation, especially organic coffee. There are also plant-based coffee substitutes. Be mindful of your vitamin and other nutrient intake, especially essential fatty acids. We desperately need that for our energy; healthy fats are critical. Yoga and exercise will replenish your energy.
CC: Some of our readers live with chronic illness. How do they maintain energy when they're dealing with something like that?
SS: It depends on your particular situation. A simple thing is to stick with supplements; don't compromise on your nutrition. My "desert island five" vitamins and nutrients are zinc, C, D, B and magnesium. Those are very approachable and very affordable. Cut out sugar and alcohol. Choose an activity that works with the illness you're facing. For example, if you struggle with your joints, choose swimming, which is low impact on the joints. Don't let yourself be defined by your illness. You are not your disease; you are still you.
CC: Tell us about VibrantDoc. How did you evolve this 30-day plan into a business?
SS: I wanted to share it with the world. I found it frustrating that I couldn't reach more people. Over the years, I found so much research and wanted to be a curator for both men and women. I wanted to boil down the most intelligent choices proven by science.
CC: We know how important it is to do all these things and create immunity, prevent disease and inflammation and be our best selves. Talk about the concept of "glow" and how we can achieve it.
SS: That's a combination of the triad. We get wrapped up in the physical facets of health and ignore the spiritual part. Spiritual work is tied to relationships, because it's your relationship with yourself. You must honor that, or else you won't have that inner glow and confidence. Nature offers a huge spiritual connection. I hope Vibrant is a forever program that will help everyone.
WHOLESOME RECIPES FROM DR. STACIE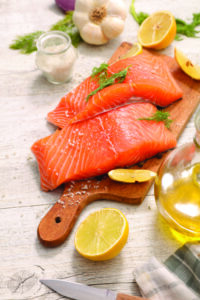 Mediterranean Spiced Salmon With Burst Tomato Relish Over Sweet Potatoes
Serves 4
Ingredients:
Four 8-ounce skinless wild-caught salmon fillets
1 quart chicken bone broth or chicken broth
2 large sweet potatoes, peeled and cubed
½ cup almond or coconut milk
½ teaspoon sea salt, divided
½ teaspoon ground black pepper, divided
4 tablespoons olive oil, divided
1 pint cherry tomatoes
1 garlic clove, chopped
4 kale leaves, de-stemmed and chopped
1 teaspoon paprika
1 teaspoon garlic powder
½ teaspoon turmeric
Instructions:
1. Put the salmon fillets on a plate and set aside to come to room temperature.
2. In a large saucepan or soup pot, add the broth and sweet potatoes and boil until soft and fork-tender.
3. Strain the sweet potatoes, reserving the broth. In a blender, add  sweet potatoes and nut milk and puree until smooth. Season with 1/4 teaspoon salt and 1/8 teaspoon pepper. Set aside.
4. To make tomato relish, in a large saute pan over medium-high heat, add 2 tablespoons oil and tomatoes and saute until the tomatoes begin to blister. Add
the garlic and kale and saute until fragrant, about 2 minutes. With a fork, smash half of the tomatoes. Set aside.
5. In a small mixing bowl, stir the paprika, garlic powder, turmeric and remaining salt and pepper together until well mixed. Sprinkle evenly over the salmon fillets.
6. Warm a large saute pan over medium heat, then coat with the remaining oil. Add the salmon fillets and cook for 3 to 4 minutes per side or until the fish is firm and light pink. Remove the pan from heat.
7. Ladle a thin bed of the sweet potato puree on 4 dinner plates. Plate the fillets over the puree, garnish with tomato relish and serve with roasted broccoli rabe.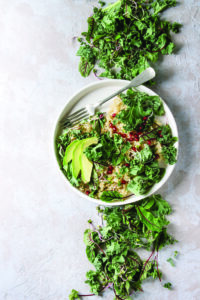 Detox Salad With Kale, Pomegranate Seeds and Forbidden Rice
Serves 4
Ingredients:
For the salad:
2 bunches lacinato kale, mixed baby kale, spinach or arugula, de-stemmed and chopped
2 cups cooked forbidden black rice (or wild or brown rice)
1 cucumber, sliced
10 cherry tomatoes, halved
2 scallions, chopped
¼ cup sunflower seeds
¼ cup pomegranate seeds
¼ cup pumpkin seeds (roasted or raw)
2 tablespoons hempseeds
For the vinaigrette:
½ cup avocado oil
Juice of 1 orange (or 2, for extra sweetness)
1 garlic clove, minced
5 fresh basil leaves
¼ teaspoon sea salt
Instructions:
1. For the salad, massage the kale with your hands until it turns bright green and releases some of its juice.
2. Place kale on serving platter or divide between 4 serving plates. Arrange rice, cucumbers and tomatoes over the kale; sprinkle with remaining ingredients.
3. For the vinaigrette, in a food processor or blender, add all ingredients and blend until smooth.
Drizzle dressing over salad and serve