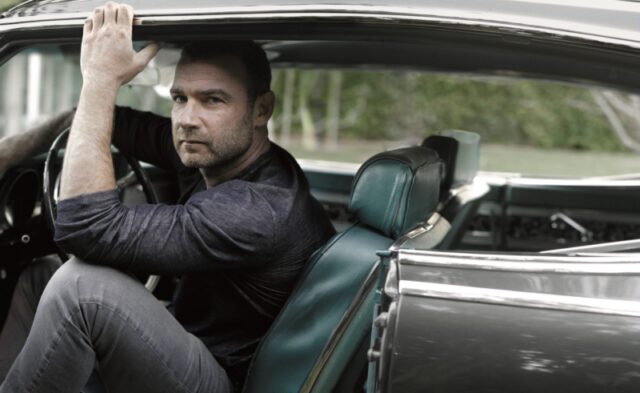 Cristina Cuomo: You're of Ukrainian heritage. Your maternal grandfather emigrated to the U.S. from Ukraine. He escaped tyranny. How profoundly has that impacted you?
Liev Schreiber: My grandfather, for all intents and purposes, was my father. He raised me after my mother and father separated when I was very small, and she came home to New York. He supported us because my mom didn't have any money, and he didn't have a lot of money, either. He delivered meat from the meat market to diners and restaurants. He was the man in my life, somebody I admired very deeply, who I worked for as soon as I was strong enough to carry a salami. He never talked about the past, so I didn't know where he was from. There was talk that he was from Poland. There was talk that he was from Ukraine. In many ways, most of the roles I played in my life have been some kind of exploration of his character, not my own, because I still to this day have very little sense of my own. When he died of cancer when I was about 26, it began a kind of strange relationship to memories. I was really shaken by his death. It occurred to me that I didn't know anything about him, and ergo I really didn't know anything about being a man. Suddenly, I was on my own doing this strange job. And so I tried to find out more about him. I began writing a story about an American who goes to Ukraine to discover what it is to be Ukrainian.
I came up with a script that was pretty good. And then while I was trying to get that made, I read an extraordinary short story in The New Yorker by a young writer named Jonathan Safran Foer. It was called "The Very Rigid Search." He had done what I had tried to do in eight pages of a short story, but he'd done it with humor and love. And I just fell for him as a writer and I fell for that story. I called Bill Buford, the guy who was reading fiction at The New Yorker and I said, "Is there any way I can meet this guy?" He introduced me to Jonathan, who was this incredible kid in his early 20s who showed up with a manuscript in a Duane Reade bag at the Bowery Bar and said well, it's actually part of a novel. I read the novel very quickly, and was blown away that someone so young could write with such depth about love. And so I asked him if I could adapt the short story, and he said yes and that became the first movie I directed, Everything Is Illuminated. To promote that movie, the story got out that I had strong connections to Ukraine, that my grandfather was Ukrainian. I never thought much of it. It just became one of those flags in the road of one's life where you go, "OK, well I'm Ukrainian." I don't feel particularly Ukrainian, but I am.
CC: I can't believe that happened so late in life.
LS: Yeah, I had a weird childhood.
CC: I've known you for 20 some years, and you're obviously a very funny, self-deprecating person with a deep appreciation for cultural pursuits like literature. I remember once we were talking about Yeats and Shakespeare, and you were interpreting and analyzing why they made certain choices in their particular time. Where does that stem from, your deep interest in intellectual pursuits?
LS: I think most artists are suffering from some form of identity crisis, and so you're using whatever your tools are, or your skill is, to try to figure out who you are or where you're from. For me, the tools that my mother gave me were language—literature and art. I fell for Shakespeare. I've always loved old things. Besides, as an actor I'd rather be a big fish in a small pond and nobody else seemed to want to do that work. So I did.
CC: Thank god.
LS: It was a good break.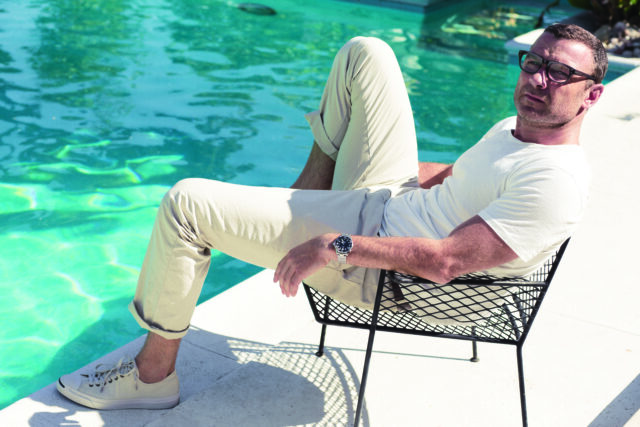 CC: Let's go back to Ukraine, and BlueCheck Ukraine, a network that vets and funds grassroots organizations providing assistance for Ukrainians. How did you form this NGO?
LS: I was pretty depressed, like a lot of people when this war broke out. I was watching it on my couch, bookended by my two kids. And I noticed these hulking, balding, middle-aged men with cigarettes and Kalashnikovs, hugging their kids and saying goodbye to their wives—guys who had never shot a gun in their lives—and then marching off to the front lines of a war in which they were incredibly outnumbered. People started calling me because of an assumption that I'm Ukrainian, asking where they can donate, and I didn't have a good answer. Then I talked to some friends. Harris Fishman from Yale called, and he said he wanted to do a film project, and he introduced me to Jason Cone, who used to run Doctors Without Borders. We could feel a huge groundswell of support in America for Ukraine.
CC: Are you still seeing conflict and polarization in America, and what efforts do you think we can make to help end this war?
LS: I do think Americans care. The past 10 years of American history have been so polarizing and the conversation in this country has been so confused, with this kind of political bickering and partisan power grabbing. If there's any silver lining to what Mr. Putin has done, it's that he's galvanized us as a nation. We may not have been tending to our democracy as well as we should have, and hopefully we're all waking up to that. That's what defines us. That's what makes us who we are.
CC: The silver lining.
LS: The idea behind BlueCheck was we saw that people wanted to help. We thought, how do we channel all of this support and resources into something that can be really effective on the ground in Ukraine? We decided early on that we were only going to do humanitarian aid, that we didn't want to become involved in operations politically, militarily or otherwise. Our idea was basically just to go to Ukraine, find out who's doing the work on the ground, and cut out the middlemen so that the money goes directly to the people. We also figured out pretty quickly that need over there is a fluid thing. One day it's going to be food, another day it's going to be insulin, another day it's going to be shelter, another day, mental health. We had to come home and seriously get into fundraising, which is where we are now.
CC: That is very important, obviously. How do you make progress when you're on the ground?
LS: The biggest thing that's happened to us is that we now have the endorsement of President Zelenskyy. We also have the health ministry there to let us know if there are NGOs that they believe we should check out. Everyone has to go through a vetting process with Ropes & Gray, a terrific law firm with offices all over the world, and Integrity Risk International, which is offering their services pro bono to vet and verify the NGOs that we identify.
CC: You mentioned earlier all the different aspects of BlueCheck, from supplying emergency medical care and food and relief to mental health initiatives. What program has seemed to be the most effective?
LS: Unfortunately, right now the biggest piece is medical aid. Obviously shelter, because those people have been displaced. Mental health. It shifts all the time. It's really about keeping in touch with what the needs are.
CC: You've had an incredibly prolific career, from playing Iago in Othello, to Ray Donovan on TV. What has been your favorite medium?
LS: The most fun is theater. The best nights in my life were spent hanging out with 500 people in the dark, laughing about the same thing. There's something truly exciting and fun about experiencing a moment with an audience. I miss that feeling of being on stage.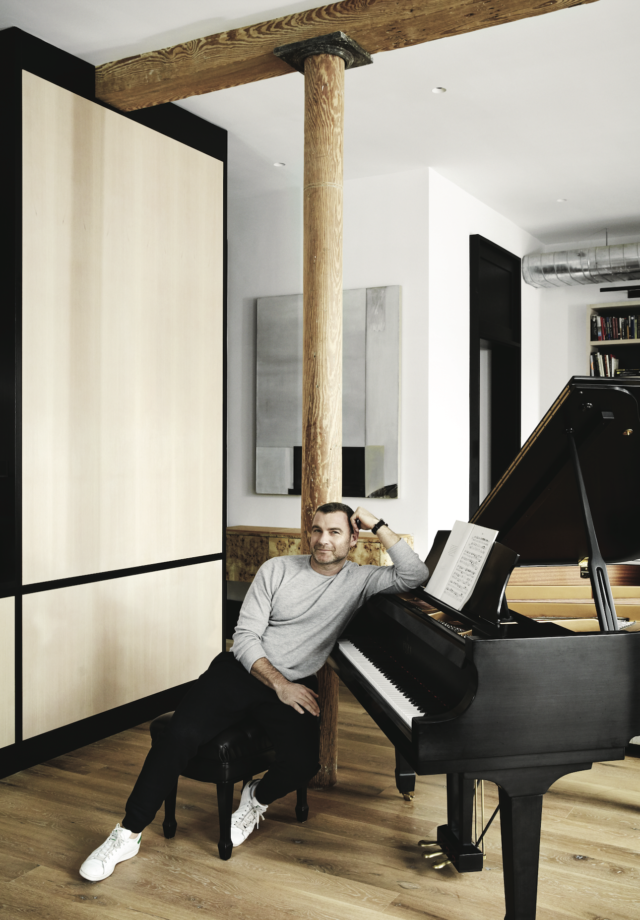 CC: You grew up on the Lower East Side, and you still live downtown in the apartment you've owned for over 20 years. You've been in Montauk for a decade. There's a great surf break across the street, but what's your favorite thing about being in that community?
LS: Probably the surf break. The best thing about the house is the view—it's pretty spectacular. After you've been in Montauk a while, you get a feel for the town. I have good friends there.
CC: What project are you currently working on?
LS: I did a movie for Wes Anderson called Asteroid City, which I think is going to be terrific. I am heading off to the Czech Republic next week to do a story about Anne Frank, told from the perspective of the woman who hid them, Miep Gies, who's being played by Bel Powley, an amazing actress. I'm going to be playing Otto Frank, Anne Frank's father. I thought the script was really well done, and Miep Gies is such an extraordinary character, someone who risked everything to help a family she didn't have to help. She wasn't Jewish. She wasn't related to them. She risked her own family, her own safety, to hide the family for as long as she did. There is strength in all of us, and there are values and principles that are worth standing up for, and I think that's in this story.
CC: I have to ask you this, because we are a well-being publication. Do you have a favorite wellness ritual?
LS: Sun and the salt water cure everything. I have to be careful and put sunblock on. I often have to be reminded to do that, because I forget, so my kids remind me. But I do feel like the vitamin D that I get from the sun and the sea is my cure-all.
CC: You hit 50 and decided to help Stony Brook raise money to open a new hospital in East Hampton. You work with Feeding America, a nationwide network of food banks, and the Surfrider Foundation. How did you find these organizations that you're passionate about?
LS: Feeding America became a Thanksgiving tradition that we wanted to be a part of. Stony Brook took care of my grandmother when she had a heart attack. Surfrider came out of my love of the ocean, my gratitude for having that space, that environment, and wanting to preserve it.
CC: You're certainly living up to your name, which is related to the Yiddish word for heart. Kudos to you for taking your celebrity and applying it to something as important as BlueCheck Ukraine.
LS: Probably the hardest part of it for me was that I had this memory of my grandfather, a very principled guy who would smack me on the back of the head if I didn't open the door, or if I wasn't polite. I haven't been that guy. I've been the kind of goofy actor dad, who has an opportunity to show his children that the best thing that we can do in this life is to help somebody. If I can leave my kids with that, I'd be happy.
Go to usukraine.org/how-to-help/bluecheck for information on how to donate.