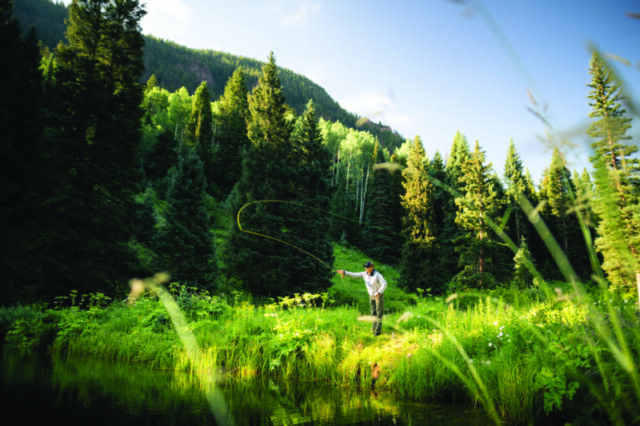 By Kelly J. Hayes
The Little Nell hotel, Aspen's only five-star/five-diamond, ski-in/ski-out property, is globally recognized for its award-winning wine program and elevated guest experiences. But for those who long for summer adventure as much as poolside lounging, the Nell provides a perfect point of departure. "Guests come to The Little Nell during the summer for the beauty of the majestic mountains in Aspen," said Carol Hooper, the hotel's Les Clefs d'Or Member, USA head concierge of 16 years. "What makes the Nell exceptional are the opportunities we provide for unique mountain adventures that enhance their Aspen visit."
The Adventure Center at The Little Nell offers outdoor activities to get guests into the wild. And unlike the hotel's exclusive Winter Adventures, which are reserved for hotel guests, Summer Adventures can be booked by all. If fly-fishing tops your bucket list, the Adventure Center can pair you with in-house, expert fishing guides to take you and your family to the private ponds of the T-Lazy-7 Ranch, which are available to all The Little Nell participants. Prefer to fish Gold Medal waters? The Nell team can put you in waders, tie your flies and take you to the banks of the Roaring Fork River, and some of America's most renowned fishing holes.
Never been to the top of Aspen Mountain? How about an off-road four-wheel-drive ride up Summer Road to the 11,212-foot summit of the iconic ski mountain in a luxury Audi e-tron SUV, or an open Jeep? The Nell is also like a base camp for bike riders in Aspen. Enjoy an only-in-Aspen experience, by signing up for the monthly Ride + Dine dinner. Bikers journey from the Nell to the fabled Mad Dog Ranch in Old Snowmass, which features a refurbished riverside recording studio once owned and used by musicians Jimmy Buffett and Glenn Frey. Jam with a local band and enjoy an alfresco dinner paired with fine wines before getting a lift back to the hotel.
On July 18, cyclists can take a ride with 17-time Tour de France competitor George Hincapie, followed by lunch on the sun-soaked patio of the Ajax Tavern. Even more immersive is the August 14-18 "Clip-In With Christian" cycling camp, with former Olympian and NBC Tour de France commentator Christian Vande Velde. Participants ride the roads during the day and enjoy the hospitality of the Nell at night, for a best-of-both-worlds experience.
Just outside the back door of the Nell, hikers can head uphill on some of the most challenging—and breathtaking—trails in the Rockies. Make it to the top and you may just find a yoga class, a bluegrass session or a classical music concert in full swing. adventure@thelittlenell.com; thelittlenell.com/experience/adventures