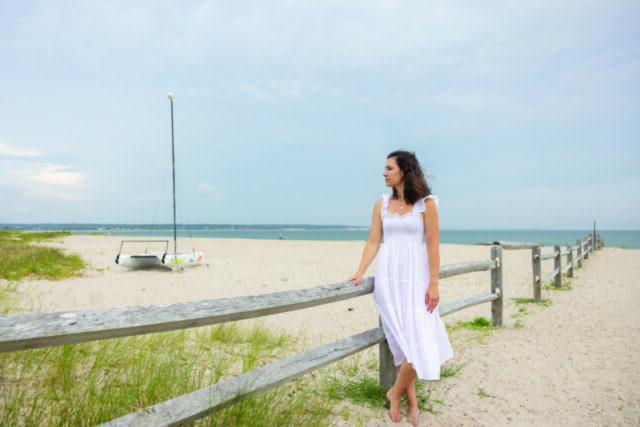 By Regina Weinreich
A stone's throw from where Jackson Pollock developed his drip painting technique, in the Springs section of East Hampton, mixed media artist and sculptor Nicole Corbett uses her body and hair to apply whimsical, abstract strokes of color glaze to large ceramic moon jars, hand-built using an ancient coiling technique. Coils are layered up and sculpted into this shape, hollow inside. She's at work in a studio that once belonged to Gerson (Gus) Leiber, and his wife, Judith, who was famous for her evening minaudière clutches of metal, skins and crystal, a craft she learned as a young woman in Hungary, surviving Hitler. A first lady bag lady, as the tabloids quipped—several carried Judith Leiber designs at inauguration.
Gus, a painter and lithographer, built the studio with its enormous windows allowing a flow of air and light, and a view of the expansive gardens of which he was most fond. After they died, within hours of one another in 2018, their home went on the market. In the summer of 2020, when Nicole and her husband, Peter, decided to move to Springs full time, and were looking for a space, Patricia Wadzinski of Sotheby's International Realty (patricia.wadzinski@sothebys.realty) guided them here. Nicole insisted upon having a studio; Peter thought that might limit them in their search. Having seen many properties prior, the couple—who had been living in a town house in Williamsburg, Brooklyn, before exploring the East End—took a second visit to this one before declaring their love.
Now preparing for a solo show at Colm Rowan Fine Art on Main Street in East Hampton, opening on October 8, Nicole Corbett will also exhibit her work at the Hamptons Festival of Music Sept 9-11 at LTV Studios—where a video work will be screened in collaboration with an orchestra overture on September 11.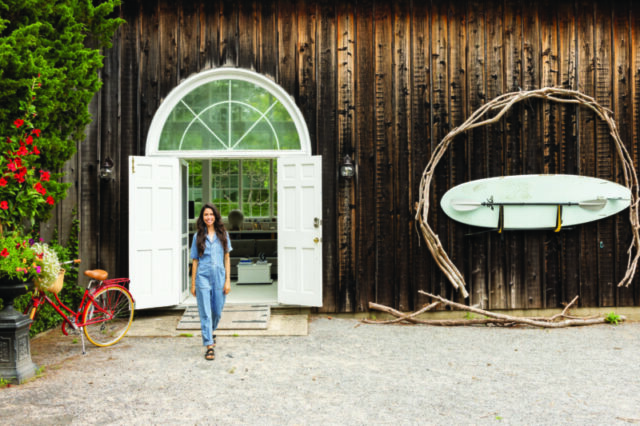 For Nicole, inspiration was a given, sensing not only the vibes of Pollock and Lee Krasner, but also Helen Frankenthaler. The area has also been home to Constantino Nivola, who worked down the street developing his technique with sand casting. Taryn Simon lives in the hood, as does the novelist Anna Pitoniak, who, with her husband, Andrew Bartholomew, purchased a property from Wadzinski as well.
The realtor has a knack for putting buyers together with spaces, and with one another. Noting a trend for young "creatives" coming to this area, Wadzinski says, "Newly emerging younger generational buyers who have been part of the corporate world are using those experiences for a new chapter, exploring and living out their dreams and desires for a more balanced, nuanced life. One can step in and out here. Breathe. Find like-minded spirits. I hope this new generation of buyers will continue to embrace the beauty, the wild, less-frantic life that is here. It is exciting, a pleasure and a privilege to be a small part of that journey."
While it is no longer possible to exchange a painting or two for provisions at the Springs General Store, as is part of Pollock's myth—yes, like everything else out East, the prices have soared—the reasons that brought the young artists in the mid-century is the same lure for a creative class with money: a community of artists that is growing.
Anna Pitoniak left a career in publishing to write full time. A kiboshed, yearlong worldwide trip planned for March 2020 left Pitoniak and her husband homeless, as it were; they had just let go of their Manhattan apartment. After a brief time crashing with each of their parents, they found an Airbnb in Montauk, and discovered how much they loved the area. They soon met Wadzinski, who found them a modest house off Maidstone Beach overlooking Gardiners Bay—and just a block away from the S&S Corner Shop where pricey pottery and cappuccinos are better suited to the upscale area residents than to Bonackers, or long-time locals.
Pitoniak describes her new novel, due for a 2023 release, as the love child of John le Carré and Ann Patchett. She says her inspiration comes not only from writers in the area—she cites the late Sag Harbor resident E.L. Doctorow, whom she had met when she worked at Random House, and Alan Furst, who writes great espionage novels, her passion—"I felt the pull of the visual artists." The S&S Corner Shop, after all, was an old studio where Willem de Kooning had his canvases stretched.