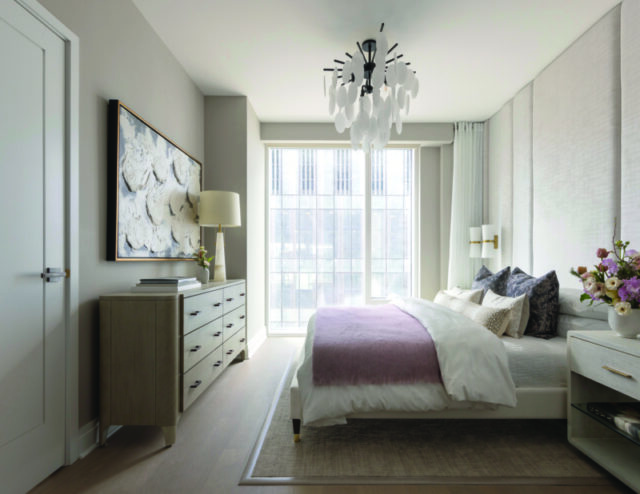 By Abby Tegnelia
The past few years have been a wild ride for the New York real estate market, and one of the most impressive trends to emerge is luxury senior living. Leading the pack: the new Coterie Hudson Yards in the heart of Hudson Yards.
"The baby boomer population doesn't see retirement as the time to wind down; it is their second chapter of adulting," says Joanna Mansfield, Coterie's SVP and GM. "They don't want to slow down—they want to experience life! They are accustomed to certain lifestyle expectations, and as a senior living provider, it is our duty to make sure we keep up with market trends. Baby boomers have disposable income and want to live their best life with fewer headaches. So we are here to do the legwork for them."
Health services are an obvious top priority at Coterie, which boasts on-staff wellness coaches trained by Mayo Clinic, exam rooms equipped with state-of-the-art telehealth technology, and a designated RN case manager on staff who focuses on bridging the gap between assisted living and the health care system. All residents have a membership to Sollis Health, which Mansfield calls a "concierge service and private ER rolled into one that minimizes unnecessary visits to the emergency rooms.
"Plus, all assisted living residents are provided with CarePredict bands, which is our emergency response system," Mansfield adds. "It's more than just a 'request for help' button. It offers geo-fencing from precise locations within the building, two-way communication with staff, and opens their apartment doors."
Living at Coterie is also about having easy access to pampering at the highest level, plus ways to stay active and involved in the community. The on-site salon's services are rendered by Oscar Blandi, and there's a spa treatment room, juice bar and yoga/Pilates studio. Residents have exclusive access to museums, concierge access to the Shops at Hudson Yards, black-car service throughout Manhattan, and hospitality services for same-day booking of tickets to Broadway shows and other needs, such as pet care. There is also an emphasis on philanthropic partnerships so, Mansfield says, "our residents can continue to give back to the community they call home."
The apartments themselves are stellar, too, and feature smart home systems for low-stress living, and luxe finishing touches such as heated bathroom floors and circadian lighting in Memory Care residences to help regulate sleep and mood. There's also the Sky Terrace, an outdoor space on the Coterie Club floor that offers wraparound views for alfresco dining.
"We offer a sophisticated menu, full bar, and have a sommelier on staff," Mansfield says. "Our residents will also have access to the public-facing restaurant on the ground floor operated by award-winning chef Dan Kluger. Did I mention we also have an on-site bakery? Everything will be prepared from scratch and locally sourced. The Mayo Clinic consults on our menu, to ensure it's tasty and also healthy." coterieseniorliving.com