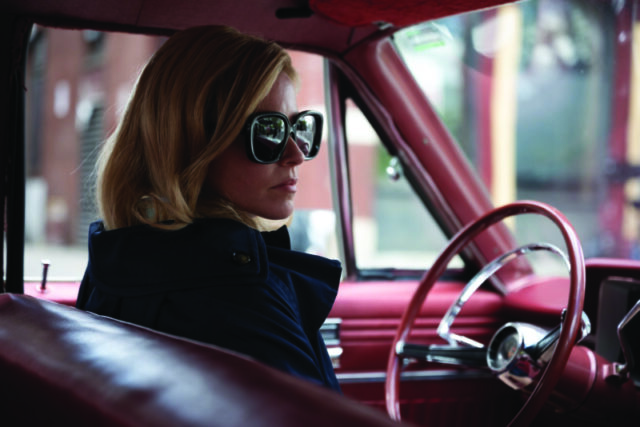 by Julia Szabo
Amid the aftermath of the Supreme Court's Roe v. Wade reversal comes a movie milestone that's at once balm for disheartened feminists, and a wake-up call to action. Unspooling like bittersweet medicine, Call Jane—the new film from director Phyllis Nagy (Mrs. Harris)—is a fine example of cinema's power to bring history alive.
Premiered at the Sundance Film Festival, and now receiving its East Coast premiere at HIFF, Call Jane was shot in 23 days, the fastest Nagy has ever worked. It tells the compelling, true story of Chicago's Jane Collective (aka the Abortion Counseling Service of Women's Liberation), an underground service that operated from 1965 to 1973, providing abortions when doing so was a felony offense in most of the United States.
The film ends on a seemingly upbeat note, with smiles all around as the Jane Collective disbands following the Supreme Court's landmark 1973 decision affirming a woman's right to an abortion. "It's really not a happy ending," says Nagy, who deliberately designed the finale—in a first for a period narrative film based on actual events—to turn those smiles upside down. "What I hope is that people understand the import, the joy of having achieved something by working together collectively to get a good, safe result for women who needed or just wanted abortions. But then you understand how depressing it is, really, that after 50 years we are going backward in time."
Call Jane features transporting performances, notably those of Sigourney Weaver as Jane's fearless founder, Wunmi Mosaku as her outspoken, Black Panther conscience, and Elizabeth Banks as Joy, a Tricia Nixon-esque young housewife who awakens only after she's denied a "therapeutic termination" of her pregnancy, despite the diagnosis that carrying her baby to term risks ending her own life.
Joy sits in at the hospital conference table as chain-smoking medical doctors discuss her case, referring to her in the third person despite her presence and protests of "I'm here." In short order, Joy becomes a Jane client, finds fellowship with the other members of the Collective, morphs into an activist and graduates to becoming so dedicated to helping other women through the procedure that, finally, she learns to perform it herself.
"This is not a movie about abortion," Nagy explains. "What I mean is that it seeks in every way to normalize a procedure which has been demonized by all parties—but is, and has been for thousands of years, a part of women's health care. Abortion needs to be normalized; in a profound way, it is helping women stay healthy and is doing no harm. It's part of keeping people well, and I think there's a real argument to be made for taking this procedure away from the melodramatics of politics, and people who do not want to look at the science of it." See hamptonsfilmfest.org for screening times.