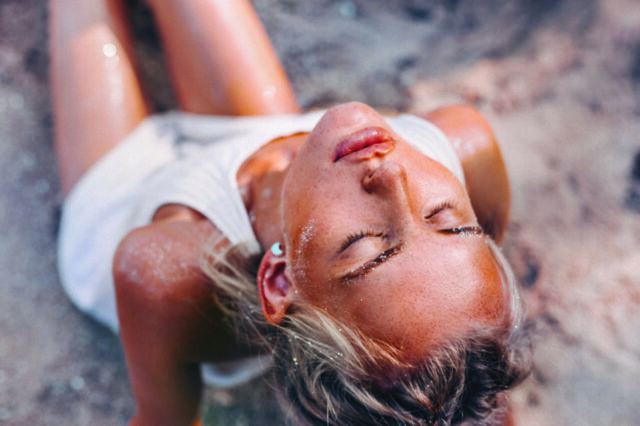 There seems to be an endless stream of devices and procedures to rejuvenate, restore and renew your most valuable asset: your face. Some fill, some paralyze, some tighten—it goes on and on. In the right hands, today's arsenal of noninvasive solutions to gracefully aid in the aging process can keep you looking far better for far longer than ever before. A skillfully choreographed approach to looking and feeling your best is the reason that many flock to cosmetic dermatologist Dr. Paul Jarrod Frank's New York practice. Because after all, it's not the tools, but how you use them, that make all the difference.
The latest tool in the quest for youth is a highly anticipated facial device called Emface, which painlessly restores facial architecture through the strengthening of facial muscles and improved skin thickness via electromagnetic and radiofrequency stimulation. Dr. Frank explains, "As years go by, there are several factors that lead to the appearance of aging. One of the most significant changes is the loss of muscular and fascial support to the skin of the face." Dr. Frank continues: "Traditionally, face-lifting surgery targets these muscles along with the excision of skin. With Emface technology, we are now able to make medically significant improvements in the baseline muscle tone that supports the face along with the more traditional collagen and elastin, building results traditionally found with synchronized radiofrequency energy."
Emface almost sounds too good to be true, given that it's painless, has no downtime and delivers benefits to a wide range of patients. A treatment consists of adhesive electrodes being placed on various muscles of the face, along with a grounding pad placed on one's back allowing radiofrequency energy to synchronize and optimize electrical stimulating pulses that are delivered to the specific facial muscle groups. "Emface can clinically hyperstimulate and improve basal muscle tone of the facial muscles along with improving overall skin thickness and structure," explains Dr. Frank. "Four 20-minute sessions, spaced one week apart, are required to see full results."
As for the key benefits, they can start to be seen and felt after one treatment, and fully after four treatments. "After finishing the full course, long-term results with overall improvement of the structure of the face and skin quality are made," says Dr. Frank. "Although results are long-lasting, maintenance treatments are recommended and vary depending on one's age and desired result."
The device works differently than any injectable in restoring facial structure and may minimize the need for injectables in the long term. "Both toxins and fillers, although very effective, should have limited use so as not to give an artificial look," says Dr. Frank. "In addition, as we age, they can act with diminishing returns, as they counterintuitively weaken muscular structure and can actually stretch skin, leading to additional loss of elasticity," continues Dr. Frank. "Emface works at the root of the aged face, stimulating baseline muscular structure and improving skin elasticity."
Emface comes on the heels of the great success of Emsculpt, the first device developed to build muscle in the name of body-sculpting. "Like the original Emsculpt technologies, we are able to realize the cosmetic improvements that come from clinically targeting various muscles of the body," says Dr. Frank. "It was a desirable inevitability that the makers of Emsculpt would develop facial technology that redefines the approach to improving facial structure. We are very proud at PFRANKMD to have been involved in the investigational development and first release of this practice changing technology." Emface is now available at select providers nationwide.