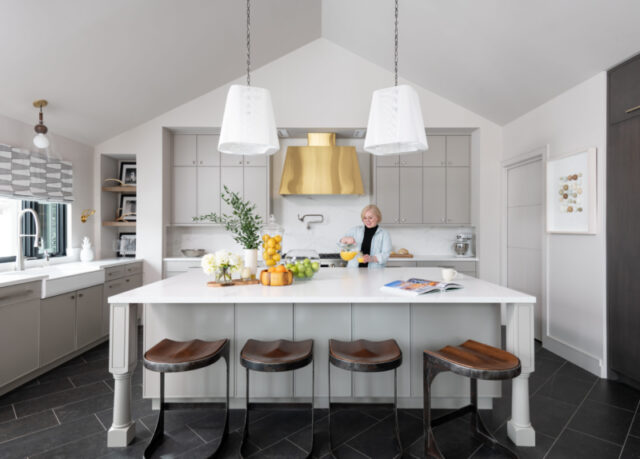 With the rise of distance learning and remote work, both children and adults are still spending more time at home than before the pandemic. In light of that, creating healthy spaces that support each person's needs is absolutely vital. Taking a holistic approach to family-friendly design, Laura U Design Collective promotes wellness in each and every corner of one's home. The firm prioritizes interiors that support mental and physical well-being while respecting the planet and its finite resources.
Here are founder Laura Umansky's top tips for designing for wellness:
Update kitchens for enhanced accessibility.
Consider storing appliances used by family members with dietary restrictions, allergies or other health concerns separately to avoid cross-contamination. Be sure to integrate such appliances—i.e., by creating a smoothie station or other prep areas—to avoid isolating those family members. After all, the goal is to create a kitchen that promotes healthy eating and active participation from everyone in the household. To create a space that contributes holistic approach to improve health.
Create activity rooms that inspire kids and reinforce healthy habits.
Centering a playroom around hobbies and pastimes leads to more productive playdates and gatherings. Create joint spaces where the family can put down their screens and gather to craft or do something creative as a group.
Integrate steam showers and aromatherapy.
My steam shower is one of my favorite things in my home! Steam showers that also include aromatherapy can help energize, relax or even clear stuffy sinuses. By adding a curated scent profile to your shower, you can bookend your day. Opt for energizing oils in the morning and calming ones in the evening. With the right essential oils, you can encourage alertness before work and support sleep at night.