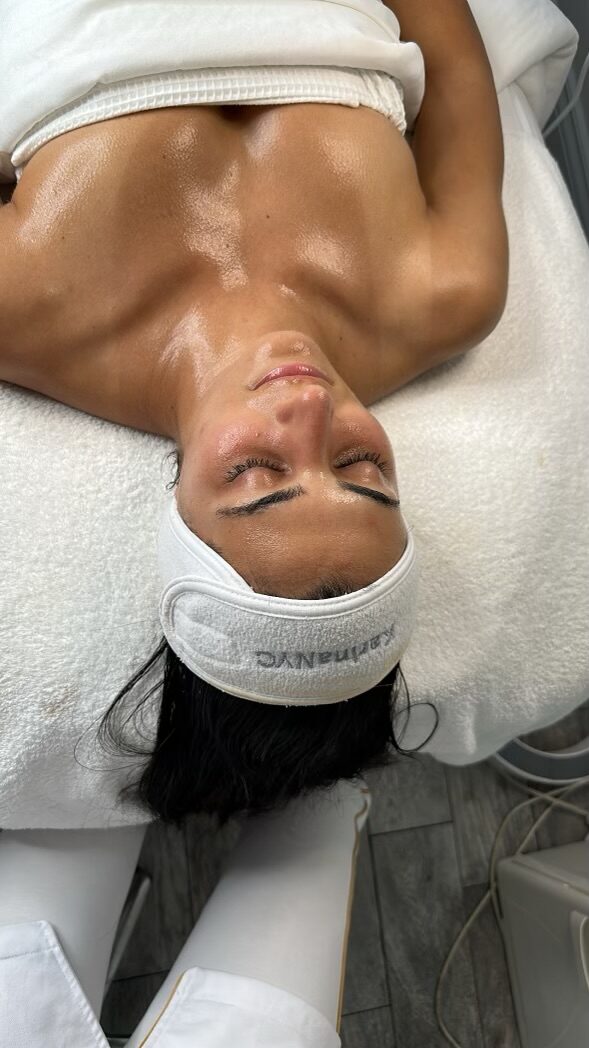 PURIST: You seem very passionate about your treatments and the products you curate for your brand. What are you looking for in a product when you are choosing them?  
Karina Freedman: When I pick products for treatments or for sale in our clinics, I look for the best quality ingredients, higher concentrations of botanicals from reputable sources and most of all, I want to ensure repeatable results. The product has to work—seems obvious, but it's not. Skin care products tend to be extremely trendy, and we have an obligation to our clients. We stick with reputable brands with long histories specifically in the skin care business. Our clients trust us to provide sustainable results, and that trust guides our every decision. 
What types of product ingredients would you try to avoid? 
We avoid fragrances, silicones, mica, alcohol (sometimes it's needed, though), harsh preservatives and in general, we stick to proven, natural ingredients and products carefully made by companies with long-standing reputations for quality, safety and effectiveness. 
When do you plan on launching your own line of skin care products?
We have been working on our own products for some time, but this is a very difficult process, for one simple reason: We will not sell products we don't believe in. Again, the products have to work. Every day a new "hot" product is seemingly everywhere, and in a year or so, it disappears. The brands we represent have decades of proven results, and until we can get our own line to that level, it will wait. We are known for results, not gimmicks. 
How does what you offer at your new spa location on Long Island compare to your NYC location?  
We offer identical services at all our clinics: facials customized to your specific skin needs, European body treatments and meticulous lash services. Our clients visit multiple locations between NYC and Long Island, and they expect to receive the same services and quality wherever they book, so we keep it simple for them to choose whatever works best for their busy schedules. 
Tell me about your eyelash application. So many products can have such harmful ingredients in them; is the glue natural and sustainable?
We offer keratin lash lifts and extensions with the most gentle adhesives free from formaldehyde. The secret of good lashes, though, is the lash artist, training and meticulous application. This is where we really stand out. 
What are the products you would use for a facial and what do each of them do?
We have more than 40 products in our treatment rooms—our facials are highly customized, and utilize the specific products needed for each client's skin type and skin concerns at that point in their life, and at that specific time of the year. The same facial for two different clients will utilize a different combination of products and multiple processes to match that individual's skin needs. Clients also have different needs at different times of the year—the skin is always changing, reacting to the environment and lifestyle. However, most facials use iconic Biologique Recherche products and methodology specifically, because Biologique Recherche has the most extensive breadth of effective products that contemplate changing and complex needs, so we are able to provide targeted treatments and incredible results.
Your skin is the largest organ. Why is what you put on your skin so important? How does the science of absorption affect the epidermis?  
It's important to be mindful and make sure you use the highest quality ingredients to nourish your skin. The trick is to find a product that is not only clean, but also effective in terms of treating dehydration without clogging while still delivering anti-aging benefits. Again, stick with reputable brands with a long-term history in skin care. 
What areas would you like to expand your business into if the opportunity presented itself? 
I love traveling and discovering beauty and wellness secrets in different countries and regions. I would love to educate our clients and my followers on the global knowledge of cosmetics, nutrition and wellness, and to integrate the best for our practice.
How do you feel about DIY skin care routines that have become popular on social media? Such as charcoal masks, dermaplaning, pimple patches and face rollers?  
I think it's fun, especially if clients enjoy it, and it's probably better than if you do nothing at all for your beauty routine. Be careful of getting caught up in trends and fads and claims of instant results—clients still need professional advice and proven skin care if they're expecting long-term results. 
What products do you recommend for keeping your skin healthy and hydrated in the winter? 
For a precise, tailored recommendation, I highly recommend your readers fill out our free online questionnaire and submit a photo if possible. We will send them a customized routine with recommendations specific to each person's needs. In general, everything starts with a rich milky cleanser, like Lait U, which doesn't strip the skin of its natural ability to protect and hydrate. Then, we recommend a gentle exfoliant like Lotion P50 W (a blend of acids and fermented cider vinegar), which also helps balance the skin, followed by a hydrating serum, like Serum Colostrum VG and finally moisturizing cream, like Crème VG Derm.  
karinanyc.com