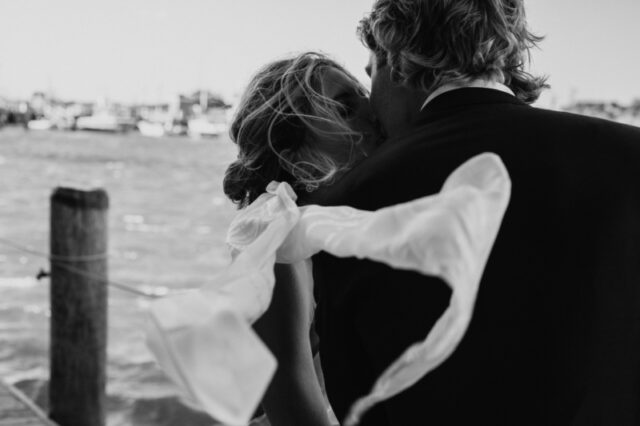 THE SURFERS
Quincy Davis and Patrick Schmidt ride the waves together.
PURIST: How did you two meet?
Quincy Davis: Patrick and I met through surfing.
When was the moment for each of you—however differing—you knew this was love?
Patrick Schmidt: Ours are probably quite different. I probably had a few of those moments before Quincy even knew who I was. The first of which was when we were 12 years old on a beach in New Jersey, during a surf contest. I heard a fellow grom say, "Hey, there's Quincy Davis." Quincy Davis? Who's that? "She's from New York, she's so hot and she rips, too." The rest is history.
QD: We were best friends for a long time before dating, which I think is the most amazing thing ever. Pat always felt like home to me and from day one has made me laugh nonstop. I have never been more sure of anything!
How did he propose?
QD: He proposed down in Puerto Rico at the beach in front of my house with just us, which I loved. Then after, we celebrated with my family up at the house.
Describe your shared love of surfing.
QD: It is really special we met through surfing, Pat will surf any wave I will surf, but it is not vice versa. He loves big barreling waves, which I am scared of sometimes, even though he tries to push me to go out. Surfing together is the best. He is my barrel coach.
What travel gear do you bring on a surf trip?
QD: I have to admit since being together, Pat packs the boards. So surfboards, lots of sunscreen, always a wide-brimmed hat, bathing suits and little wet suit top, because I am cold everywhere.
What do you love most about Montauk?
QD: Its raw beauty and community. Of course, the beaches as well and those special hidden gems that still feel like old Montauk.
Where and when was your wedding? And what details of the day that, almost a year later, stand out in your memory?
QD: Our wedding was in a beautiful barn at the end of a dock on East Lake last September. In true Montauk September style, it was a gorgeous, very windy day with lots of swell. Pat and his groomsmen and friends surfed all day up until getting ready. I preferred to not have windburn that day! My veil actually didn't make it down the dock from the wind! I couldn't wait to get to the end of that dock to Pat. The ceremony felt so intimate. My cousin Colin officiated the wedding, and I don't think one person wasn't smiling or laughing. It really is so special to have all the people you love most in one place! The dance floor was wild, no one stopped dancing, our band was incredible! All of our friends and family came together to help make our wedding day extra-special and we are so grateful. Luckily for us my aunt, Virginia Davis is an amazing wedding coordinator, so she took care of all the details. Close family friend Kim DeSousa made our wedding cake, Janice Hummel our florist created the most stunning flower arrangements, with local dahlias from Pierpont Blossom Farms on the East End, and my friend Steven Berg did my hair and makeup.
You are also passionate about fashion and your Quincy X MTK store, which is 5 years old now. What fun, curated brands can we expect this summer?
QD: We're really excited to expand our offerings this year. We lean toward quality basics, but wanted to be able to shop our own store for something to wear out to dinners and all the fun events. We sourced European brands that are chic and still maintain the beach vibe. We also had to add in some new T-shirt brands, because they are our favorite. We'll also bring back our most popular swim brands, so people can always count on us for the best beach selection. Trust me, I have tried lots and lots of swim!
Any special 5-year anniversary events in the works at the store?
QD: We are going to have lots of fun pop-ups! Stay in the loop by following @quincythestore.
As a pro—at surfing, style, love—what is the best advice you can share?
QD: Stay true to yourself. quincymtk.com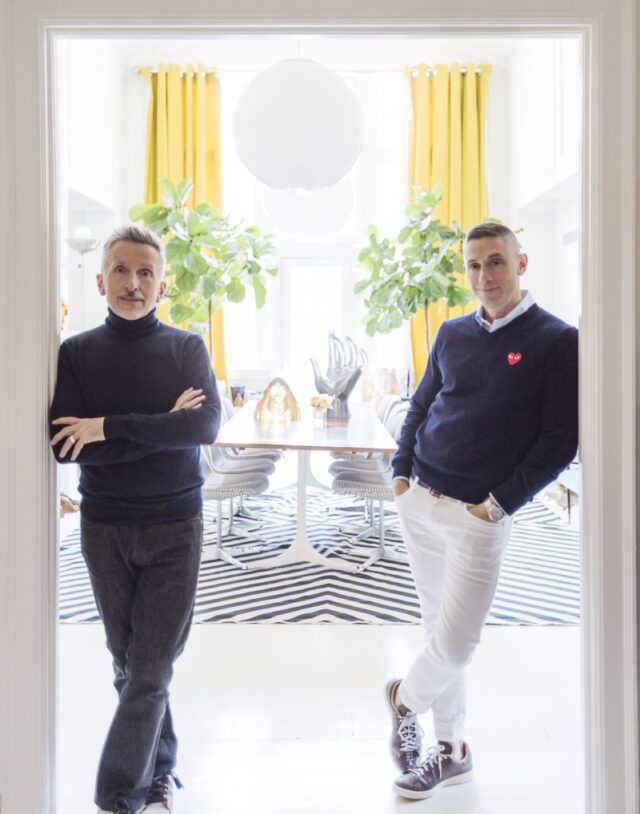 THE AESTHETES
Life is still a party for creative couple Jonathan Adler and Simon Doonan, three decades in.
PURIST: This is a milestone year for you guys: your 15th anniversary. What's the secret to your success?
Simon Doonan: We keep it light and fluffy.
Jonathan Adler: Chemistry, I suppose.
How have you built a life together?
SD: It was fairly effortless. So I guess it was meant to be.
JA: Neither of us drinks, so there are no bonkers moments like George and Martha from Who's Afraid of Virginia Woolf?
Looking back, what was most memorable about your wedding day? Can you set the scene for us?
SD: When we went to City Hall in San Francisco with Jonny's mom and sister, they got mistaken for a May/December lesbian couple. LOL.
JA: Après ceremony we went to my shop on Fillmore and re-merchandised the store and then went to Barneys for a jewelry party. Romantique, non?
How long were you a couple before you wed, and when did you know it was love?
SD: Fifteen years-ish.
JA: I think Simon means it was 15 years-ish before we wed. I knew it was love when we went on a low-rent ski trip to Vermont and listened to Pat Benatar nonstop and it all felt so so right.
Tell us three favorite things about each other.
SD: Jonathan supports the Philly Eagles. His fave fashion brands are Thom Browne and Comme des Garçons. He is a massive fan of George Michael, RIP.
JA: 1. Even though people prolly think Simon is a kind of a fluffy fashion person, he's actually a kinda butch intellectual. Ditto moi, if I'm being honest. 2. He climbs up on the roof regularly and cleans out the dead leaves from the rain gutters. 3. I gotta repeat No. 2 again. Roof, gutters—doesn't get better than that
How do you find compatibility in creativity?
SD: We agree about most things. If we disagree, we have a pillow fight.
JA: And I always win! Our first summer together we rented a house on Shelter Island with a dock and we used to go to the end of the dock and wrestle and throw each other off the dock. It was quite serious and macho. But we've entered our pillow fight era.
Do you ask each other for advice/feedback?
SD: Jonny is a fabulous editor. I ask him to read everything I write. His feedback is vital to my writing.
JA: I always make Simon come to my pottery studio to show him everything I'm cooking up. He never criticizes, always kinda just kvells. I actually wish he was more critical!
Simon, what item have you inspired in Jonathan's line, and Jonathan, what idea or important feedback have you given Simon?
SD: I always encouraged Jonny to put faces on his designs. People like to be looked at.
JA: I am a total Simon Doonan fanboy. Always was, always will be. Right now I'm rereading his seminal tome Beautiful People for the 15th time. But I try not to give him too many compliments lest he get a swelled head.
You must be compatible moodwise—in the sense of being social together and then having downtime and quiet together. What is that flow like?
SD: I am writing all day solo, so I am more gregarious than Jonny. I push him to go out and partay!
JA: We're improbably chill and totes compatible of habit and vibe.
How do you make a long relationship work?
SD: Knowing when to keep your trap shut.
JA: We always make each other cups of tea and refill the kettle. Tea is very, very, very important to us.
Tastes and aesthetics are so important to each of you. In what ways do you aesthetically complement each other? What kinds of compromises do you each have to make in the relationship to make it work? Like, are there any forbidden objects, furnishings, colors etc.?
SD: Jonathan takes the lead on issues of decor. This is, after all, his profession. I like to watch and applaud.
JA: If people think about us (which they really should quite often, BTW), they would imagine that there's lots of bickering about where exactly to place decorative obelisks on the mantel and debates about floral arrangements. But, in reality, not so much.
How do you best enjoy your time together, in the city and out East?
SD: Our favorite thing is to frolic on the beach with our mutt, Foxylady.
JA: Foxylady, Foxylady, Foxylady. She's a 12-pound, aloof beauty and we spend every waking moment focused on her.
What's your life like on Shelter Island, what brings you both joy out there?
SD: The bird life on Shelter Island is beyond. We spend hours watching the ospreys diving into the water and catching fish.
JA: Shelter Island is HEAVEN on Earth. Don't mean to jinx it, but it feels like nothing bad could ever happen. There's nobody I'm afraid to bump into, there's no traffic, no parking woes, nothing bad! We wake up, hop on our paddleboards, and just go…. jonathanadler.com, simondoonan.com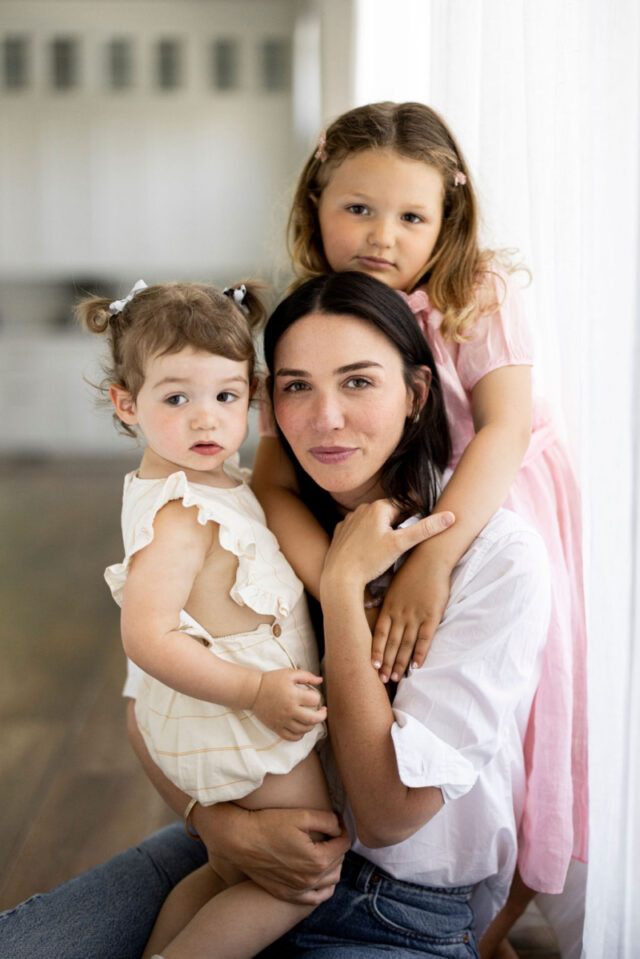 THE NATURAL
Saie clean beauty founder Laney Crowell's life is a love letter to nature.
I've struggled with acne and dry, sensitive skin since I was in high school. That was when I first started wearing makeup and playing around with skin care. I'll never forget when in junior high, I bought a face mask from CVS and it spilled onto my marble countertop overnight. It burned through the marble finish! Looking back, I can't believe I was putting that stuff on my skin. But at the time, I just went to my dermatologist and got prescribed antibiotics for my acne—and I was on this medicine for over 10 years! Eventually, the antibiotics stopped working and then I went on Accutane (isotretinoin). I took all these powerful drugs to treat symptoms, when what I really needed to do was change what I was putting on my skin and focus on internal health with nutrition.
It wasn't until my late 20s that I started educating myself on clean beauty and the skin biome. This served as a huge inspiration for me when I was creating Saie. I wanted to make products that not only worked for sensitive skin, but were good for the skin. That's why we always say, "Good on you, good for you!"
Launching my blog, The Moment, in 2018, was everything, really. My community gave me the inspiration to start. They were the ones who said, if I were to make a makeup brand, here's what I would want. They told me what the market was missing and gave me the courage to start Saie.
I'm from California, so I appreciate the slower pace of the Hamptons. We moved to the East End in 2020, but we've always spent a lot of time here. I love being surrounded by nature, from the beaches and hiking trails to the water. I can spend the whole day outside with my girls, enjoying amazing activities, and then end the night with a great meal and seeing friends. It's the best of both worlds.
I think about our planet and the climate crisis that we're in constantly, in every decision we make financially (because we all vote with our dollars), to the politicians we support all the way down to the school board level, to the causes we support with donations. Recently my family and I fought really hard next to the Friends of the Long Pond Greenbelt to keep PSEG from drilling through the reserve. We rallied our friends and family to protest and sign petitions. While we haven't heard the final verdict yet, I think we made a huge impact protecting our local land and animals.
My mission at Saie is to not only create the most eco-friendly makeup brand, but also push the industry forward. I'm so proud that Saie works with 1% for the Planet, is Climate Neutral Certified, and is Plastic Negative Certified. What would be even more exciting is if the big beauty companies did the same. That would have a huge impact on our environment. saiehello.com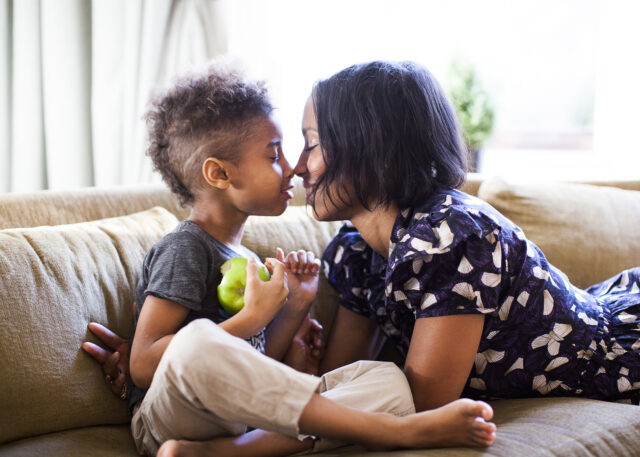 THE ACTIVIST MOM
Jodie Patterson, author of Born Ready: The True Story of a Boy Named Penelope and The Bold World: A Memoir of Family and Transformation, on loving our children who don't fit into a box.
I'm a native New Yorker. I grew up on the Upper West Side of Manhattan in the 1970s in a family of activists. Both my mother and father were entrenched in the Civil Rights Movement; my grandmother was Gloria Blackwell and was called "Mrs. Revolution" because she won court cases to desegregate America. My father opened the first Black brokerage firm in Wall Street to fight economic injustice. My mother founded a private school in Harlem for Black families. My uncle, jazz poet Gil Scott-Heron, wrote the song "The Revolution Will Not Be Televised."
In other words, I was raised by changemakers. Their work was so prevalent and ultimately shaped my perspective on discrimination to this day. I learned that loving and supporting people for who they are, rather than how society labels them, was important.
Still, as a parent, I discovered that I, in fact, held biases. I have five children and they all are nonconforming: trans; genderqueer; straight; adopted; suffering from addiction; ADHD; introverted; anime lovers—yes, we are an assorted bunch!
Each child is different, but I want to focus on gender identity because it is still confusing for so many people. I learned an important life lesson from one of my kids. By the age of 3, my child was struggling: nail biting and having recurring nightmares. They would say, "A monster is coming to get me, Mama." We tried everything: more love, a cleaner diet, longer naps—and really nothing was working.
One day, we sat cross-legged on the floor and face to face, and I asked, "Baby, what's really wrong?" They told me: "Everyone thinks I'm a girl, but I'm not. I am a boy."
At first, it was confusing, as I had considered all sorts of inequities, but I had never considered that gender, as an idea, could be dissected. But luckily I had an upbringing that taught me to be emotionally and intellectually flexible in the face of dogmatic ideologies. That skill helped me lean into believing, accepting and ultimately supporting what my child was telling me. That ferocious support is what I give to all my children.
Just as the world needs to understand the trans experience, we also need to understand all the ways in which our children differ from the "norm." But here's the tough part: It's hard to support things we know nothing about. It was important for me to educate myself. I didn't know enough about the trans experience. So I reached out to people and organizations in the LGBTQAI community, made new and diverse friends, expanded my world, so I would no longer be ignorant. Do I fully know the intricate life of a trans person? Ultimately, no, but here is what I do know and what I tell my kids: "Where you go I will follow, what you know I will learn, who you are, I will support." It's a mantra that provides strength and assurance when I feel at sea as a mom.
As our families become more diverse—whether those families are chosen, work, boardroom or born to us—it's going to be important that leaders of the family (mother, father, head of the class, CEO) be flexible and open. As a leader of your team of people, it's your responsibility to learn new languages, to meet each family member where they are, not where you think they should be. As a parent, I realize I cannot fix everything, or make life nice, but I can walk with them in life. Side by side. The goal is to find out how diverse your family is, to seek out the diversity. Ask them about themselves, share something unpredictable about yourself, believe them and support them. And know it's a marathon. —As told to Donna Bulseco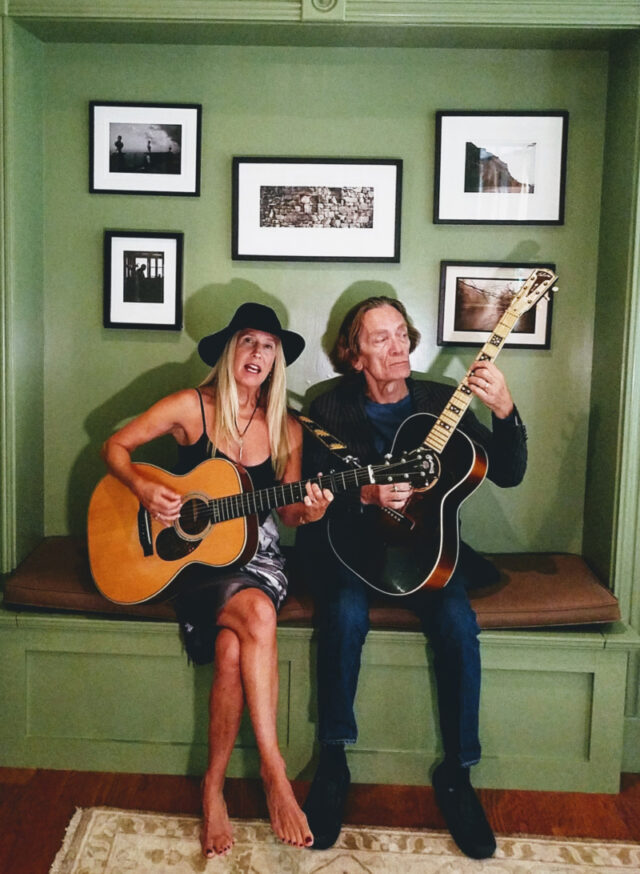 THE SONGBIRDS
Taylor Barton and G.E. Smith make beautiful music together.
Taylor Barton: In the late '80s, G.E. and I met on the set of Saturday Night Live, where he was the bandleader and co-musical director. I was brought in by Patricia Birch, renowned choreographer of Grease, to do a Valentine cameo on the show. That night, G.E. played "Stormy Weather," while I did a romantic dance. When did I realize we were meant to be together? It took about 10 Dylan shows and G.E. to fly in from all over the world on his day off. G.E. had moved to Amagansett in 1981, when he was working for Daryl Hall and John Oates. Although we lived in NYC part-time, we felt at home in the Hamptons. Artists and writers were among us. The proceeds of the never-ending Dylan tour bought our first house. I totally support G.E.'s every endeavor. I manage his affairs. He just likes to show up onstage. Performing together is a beautiful intimacy between any musicians, but he totally underscores my intent when on stage. I had to work through massive stage fright in the beginning, turning up at places like Siné, following people like Jeff Buckley. G.E. believed in me when I didn't believe I was the real deal. I'm good at pushing a project to fruition. I'm a closer in the music world. Producer is the title, but I can see the big picture both as a songwriter and a writer. G.E. is the tougher critic. He holds me to the highest standard. Early on in our relationship, G.E. would play a beautiful lick, and I would take off and write a full song. That amassed into many songs. G.E. helped me own my work. Our Portraits music series is now headed for its eighth year. Bringing A-listers to our theaters out East in the Hamptons was a natural progression of our careers. G.E. is a consummate host. I'm inspired by many working couples. Tom Waits and Kathleen Brennan, Bruce Springsteen and Patti Scialfa, Tom Hanks and Rita Wilson, Ben Affleck and Jennifer Lopez. Working with your husband has a myriad of conflicts, but you can choose to be someone who is part of the solution. All of us show women know how to let our men be stars…and we make them.
G.E. Smith: We work face to face. It eliminates the stale, flat digital world. Recently we were working on a Joan Armatrading song, both invested in our own interpretation—we'd ask ourselves in the process, How can we make it shine while paying homage to her? I was lucky to have been at the pinnacle of the rock revolution. Knowing and playing with the pioneers has given me the tools and experience to communicate to audiences. We always strive for integrity, whether on stage, or producing a show for the community. Taylor is one great songwriter and a stellar bridge writer. She just recorded four beautiful new songs. She can hold her own in the songwriting arena. As a producer, if Taylor even thinks of something, in the next 48 hours it's booked. She's a gold mine. taylorbarton.com