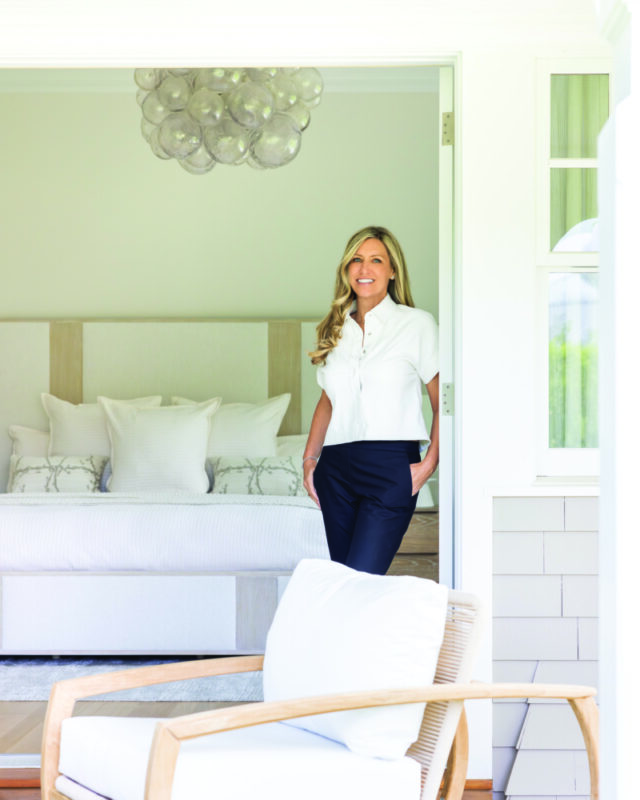 By Abby Tegnelia
Kristen Farrell shuns the idea of a home gym being just a designated corner of the living room, scattered with a few weights purchased during lockdown, and maybe a yoga mat or treadmill. Instead, she incorporates wellness from blueprint to build, making fitness areas, self-care spa facilities and Zen dens an integral part of her Hamptons creations.
"Generally speaking, and recognizing where we've been these past few years, we're all more concerned about wellness now," says Farrell, whose Kristen Farrell & Co. recently put its first wellness-focused, turnkey home on the market. "For the first time, there's a focus on wellness as part of the intention of the home design. It's no longer an afterthought."
In the heart of Sagaponack Village, 219 Sagg Main Street is a four-structure compound on a rare 3-acre property. A total of 21,000 square feet, the home has sweeping rooflines and classic Hamptons architecture, and features nine en-suite bedrooms, 13 full baths, five half-baths, five laundry rooms, a pool, a theater, a full gym, a spa and a tennis court. Farrell made her mark implementing fitness and self-care zones into her massive renovation debut.
"The entire lower level was built out and designed with a healthy lifestyle in mind," she says. "The high ceilings, large windows and calm palette provide inspiration to make wellness a habit. We've aligned with Technogym for the fitness area because our visions for home wellness align. Its products are like fine furniture and are designed with the highest safety, performance and durability. The wellness space incorporates a spa area, with a massage room, sauna, steam shower and secondary treatment room."
The property contains two barns built in the early 1900s. Farrell has restored them with the intention of transforming at least one of the structures into a yoga or meditation room, Pilates studio or library. The pool house includes a steam room and lounge area. Ideas for future projects include cold plunge pools and doing even more with outdoor spaces for summer wellness activities. "All of my houses will be wellness-focused," she says.
Farrell has been in the Hamptons residential home building business for 25 years, and expertly brings that experience to her designs. "There's a particular way that you move through your Hamptons house. It needs to both feel very personal and be functional," she says. "I know why all of the little things matter, whether it's a butler's pantry, finished closet or wellness space. These things feed the Hamptons lifestyle." IG: @kristenfarrell_co; kristenfarrellco.com