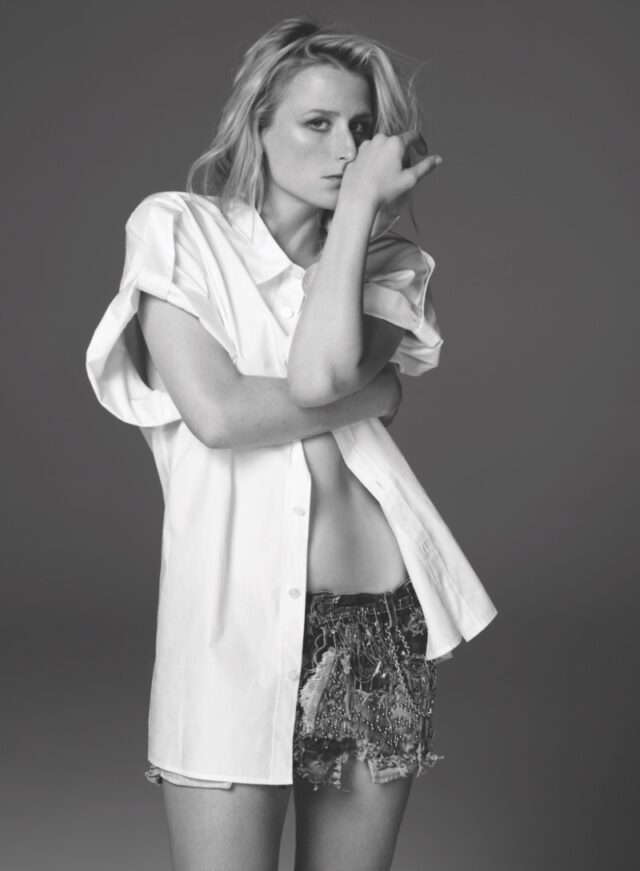 By Regina Weinreich
"I have no idea what I am going to do," says Mamie Gummer, speaking about her latest role, in the thriller Dial M for Murder, Bay Street Theater's second play of the season. That's not what you'd expect from an award-winning actress who has done theater, films and television, and whose mom is Meryl Streep. Uncertainty is just part of her process. After two days of rehearsal at a Manhattan studio, Gummer praised theater work as a "wonderful, exciting time. You have the luxury of discovery, and start imagining, dreaming and scheming."
Useful prep for a suspenseful thriller like Dial M for Murder. She plays Margot, a wealthy socialite married to Tony (Erich Bergen) who suspects she's having an affair. Grace Kelly played the part in Alfred Hitchcock's 1954 masterpiece from Frederick Knott's original story. As in the classic, Tony is bent on murder.
In the current adaptation by Jeffrey Hatcher, Tony is a failed novelist with a PR job in publishing, promoting a new book by a mystery writer, Maxine, who, in a modern twist, is Margot's other woman. "The love triangle with two women and a man in the '50s raises the stakes," says Gummer.
Having worked with her in The School for Lies a dozen years ago, Walter Bobbie offered Gummer the part by email. "This is a return engagement," she says, "so I guess he thinks I'm all right."
Before Gummer could mull over moving the family over from their current residence in California, the writers' strike happened. "My husband, Mehar Sethi, is a comedy writer, so it would have been harder to negotiate being away from the kids (4 1/2 and 1 1/2) if he were working. Of course, we don't know how long it will go on. Me, I am happy to be east."
Looking forward to rediscovering the Hamptons after some time spent there when she was younger, Gummer says, "I'm a Berkshires girl. I think Connecticut is heaven." Raised in the Lakeville area with her parents (her dad is Don Gummer, a sculptor), brother and two sisters, she notes of the fact that she, Grace and Louisa became actors, "It's laughable, ridiculous. We fell like dominoes. We all just enjoy it so much. I blame it on the incredibly supportive way we were brought up." Mamie Gummer's first role was on her mother's knee in Heartburn, at 20 months old.
Is there sisterly competition? "No, honestly. If one of us gets sent a script or hears about a job we think the other one is right for, we'll say so. We are helpful. I hold my parents accountable. And the good fortune to be able to pursue what we love."
Dial M for Murder is at Bay Street Theater in Sag Harbor through July 23; baystreet.org