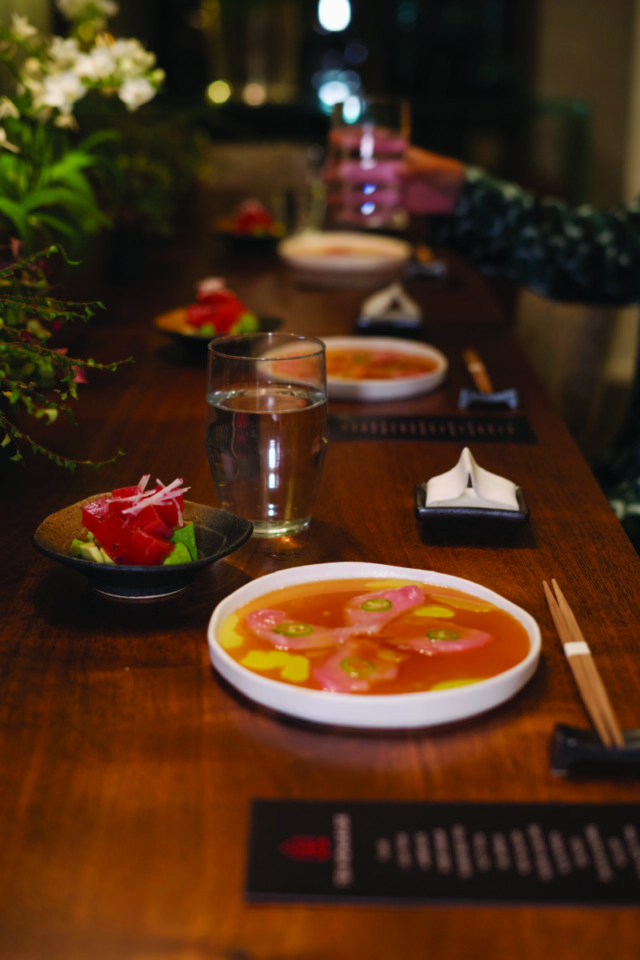 By Julia Szabo
Few food experiences are as transporting, as dramatic, as omakase, which invites diners to experience the sushi master's fanciful flights of raw—and occasionally seared—artistry, challenging us to the shock of the chef's choices (having first made known all food allergies and aversions, of course).
Maxwell Weiss remembers his first omakase immersion at Sushi of Gari—where on a given night patrons have included actor Matt Dillon, fashion editor Elizabeth Saltzman or wellness guru Andrew Weil—and observing the restaurant's namesake expertly wield a gleaming sushi knife.
"I had grown up eating sushi, but what got me was the quality and attention to detail, the craft, the fact that each piece was prepared in a unique way with so much intention," says Weiss, the son of Ukrainian immigrants who would later work at restaurants, including an izakaya (Japanese pub). "Sushi was always one of my favorite foods, but I never knew it could be that good."
During the pandemic of 2020, omakase was one of the perks of the "old normal" that many foodies missed most, a fond eating-out memory possibly lost forever. Until, that is, Weiss hit on a plan to bring omakase home. Those days of restaurant closures prompted an ingenious enterprise: Ten Homakase. The business has since expanded, bringing omakase to a range of venues, from rooftops to office conference rooms, backyards to penthouse patios.
"Usually, people eat this kind of food in a certain environment: sitting at a sushi counter with the chef right in front of you, the emphasis being totally on the food," says Weiss. "But for people who want to play their own music and drink tequila with their sushi, yet still want to have that same level of quality…if they have a Hamptons ocean view and want to look at it, whether from their home or their yacht…I like serving this food in different environments; it's a really special part of our business."
Acknowledging all dietary restrictions, Ten Homakase has observed patrons' willingness to discover. "Generally people are excited and want to let it be up to the chef," Weiss says. "We serve kosher guests, make adaptations for people who are pregnant or have shellfish and gluten allergies—we do it all, and we try our best to make sure everyone is included. After all, we're going to your place; you get to make some rules!"
Sourcing wild fish from around the world—"our fluke is from Montauk, our ocean trout is from New Zealand"—Ten Homakase is anchored in wellness. "Sushi and seafood are generally very healthy. Add to that the experience of the chef telling you why he chose a particular preparation, and you've got a really nice holistic discussion."
It's a dialogue more diners are pleased to join. "We started in the home and our chefs have since become expert at serving sushi in unexpected environments. We've served on planes, in art galleries…we've really been all over. Omakase has boomed in the last 10 years, and skyrocketed in the last three to five," says Weiss. "Still, the people that Ten Homakase serves discover that we break an entirely new barrier of what they thought omakase could be." tenhomakase.com