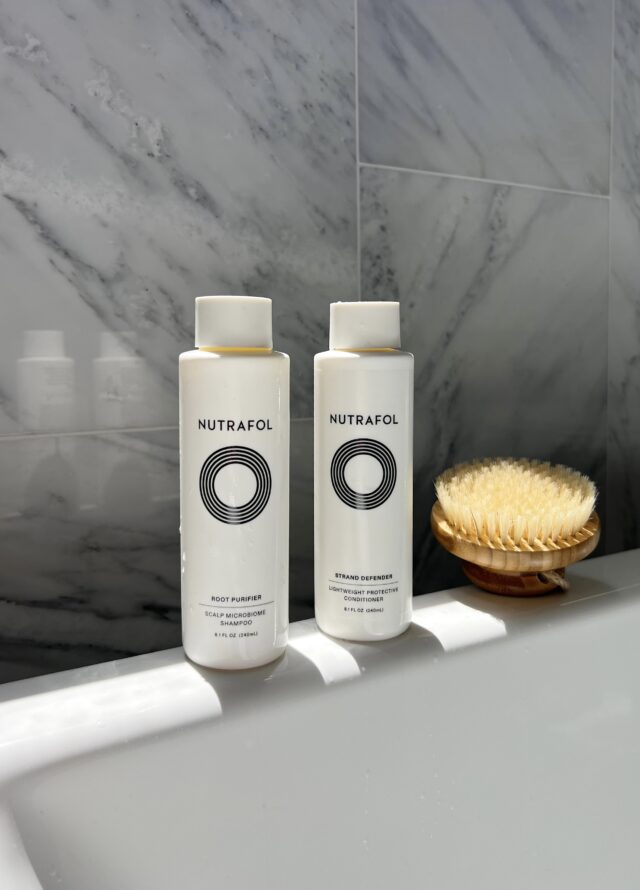 For many, warmer weather means more time spent in the sun and by the ocean. Those extra UV rays, as well as SPF can not only cause sweat build up, clogging scalp pores, but it can ultimately take a toll on your overall hair health.
Nutrafol, the No. 1 dermatologist-recommended hair growth supplement brand, offers individualized hair growth solutions for different biological needs, lifestyles and life stages. In addition to its popular nutraceuticals, Nutrafol also supports hair health with physician-formulated scalp care to help create a healthy scalp through a personalized approach.
"The scalp is home to hundreds of thousands of micro-organs, our hair follicles, and can influence the health of your hair. When your scalp is not balanced it can become oily, dry, flaky or irritated and create a poor environment for healthy hair growth," says Sam Archer, vice president of product development and marketing at Nutrafol. "Nutrafol has spent years studying the scalp, the scalp microbiome and its impact on hair health. Similar to the internal approach we take with our Hair Growth Nutraceuticals, our scalp care products target the causes that are affecting our scalp health to support a balanced and diverse scalp and, by extension, visibly healthier hair."
By taking a personalized approach to your hair health routine, you're able to more directly target your current hair needs. Need help creating a plan for the summer? Here are some tips to build a better scalp health routine, while still enjoying all that summer has to offer.
How to optimize scalp health this season:
Beat the Heat.

Avoid extreme heat by wearing a hat or scarf to protect your scalp.

Relax!

Limit the amount of stress you put your hair through and avoid styling with heated tools as much as possible. Additionally, by adding Nutrafol Hair Serum to your daily scalp care routine, the ashwagandha exosomes, with other natural ingredients, will provide stress protection and replenish nutrients directly at the scalp to support visible hair thickness and strength.

Keep It Clean.

After a long day in the sun, SPF and sweat on your scalp can build up and clog pores. Nutrafol's physician-formulated Scalp Mask made with natural ingredients helps to dissolve pore-clogging oils and product buildup with gentle exfoliation of the scalp.

Hydrate!

Visibly soothe a dry, sensitive scalp immediately after exposure to heat and sun with Nutrafol's Scalp Essence.

Stick to Your Routine.

Our diets change in the summer; we're eating out more and hydrating less. By sticking to your personalized #4aday Nutrafol hair growth nutraceutical routine, not only are you working to fill your nutrient gaps, you're also supporting other causes of hair thinning to keep your hair healthy and happy.
Interested in learning more about Nutrafol's physician-formulated hair and scalp care? Build a hair health regimen specific to your needs at nutrafol.com.