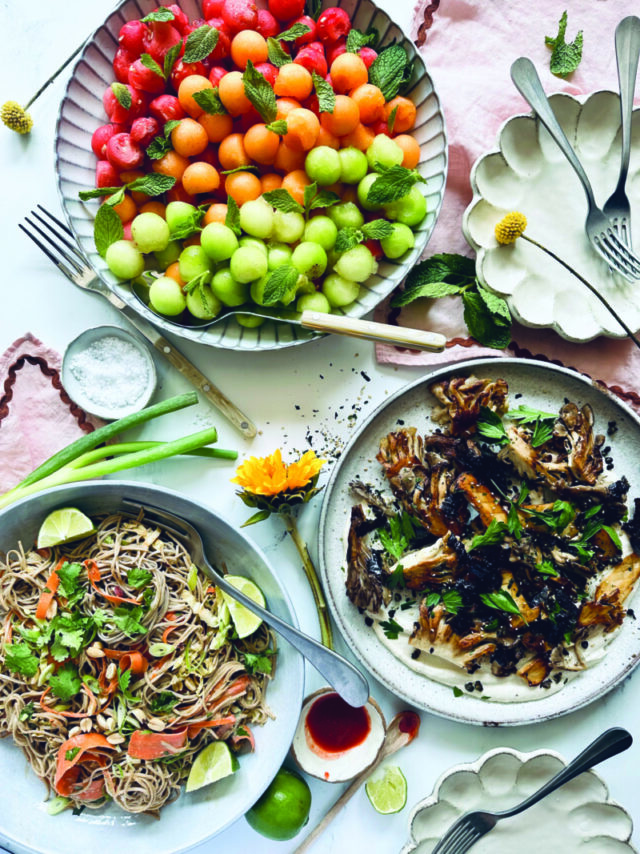 By Peter Som
Those halcyon days of summer have arrived! We've sloughed off our hard city veneer for swimsuits and sea-salted tresses; the hot gray pavement for sun-dappled verdant afternoons by the pool punctuated only by the gentle hum of the grill and the shimmery glint of cream puff clouds above. And of course, what's also arrived is the eagerly awaited bounty that is summer produce—all so bright and juicy and still warm from the sun. This trio of summer recipes takes the best of farm stand produce and marries them with Asian flavors to create effortlessly made and nourishing platters of food perfect for setting down on the garden table. So, let's raise a glass to these weeks we get to exhale a bit and savor what's good and delicious.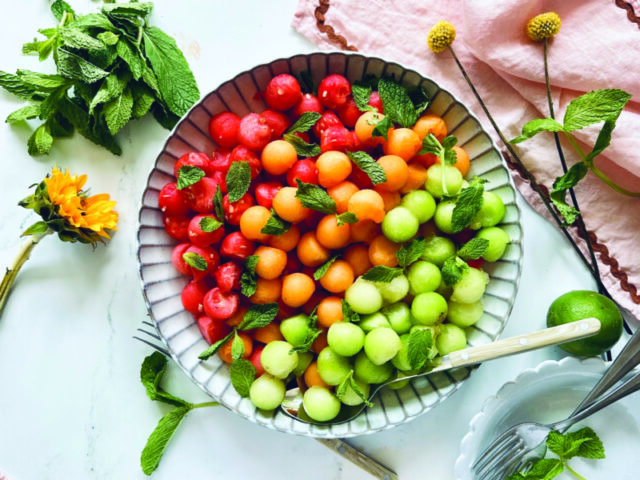 Summer Melon Salad With Lime Five-Spice Honey
For local melons at their peak, less is more. The bright, sweet, floral notes of honeydew, cantaloupe and watermelon only need to be dressed up by a drizzle of lime, five-spice powder, honey and mint.
Serves 4
Ingredients:
¼ cup honey
¼ teaspoon five-spice powder
Juice of 1 lime
1 ripe honeydew
1 ripe cantaloupe
1 small ripe seedless watermelon
Mint leaves, for garnish
Instructions:
1. In a small bowl, stir together honey, five-spice powder and lime juice and mix to combine. Set aside
2. Cut each melon in half. Scoop out honeydew and cantaloupe seeds and discard. Using a melon baller, scoop each melon half into balls. Add melon balls to a shallow serving bowl, pour honey mixture atop and gently toss to combine. Garnish with mint leaves and serve.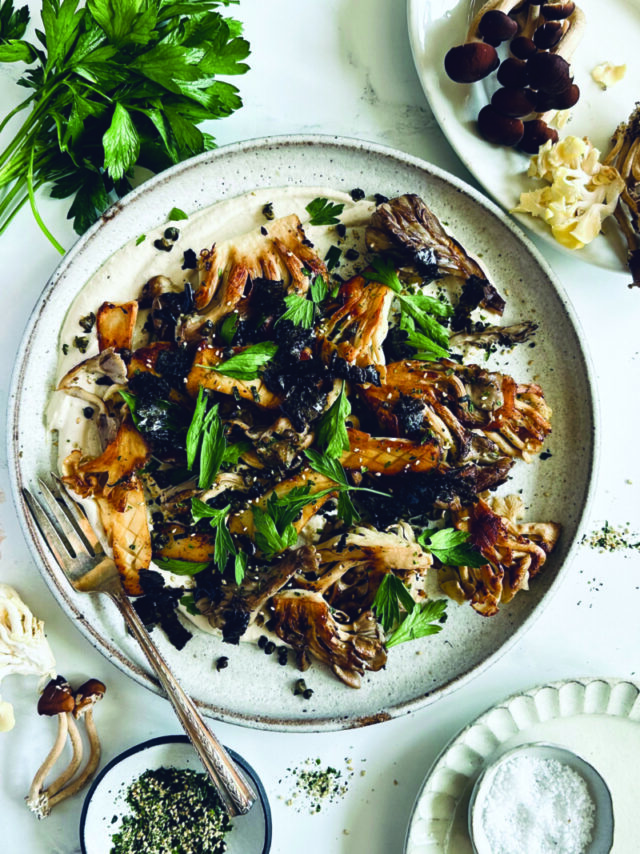 Mushrooms With Miso Caesar
Meaty local mushrooms take center stage in this simplest—but most delicious—of dishes, and it's all about that quick miso Caesar. Labneh and a touch of Kewpie mayonnaise along with a dash of miso create an umami-filled punch—it's the perfect foil for the beauty of golden seared (or grilled) tender mushrooms. Furikake—a Japanese seasoning made from a piquant blending of sesame seeds, seaweed, katsuobushi and more—is a pantry staple for me (available at most Asian markets or online), and provides the perfect finishing touch to the dish.
Serves 4
Ingredients:
For the Miso Caesar
2 tablespoons rice wine vinegar
1 tablespoon yellow or white miso
¼ cup labneh
2 tablespoons Kewpie mayonnaise
2 teaspoons anchovy paste
½ teaspoon grated fresh ginger
1 garlic clove, grated
Kosher salt and freshly ground black pepper to taste
For the Crispy Capers
Avocado oil or other neutral oil
2 tablespoons capers, drained and rinsed
8-10 ounces mixed mushrooms such as maitake, shimeji and king oyster (royal trumpet), cut or torn into large bite-size pieces
1 tablespoon unsalted butter
Kosher salt and freshly ground black pepper to taste.
1-2 teaspoons furikake
1 sheet nori, crumbled
Flat-leaf parsley, for garnish
Instructions:
1. Make the miso Caesar: In a small bowl, add rice wine vinegar and miso; let sit a few minutes then whisk with a fork until miso is completely dissolved and incorporated. Add to a medium bowl along with labneh, mayonnaise, anchovy paste, ginger and garlic; stir to combine. Season with salt and pepper and whisk until smooth.
2. Make the crispy capers: In a skillet over medium-high heat, add enough avocado oil to coat the entire surface. Add capers and fry, stirring frequently, until golden brown, about 2 to 3 minutes. Transfer to a paper towel-lined plate. Wipe out the skillet and return to the stove.
3. Add more avocado oil and butter to the skillet. When butter is melted, add mushrooms (don't crowd the skillet; work in batches if needed), cut-side down, and saute, covered, for 2 minutes, then uncover, season with salt and pepper and cook until mushrooms are tender and deep golden brown in spots.
4. To serve, swirl miso Caesar on a serving platter and arrange mushrooms atop. Finish with furikake, then garnish with nori and parsley.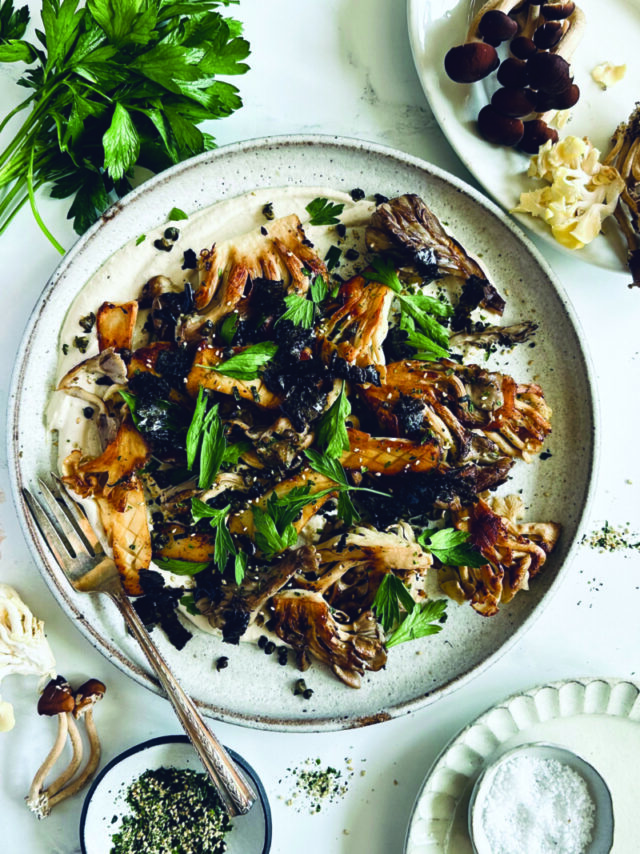 Chilled Soba Noodles With Spicy Peanut Sauce
This is a dish that's packed with flavor—the creamy peanut butter sauce is a breeze to make (and can be prepared in advance)—the hits of soy, Sriracha and lots of lime let this dish sing, along with the crunch of carrots and savoy cabbage and the zip of scallions and cilantro.
Serves 4
Ingredients:
For the Spicy Peanut Sauce
½ cup smooth peanut butter
¼ cup soy sauce
2 tablespoons rice wine vinegar
Juice of 2 limes (approximately ¼ cup)
2 tablespoons maple syrup
2 teaspoons Sriracha sauce
½ tablespoon toasted sesame oil
1 tablespoon finely minced or grated ginger
2 garlic cloves, minced or grated
¼ cup water, as needed
2 large carrots
1 pound soba noodles
2 cups thinly sliced savoy cabbage
2 scallions, sliced, plus more for garnish
½ cup cilantro leaves, chopped, plus extra leaves for garnish
Lime wedges, for garnish
Peanuts, for garnish
Instructions:
1. Make the spicy peanut sauce: In a medium bowl, add peanut butter, soy sauce, rice wine vinegar, lime juice, maple syrup, Sriracha, sesame oil, ginger and garlic and whisk until smooth. Add water to thin out as needed. Set aside.
2. Using a vegetable peeler, peel and slice carrots into lengthwise ribbons.
3. Cook soba according to package instructions and rinse with cold water. Transfer to a large mixing bowl along with carrot ribbons, cabbage, scallions and cilantro. Add spicy peanut sauce and mix to combine. Transfer to a serving platter; garnish with lime wedges, peanuts, and additional scallions and cilantro. Serve chilled or at room temperature.
For more healthy, delicious recipes, visit petersom.com