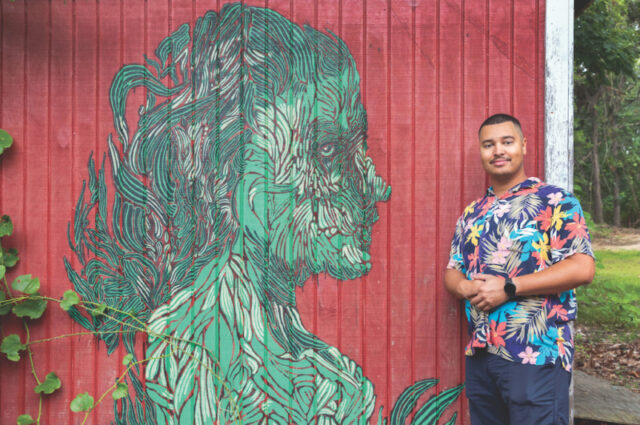 By Nancy Kane
It's the summer of 2020, the COVID-19 pandemic is in full swing and Jeremy Dennis—an enrolled tribal member of the Shinnecock Indian Nation in Southampton and an acclaimed contemporary fine art photographer—is frustrated. With an MFA from Pennsylvania State University and a BA in studio art from Stony Brook University, the 33-year-old had already shown many of his works in solo and group exhibitions, including the Parrish Art Museum's Road Show, the Department of Art Gallery at Stony Brook University and SUNY Old Westbury. His residencies had included Yaddo, Byrdcliffe Artist Colony, MDOC Storytellers' Institute and The Watermill Center. As one of 10 recipients of a 2016 Dreamstarter Grant from a national nonprofit (Running Strong for American Indian Youth), he was awarded $10,000 to pursue On This Site—Indigenous Long Island, his project that highlighted culturally significant Native American sites on Long Island. And he was just getting started.
"After many of my anticipated residencies and exhibitions were cut short or canceled, I realized that I, along with other BIPOC artists in minority communities, were facing compounded health disparities and economic injustices during this crisis," says Dennis. "We lost opportunities and felt blows to our livelihoods and artistic practices."
He decided to do something to safeguard these artists and create a place where their creativity could thrive, and the public could learn.
"With Ma's House, I hope to create a space for imagining, healing and liberation for BIPOC artists," he says.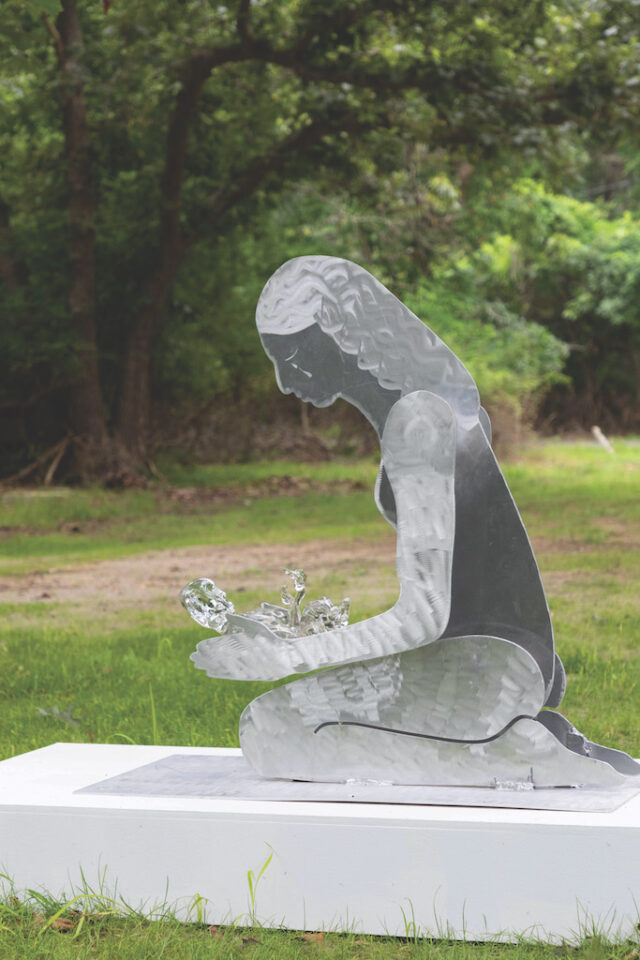 Ma's House now serves as a communal art space located on the Shinnecock Indian Reservation in a 1960s-built family home, the former residence of Dennis' grandmother, Loretta A. Silva, known as Princess Silva Arrow, and "Ma" by her family. Dennis was raised on the reservation, spending much of his childhood at "Ma's house."
The project, born in June 2020, is now a registered nonprofit arts and education institution with multiple goals. One is to ensure a communal and safe space for BIPOC artists to create and exhibit their work, on the reservation and elsewhere. Family Ties—A Celebration of Love, Kinship and Belonging, an exhibition curated by Dennis, opens this month through October 9 at Brooklyn's historic Old Stone House and Washington Park. Before it became a Revolutionary War battlefield and then a Brooklyn Dodgers practice field, the grounds sat at the crossroads of ancient Lenape roads, adjacent to the historic town of Marechkawick. The property's unique history was in part a reason it was chosen; artists were tasked to use this history to tell the stories of traditionally marginalized communities in the work they exhibit.
Another objective of Ma's House is to educate the public on Shinnecock history, culture, language, traditional and nontraditional arts and crafts, sustainable gardening, cuisine, and physical and mental wellness, and to share a research facility and accessible library with historical Shinnecock resources and Indigenous themes. "We have already seen the positive change," says Dennis. "There is more community engagement and cross-cultural exchange among Shinnecock tribal members and our neighbors." A further service, close to his heart, offers a portrait studio for Shinnecock tribal community family photos and a digital archive that restores and holds photographic memories of Shinnecock elders. mashouse.studio